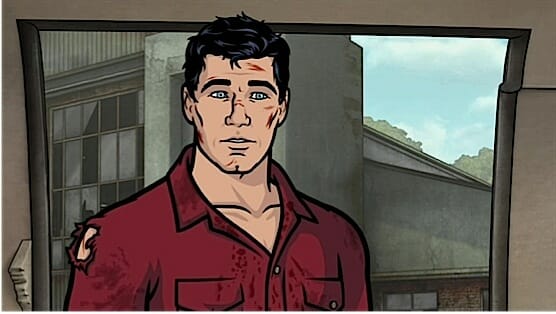 I probably should have anticipated something like this.
When we last saw Archer, Cyril and Ray, they were flying a stolen plane with a bunch of cocaine, unsure where they would land. Last week's "The Rules of Extraction" began, chronologically, right where the previous week's "Smugglers' Blues" had ended. "On the Carpet", on the other hand, opens with the former ISIS team already reunited back at Tunt Mansion, with Malory eager to find out what transpired.
The episode jumps back and forth between the actual aftermath of Archer, Cyril and Ray on the plane, as well as their re-telling of the events. Proof, again, that Adam Reed and his team know how to tell great stories in many different ways. I liked the approach, because it genuinely felt like the type of story you would have to stop someone in the middle of numerous times, whether to ask a question, clarify something that was said, take a moment to process or, in Malory's case, throw something at them.
Guest star Christian Slater makes an appearance as Slater, the shady arms dealer who the three former ISIS agents run into when they land their stolen plane full of cocaine at its originally intended destination. As Slater somewhat avoids asking them directly who they are, Archer plays it cool and resists the urge to return to his pseudonym, Randy, instead opting to pretend to be "Ran…do."
After Archer talks them out of it, they fly back home with a plane full of weapons they have no use for. At least, not yet.
Back at Tunt Mansion, Lana's still pregnant, Pam still loves cocaine, and Cherlene's still mostly sitting around, acting like a country star. Not much has changed with these characters lately. Understandable, considering this is the third consecutive episode to focus on Archer, Cyril and Ray. Woodhouse, more than anyone, has suffered a decrease in lines and appearances this season. I was hoping for more of him at this point in the season (episode nine of 13). Malory, however, reveals that she and Ron Cadillac have agreed to get back together under the terms of an open marriage. He left abruptly early in season five, and most people anticipated he would be back soon. I imagine he will provide the lifeline the former ISIS team needs.
Two particular moments stood out as the funniest of the episode. First, Archer telling Cyril to get off the plane to lighten the load—"Do the right thing, Cyril. You have nothing to live for," before Cyril replies, "Get your hands off me," as he pulls a gun on Archer. Second, Krieger's failed "Red Kriegtober"/"Red Octkrieger" experiment. After a few episodes light on Krieger, they gave Lucky Yates a lot to work with here, and he killed it.
And so, even when they had a bunch of extra cocaine in their possession, after another exchange gone wrong, along with Krieger's "expenses," the former ISIS team has now lost nearly everything. Grim, but another solid outing for Archer Vice. This marks the end of an unofficial three-part installment since Archer, Cyril and Ray left for Colombia, and the future has never looked so bleak for these incapable cocaine dealers.
Will we see any of Gustavo Calderon, who was talked about by Malory and the others? Will they be able to do anything with the paltry amount of cocaine they have left? Will Cherlene's country music career take off? Will Lana have her baby? Will Ron Cadillac show up to save the day?
Many questions remain, with only four episodes left to answer them.
Carlo Sobral is a Winnipeg-based freelance writer and regular contributor to Paste.