Black Mirror: Rosemarie DeWitt Shines in the Jodie Foster-Directed "Arkangel"
(Episode 4.02)
Photo: Christos Kalohoridis / Netflix
TV
Reviews
Black Mirror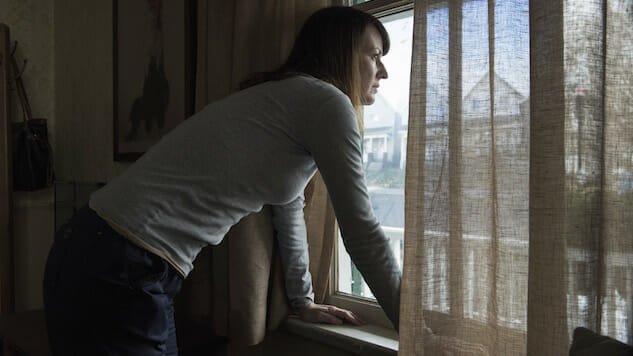 Opening mid-childbirth, "Arkangel" is a Black Mirror episode all about motherhood. This particular mother (played by Rosemarie DeWitt) is no different from most. Protective, caring, human. Constructed in reaction shots and snippets of dialogue with her elderly father, DeWitt's character is well-intentioned yet fallible—a dangerous combination in this tempting technological near-future crafted by writer Charlie Brooker.
There's a minor scare where a three-year-old Sara (Aniya Hodgen here, Sarah Abbott and Brenna Harding later) runs off from a playground. Director Jodie Foster (channeling her Tales from the Darkside experience) constructs some unforgettable images—ripe and warm, next to gory reminders of mortality—for us to observe while the parenting drama becomes something darker. Utilizing foreboding framing, Foster piles layers of material across the frame, with cluttered, claustrophobic blocking that builds to utter blankness and terrified clarity. It's all too much, until there's nothing at all—and then you realize how much you miss it. After this fright, Sara's mother decides not to take any more chances with her daughter's whereabouts.
DeWitt springs for some new tech in response to her wandering child, as you might expect after selecting Black Mirror from your streaming device. As you may also expect, this tech isn't as wonderful as the grinning technician would have you believe.
It's effectively a pet's microchip tracking device with a few fucked-up extras: You can see through the child's eyes and filter what they see or hear so that potential stressors look like the blurred genitalia of a stadium streaker. Undesirable sights and sounds can be filtered out for a calmer kid. Censorship, meet security. You two have never met in a debate before, right?
Though that inevitable conflict is momentarily sidelined, Foster plays with perspective and point of view enough that it begins feeling like the set-up for a horror movie: third-person, first-person, and first-person from a second party's perspective, all with different levels of creepiness. It's the part of the horror where they introduce the gimmick that will be providing the central creative scare. A family game or a found-footage style or, in this case, an implant. One that screws with agency.
The result is that Sara is inoculated against danger or unpleasantness, be it a barking dog or her grandfather's death. This makes her, effectively, a sheltered naive with a life too soft to nurture growth, and an incurable curiosity inside her, born of an omnipresent unknown. It also makes every normal human seem like a bad boy, because everyone has at least a sliver of the parentally unacceptable inside of them.
When the techno-umbilical cord is finally cut thanks to some (foreseeable) developmental problems, the bad boy (Owen Teague) reigns, and a crash course in the utterly unparental begins. Sex, drugs and violence—the rebellion is hard rock in a high school van. The resulting maternal freakout is epic, expertly realized and emotionally grounded. Think Punch-Drunk Love's mattress store confrontation but with Winona Ryder's Stranger Things anxiety whirlwind going through a furniture store. DeWitt is not fucking around.
Short, sweet and seething with the backstabbed martyrdom of a scorned helicopter mom, "Arkangel" is the perfect sci-fi encapsulation of the "mama bear" trope. The line between protector and assailant has never felt so thin, even when things aren't physical. The digital assaults on the psyche of her daughter make DeWitt's character a terrifying double-edged sword. Snooping mothers are nothing new, but it's never felt so sinister before, with the betrayal and its discovery as inevitable as a ghost jumping out after a horror protagonist opens their closed eyes.
If father-son conflict comes from distance, mother-daughter conflict comes through closeness. This tech offers unprecedented closeness—and with it, the opportunity to breach the most personal privacies. Treating this with the long-short-long editing of horror (tension, release, rebuild) and the cinematography to go along is a smart move by Foster. The explosive climax is just intense enough to ride the edge of believability while still taunting us with its tragic pessimism. In fact, the most far-fetched part of the episode is a Tusk poster in Sara's room. Come on, how gullible do you think we are?
Read all of Paste's episodic reviews of Black Mirror here.
---
Jacob Oller is a writer and film critic whose writing has appeared in
The Guardian, Playboy, Roger Ebert, Film School Rejects, Chicagoist, Vague Visages,
and other publications. He lives in Chicago, plays Dungeons and Dragons, and struggles not to kill his two cats daily. You can follow him on Twitter here: @jacoboller.