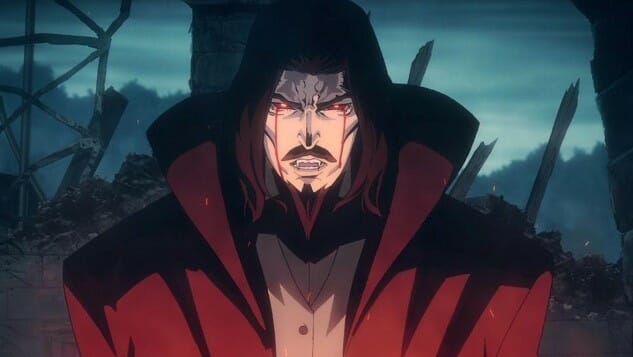 Ever since the first four, short episodes of Netflix's Castlevania adaptation hit the streaming service, our senses have been set aflame by its gothic grandeur. The violent, stylish, bload-soaked animated series isn't quite like anything we've seen from Netflix in the past, but it was difficult to not be frustrated after its first season contained so little content. If anything, the first four episodes of Castlevania felt primarily like an extended prologue; one that introduced us to all of our characters—Trevor Belmont, Sypha Belnades and the half-vampire Alucard, son of Dracula—and set them on a collision course against the Prince of Darkness, before then disappearing from sight.
But now, fans finally have a concrete day for more Castlevania, and surprise, it's in October. Although the series was originally meant to return in the summer of 2018, it's been pushed to a more appropriate thematic date of Oct. 26, 2018, this time with eight episodes instead of four. Netflix also released a few "first look" images, which you can see below. The series has also already been renewed for a third season.
#Castlevania Season 2 will premiere on October 26 — FIRST LOOK: pic.twitter.com/D1gbqyigY2

— See What's Next (@seewhatsnext) July 6, 2018
Castlevania stars Richard Armitage as Trevor, the scion of the monster-hunting Belmont family, along with Graham McTavish as Dracula himself—a reunion of two actors from Peter Jackson's The Hobbit trilogy, where Armitage played Thorin and McTavish played Dwalin. McTavish also happens to possess another major role in a TV genre show right now, portraying The Saint of Killers on AMC's Preacher.
Armitage recently spoke with Digital Spy, confirming the third season of Castlevania and giving some more hints of what Season 2 will look like. He even voiced interest in eventually bringing the project to live action … something that we think could be absolutely spectacular to see, if done well.
"The son of Dracula [Adrian Tepes, voiced by James Callis] and my character get much more collaborative," Armitage said. "I think that's one of the most exciting things, they start to really work together. I love my character in Castlevania… he's this anti-heroic, drunk, slightly foul-mouthed, irritable git! I feel like it would make the most brilliant live-action piece. It's slightly anarchic and humorous—we don't often see vampire heroics in that vein. One day, maybe."