The 15 Best TV Shows to Watch on The Roku Channel (September 2023)
Photo Courtesy of NBC
TV
Lists
Free TV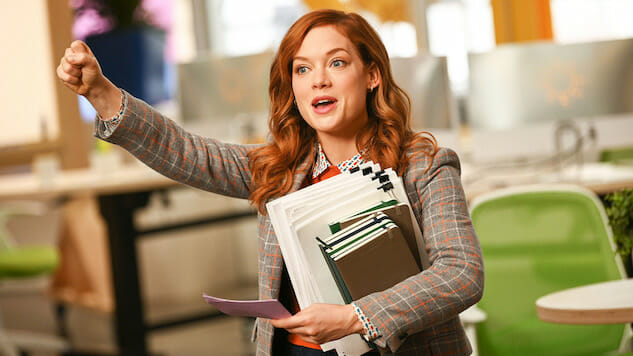 Like most other FAST (free, ad-supported television) services, The Roku Channel offers a wide variety of shows, streaming on-demand and live on their various channels. Boasting deals with Disney, Paramount, and other networks and companies, Roku provides both celebrated and niche TV and movies (like their original film Weird: The Al Yankovic Story) to binge and enjoy. Easily accessible through their very own Roku Stick and through most other smart TV and streaming devices, no account is required to stream all the shows listed below and much more. Listed in no particular order, we have scoured Roku's sometimes less-than-intuitive interface to find the best shows to stream for totally free on the Roku Channel and App.

Weeds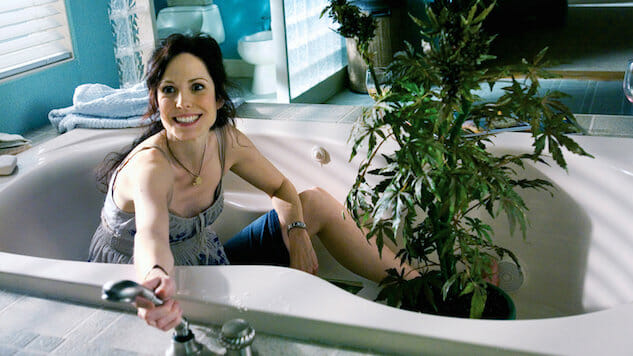 Before Walter White broke bad or Piper Chapman started selling panties, Weeds introduced us to the privileged protagonist who resorts to crime when faced with dire circumstances. In this case, meet Mary Louise Parker's Nancy Botwin, a suburban mom-turned-marijuana dealer desperate to keep her family afloat after her husband dies of a heart attack. As with so many Showtime series, Jenji Kohan's precursor to Orange Is the New Black skidded out of control as Nancy sunk deeper and deeper into the black market, but in its first season especially, Weeds offered a ballsy, bawdy send-up of conformist thinking and the American Dream, aided by gonzo comic support from Justin Kirk, Kevin Nealon, and the deliciously petty Elizabeth Perkins. Plus, its title sequence, featuring Malvina Reynolds' 1962 ditty "Little Boxes," is one of premium cable's most memorable. —Matt Brennan
---
My Babysitter's a Vampire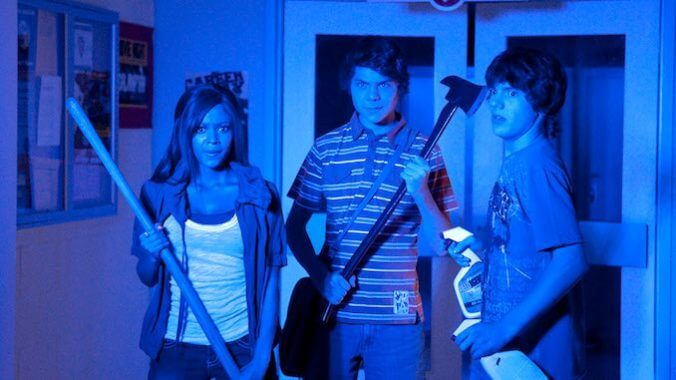 Like any good disciple of 2010s Disney Channel shows and movies should, I still find myself going back to the Canadian import series My Babysitter's a Vampire. The series was a spinoff of the Canadian TV movie of the same name, which itself was a smart and fun response to the post-Twilight vampire craze that featured the ups and downs of potentially becoming the creature we were all obsessed with in 2008. Based on the title alone, My Babysitter's a Vampire sounds a little silly, and, frankly, it is, but in all the best ways. The series stars Vanessa Morgan as vampiric babysitter Sarah, hired by Ethan's (Matthew Knight) mom to watch his little sister Jane (Ella Jonas Farlinger), since she doesn't fully trust him to watch her by himself. Following directly after the events of the film, Ethan's best friend Benny (Atticus Mitchell) gets roped into the supernatural world along with new vampires Erica (Kate Todd) and Rory (Cameron Kennedy).
The series follows a monster-of-the-week style format as the friends battle various supernatural creatures, all while trying to keep Sarah, Erica, and Rory's vampiric secret under lock and key—and survive high school at the same time. Featuring an incredibly catchy theme song (which was even performed by Morgan and Todd for its two-part series finale) and offering an alternative to the constant brooding that loomed over its vampiric peers at the time, My Babysitter's a Vampire asked big questions of its audience both young and old, imploring them to examine their own biases, beliefs, and feelings about how they treat both others and themselves—all under the banner of vampiric friendship and hair-raising fun.—Anna Govert
---
Reno 911! Defunded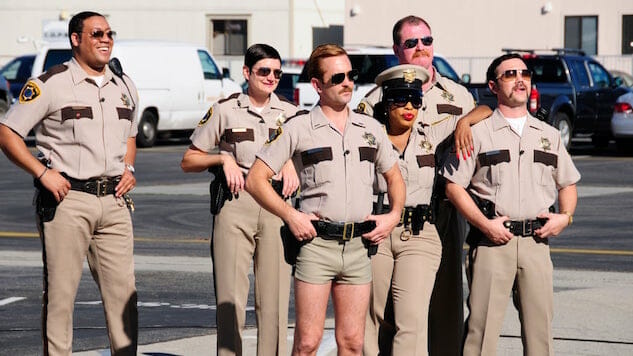 Reno 911! Defunded is the latest series in the Reno 911! franchise, and is an original series from The Roku Channel. Incorporating its characteristic bits and slapstick humor, Reno 911! evolves for the modern day by incorporating the Black Lives Matter demonstrations and political upheaval of the summer of 2020 into its storytelling. By not shying away from the very real concerns facing the American people regarding the police's relationship with their communities, Black Americans, and irresponsible behavior, Reno 911! Defunded becomes a gripping social commentary wrapped in its over-the-top comedy. Starring the same returning cast, which includes stars like Thomas Lennon and Niecy Nash, this series is available alongside the original to stream on Roku. —Anna Govert
---
The Dick Van Dyke Show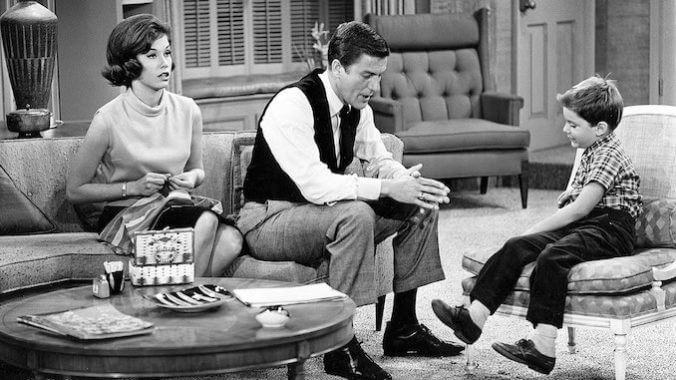 Before Dick Van Dyke became the toast of Disney live-action films and the star of every senior citizen's favorite crime procedural Diagnosis: Murder, he was the titular star of this fantastic sitcom. The classic half-hour gave viewers two shows in one: a behind-the-scenes look at the creation of a TV variety show and a warm-hearted family comedy. The former allowed for plenty of sharp dialogue and fast-paced jokes courtesy of show creator Carl Reiner and co-stars Morey Amsterdam and Rose Marie, all playing comedy writers. The latter took full advantage of the winning chemistry between Van Dyke and former dancer and TV bit player Mary Tyler Moore. —Robert Ham
---
Young Rock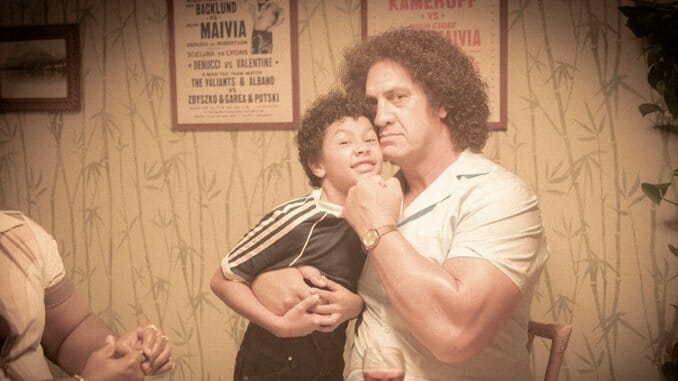 A cute and nostalgic network TV journey through a celebrity's early years would probably not work under any other circumstances than those of Young Rock. The NBC series brings together the comedy savvy of Nahnatchka Khan (Don't Trust the B— in Apt 23 and Fresh Off the Boat) and the well-established charisma of wrestler-turned-actor Dwayne "The Rock" Johnson, hopping through several timelines to give a colorfully embellished but seemingly emotionally genuine survey of The Rock's childhood.
There are plenty of Easter eggs for wrestling fans in particular, who will undoubtedly enjoy (or bristle) at depictions of famous figures like André the Giant, the Iron Sheik, and Macho Man Randy Savage. Even for those like myself who have no real context for the history of the industry being represented, it all helps build out Young Rock's candy-colored, comedically-heightened world.
While fans of Khan's previous work may be disappointed by a dulling of her signature surrealist humor, there are still some sharply funny moments throughout Young Rock, and the show is certainly brimming with warmth. Johnson is charming as always, and he manages to come off as genuine. The first episode's title, "Working The Gimmick," really sets up a wary expectation for all that follows. But the goal of wrestling is entertainment, and Young Rock provides that in spades; it's a sweet show, and earnestly likable. So even if viewers do feel like we're being worked, do we mind? —Allison Keene
---
Unsolved Mysteries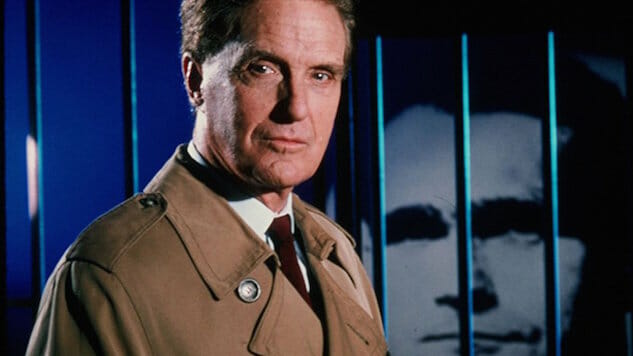 That introductory message was followed by a Halloween-inspired theme song and the voice of host Robert Stack, a voice that would feature prominently in my nightmares for years to come. For the unfamiliar, Unsolved Mysteries is a documentary-style TV show that originated in 1987 and went through multiple hosts and networks over the course of its run. But the height of its popularity came during the Stack years, which lasted from 1987 to 2002. Each episode features three or four unsolved cases, covering a wide range of subjects: murders, kidnappings, supernatural occurrences, lost treasure, and even historical mysteries, such as the disappearance of Amelia Earhart. The producers used actual evidence, interviews with those close to the case, and some of the most mullet-heavy reenactments ever recorded to tell the story. At the end of each episode, Stack would plead with viewers to contact the authorities with information on the cases they'd just seen—and give updates on any previous cases that we, the viewers, had helped solve. (Most recent "prestige" crime docuseries still follow much the same narrative template that Unsolved Mysteries helped pioneer: Each introduces a case, the theories that might explain it, and the potential suspects, then sorts through the evidence for and against each.)
The truth is that we'll never stop being fascinated by the very worst of humanity, but the way in which we want to consume it has changed and will continue to do so. UM changed the landscape of true crime on television and changed what we expect from it. The show, like the series that have followed it, didn't always provide the answers we wanted—but then, neither does real life. Robert Stack did, however, always leave us with one comforting message: the hope that the unsolved would be solved and justice would be served. "For every mystery, there is someone, somewhere who knows the truth," as Stack says. "Perhaps that someone is watching. Perhaps it's you." —Stephanie Ashe
---
Tin Man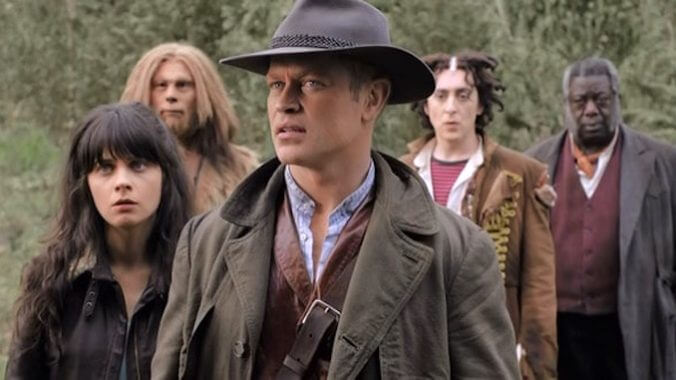 Ever since the history-making 1939 film from MGM, L. Frank Baum's wonderful world of Oz has been revived and redone time and again, and SYFY's Tin Man limited series is no exception. The series ran for only three episodes, and stars Zoey Deschanel as DG, a waitress that gets whisked away to the mysterious O.Z., also known as the "Outer Zone." This series is a far cry from Judy Garland's Oz—it's apocalyptic, it's gritty, but most importantly: it's strikingly original and filled with heart. If you are a fan of the film and are looking for a twist on a classic tale, this series is a must watch. —Anna Govert
---
Quantum Leap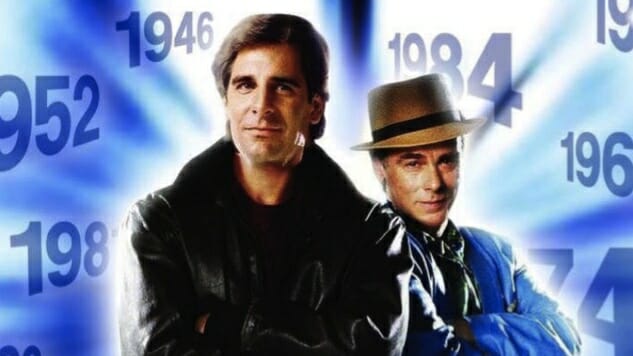 Quantum Leap, NBC's time-travel break-out hit, ran for 93 episodes, telling largely self-contained stories across history with Dr. Sam Beckett (Scott Bakula) jumping into the body of another person to make a change, and leaving history in better shape than he found it. The relatively simple concept proved to be the show's greatest appeal, and the lens of science fiction allowed it to tell some truly progressive stories for the early 90s, with a "fish out of water" hero built right into the fabric of the concept. Science fiction was the jumping off point, but Quantum Leap told human stories that (despite being a sci-fi show) were almost always rooted in the past. A sci-fi period piece, if you will. —Trent Moore
---
Hunter X Hunter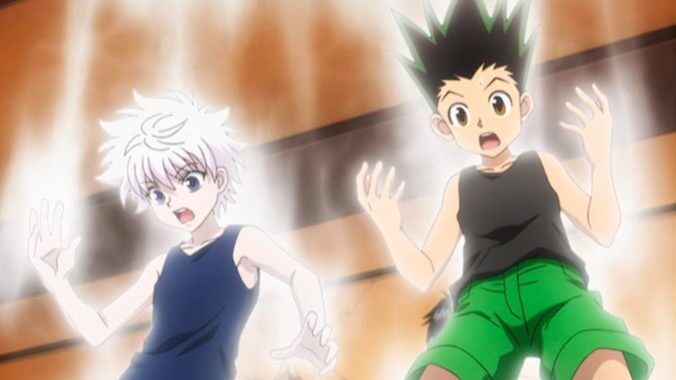 There are countless shonens (and American TV shows, even) that focus on a group of young characters using supernatural abilities and deductive reasoning to problem solve. Hunter x Hunter is a rare find among this homogeneous archetype because of its attention to detail and emotional investment. This anime is filled with whimsical subplots that don't always end with a major event, but let you know characters in this world were alive before you started watching them.
Hunter x Hunter begins with Gon Freecss, as he sets out on a journey to become a Hunter. He's your typical savior-figure protagonist unique to shonen, but fortunately he keeps the annoying, repetitive mantras to himself. His determination to see the best in people becomes a marvel of the series, and his dedication to others drives the plot. He makes friends with a young boy from a family of assassins, and their polarized dynamic creates a connection that makes the series inspiring. The compelling relationship between these two boys demands emotional investment from you. Togashi emphasizes their youth and inexperience by pitting them against much older, more experienced villains, and introduces powerful mentors that help them evolve. He's meticulous about tailoring his characters' abilities to their personality, but everyone draws their strength from resolve. The feats of pure determination you'll witness in this anime will change you.
Togashi has struggled with a medical condition for some years, but he claims the manga is far from over. Hopefully, the remastered anime gets a seventh season soon.—Jarrod Johnson II
---
Coach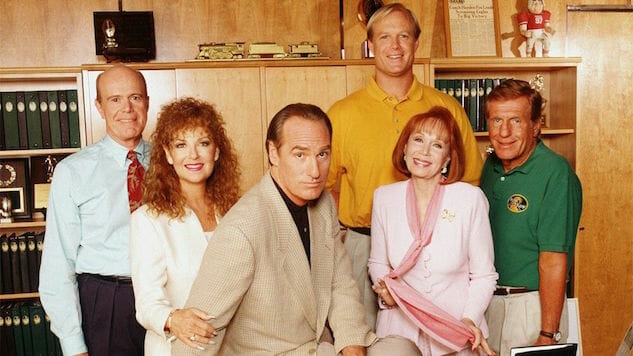 The 1990s seemed to be just jam-packed full of sitcoms like Coach, these genial programs about harried parents dealing with kids and family life, only defined by their unique locations. What mattered was each show's cast, and Craig T. Nelson, as later evidenced by The Incredibles, was pretty much born to be the harried father. Here, he coached a prestigious college football team at the fictional "Minnesota State" before moving on to the NFL, but even more than the team, his challenges typically revolved around wrangling his college-aged daughter or sorting out disputes between other teachers or members of his staff. Like any of these shows, you had yourself a few goofball comic relief characters who existed just to give out-of-nowhere monologues like this one. —Jim Vorel
---
Gossip Girl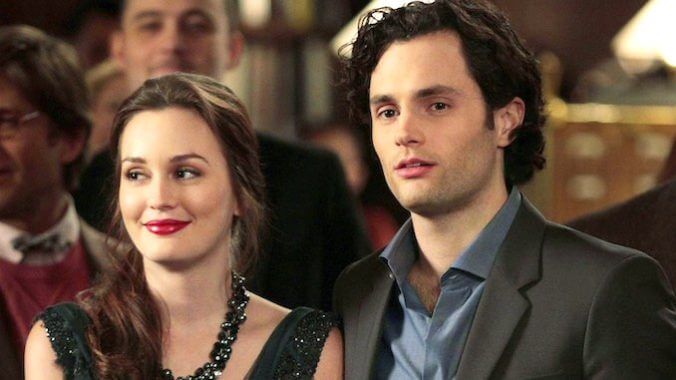 Slick, uber-wealthy and almost unbearably white, Gossip Girl was adroitly dubbed the "hockey fights video of teen romance drama" by the New York Daily News. While I tend to like my TV a little weightier and with a less blinding palette (seriously, you could set your white balance on most of this cast) I was, despite myself, quickly won over by this absurdist look at insanely wealthy New York teenagers. When the reactionary Parents Television Council referred to the show as "mind-blowingly inappropriate," I was sold. Anything that pisses off a group of backwards tight-asses that much has got to be supported. And you know what? It was inappropriate. But so what? It was like Bugsy Malone with martinis and sex toys. Its tongue was planted firmly in cheek, and the show had wit to spare. And lest you think it was all modern fluff and wastoid teens, the show did have over-arching literary pretensions that often paid off. How else do you explain episode titles like "Pret-a-Poor-J," "You've Got Yale!," "The Witches of Bushwick" and "The Treasure of Serena Madre"? Sure the "Who was Gossip Girl" reveal makes much of the five years one giant plot hole, but who cares? You know you love her… XOXO, Gossip Girl! —Mark Rabinowitz
---
Bones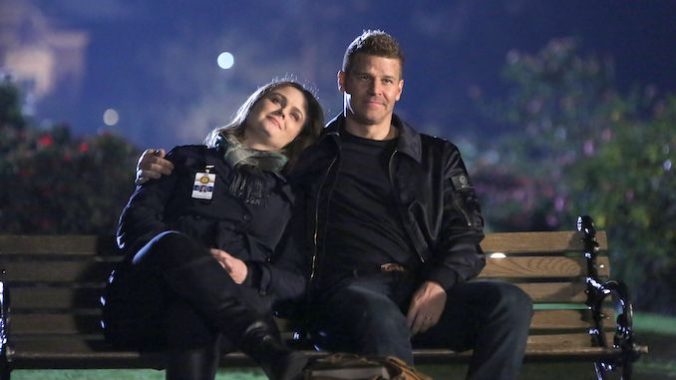 Based partially on the life and career of real forensic anthropologist and crime author Kathy Reichs (who also acted as a producer on the series), FOX's Bones follows anthropologist and author Dr. Temperance Brennan (Emily Deschanel), also known as "Bones" for her uncanny ability to find clues within the bones of victims, and Special Agent Seely Booth (David Boreanaz), whose mistrust of science after his time in the Army makes for a delightful odd couple at the center of this series. Bones ran for 12 seasons at FOX, and over the course of its run, proved to be delightfully entertaining and fun to watch, with its episodic case-of-the-week nature never truly getting old. —Anna Govert
---
Merlin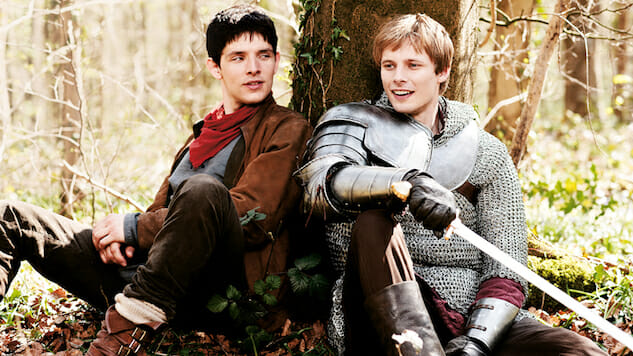 A lot of fantasy is based on existing myths, legends, and folklore, and although you might think you know the story of the famous King Arthur and Merlin, you've never seen it told quite like this before. The fan-favorite Merlin, which aired on the BBC from 2008 until 2012, is set in a version of Camelot in which magic has been outlawed. The story begins when Arthur Pendragon (Bradley James) and the wizard known as Merlin (Colin Morgan) are young men who cannot stand each other, but after the latter becomes the former's personal servant, they put their issues aside and become fast friends. And this is a good thing for both men, since Merlin has to often use his gifts in secret to save Arthur—often without him knowing—so the latter can one day fulfill his destiny as the man who will restore magic to the kingdom. If you're looking for a lighter fantasy show than some of the others on this list, this is a really good, quite fun option with plenty of bromance. —Kaitlin Thomas
---
Zoey's Extrordinary Playlist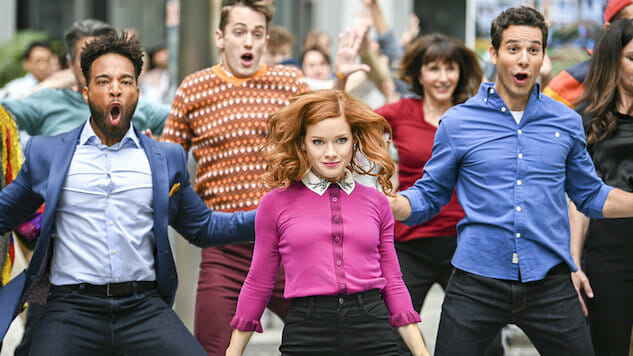 Zoey's Extraordinary Playlist is a pure delight. A show that is 1000% guaranteed to put a smile on your face, get your feet tapping and leave you humming a happy tune. I defy you to not be in a good mood after watching it. Jane Levy stars as the titular character who, after an MRI gone awry, can suddenly hear the soundtrack of people's lives. Their innermost thoughts set to a Beatles song, a Whitney Houston ballad or a Katy Perry number. Because Zoey is privy to people's innermost thoughts whether they are singing about sexual desire or loneliness or marital frustration, she tasks herself with solving their problems. But by adding the extra layer of full on, big musical numbers everything Zoey does seems natural. Musicals, by their very nature, require a huge willing suspension of disbelief. The show also isn't afraid to tackle big emotional problems: from the sudden death of a parent, to a husband who doesn't respect you, to being your true self to everyone. It's NBC taking a risk. As far as musical TV series go, for every Glee or Crazy Ex-Girlfriend there's a Cop Rock. For network television to be airing, promoting, financing a show like this is a sign that broadcast TV isn't throwing in the towel to Netflix or Prime Video. NBC has come to play, thank you very much. And that's something to sing about. Additionally, if you're looking for more Zoey's, look no further than Roku's original film Zoey's Extraordinary Christmas. —Amy Amatangelo
---
The Mentalist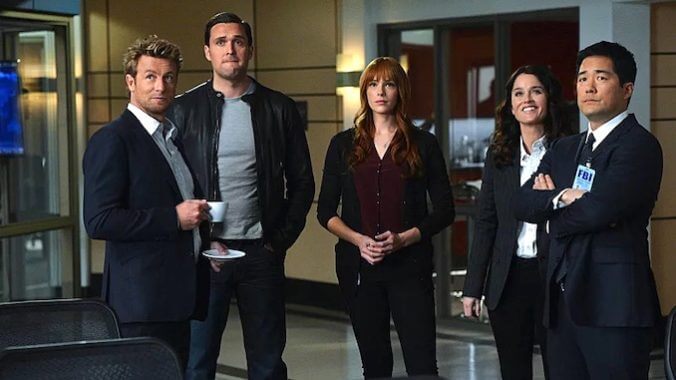 In many ways, The Mentalist is a procedural unlike any other. Sitting firmly within the "consultant procedural" subgenre, the series follows Patrick Jane (Simon Baker), whose unusual methods and acute attention to detail makes him an undeniable asset to the California Bureau of Investigations as a consultant. Working alongside senior agent Teresa Lisbon (Robin Tunney), Jane uses his status as a consultant to not only aid the CBI in investigating various crimes, but also to hunt serial killer Red John, who murdered his wife and daughter. The series manages to strike a brilliant balance between serialized and episodic, allowing new viewers to jump in during practically any episode through its procedural format, but its long-running storyline following the hunt for Red John allows The Mentalist to thrive in its serialized elements. The series ran for seven seasons on CBS, and remains rewatchable and fun in its afterlife on streaming and in syndication. —Anna Govert
---
For all the latest TV news, reviews, lists and features, follow @Paste_TV.