FX's Dystopian Class of '09 Is Saved Entirely by Its Actors
Photo Courtesy of FX
TV
Reviews
Class of 09
Kate Mara, Brian Tyree Henry, Sepideh Moafi: Take a bow.
Those three, with an extra emphatic nod to Henry (the brilliant "Paper Boi" from Atlanta) are the saving graces of Class of '09, an otherwise serviceable but occasionally disoriented FBI thriller from FX (streaming on Hulu). Without them, this could have been an outright failure, and was guaranteed to be forgettable; with them, it's a solid eight-episode miniseries that won't go down as one of the greats, but will absolutely grab and hold your attention through the end… or at least through the four episodes made available to critics.
The story here, from creator Tom Rob Smith (London Spy), is deceptively simple: The FBI class of '09, many of them recruited from outside law enforcement, are considered a special group destined for greatness until certain fissures emerge that set them against each other. The action jumps from three set time periods: '09 itself, when they're all undergoing training, the "present," as they try to infiltrate and dismantle a white supremacist group in the face of terroristic threats, and the "future," circa 2034, when an all-seeing surveillance network designed for noble purposes (haha!) is either manipulated by humans or becomes self-aware to the point that it makes pre-emptive arrests based on thoughts, or something.
All of this? It's fine. A little cluttered, a little nonsensical, a little philosophically out of whack, but not totally risible, either. Squint your eyes a little, and it's almost timely. What makes it all work are three leads. "Hour" (Moafi) is the brains behind the network, she's in love with "Poet" (Mara), who spies on her on behalf of the Bureau, and both of them eventually find themselves in opposition to Tayo Miller (Henry), who was never quite as idealistic as them, even when they were helping him through training, and is more concerned with victory at any cost. His shrewdness and ambition see him rise through the ranks until he's at the very top, while Hour and Poet are cast to the wind in various ways; Hour by exile, Poet by continuing to serve an organization whose methods and purpose become more opaque all the time.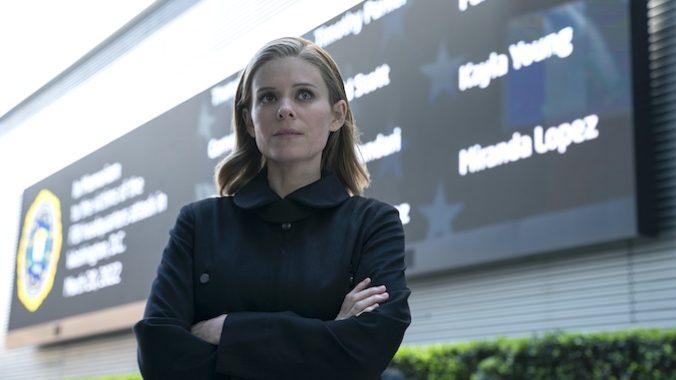 The bottom line here is that the plot is vaguely clever without being smart or grounded, but Mara, Henry, and Moafi force you to pay attention, take notice, and care. It might be the foremost example I can remember of a show with barely any legs being redeemed by acting, and Henry's grounding presence alone elevates Class of '09 to levels it frankly doesn't deserve to occupy. Like all great actors, some indescribable element of his presence—in this case, a veneer of quiet resignation disguising a burning fire—is like the proverbial high tide, and the ship that rises is the plot itself. Mara, who has spent much of her career as a severely underrated utility player on shows like House of Cards and American Horror Story, shows her chops in a starring role here, and Moafi—who borrows part of her biography as the children of escaped Iranian refugees for Hour's character—brings the uneven, almost manic energy of a hidden zealot to her role.
There's an interesting phenomenon with great acting, where it's almost easier to tell how good someone is when the script hovers in a place near mediocrity. Some directors and writers are so talented that you start to think almost anyone would thrive in the protection of their artistic vision, but without that baseline of genius, an actor is left exposed, and only the good ones can rise above. This is perhaps overly harsh to Class of '09, whose story is far from the dreck you can find elsewhere, but as a spy/thriller/police snob, it takes a lot to keep me engaged, and there's nothing about this story that warranted cycling through every episode at my disposal. That's all down to the actors.
Like a superstar athlete playing for a small market team that will never win a championship, these three will probably have to settle for the bow I offered them at the start; there are no Emmys here, perhaps not more than some brief attention paid to their show, and—my guess—some faint praise at best. Still, for anyone watching who might be looking to cast something more substantial in the near future, there's a lot to notice here: what they built, and the material they used.
Class of '09 premieres with two episodes Wednesday, May 9th on Hulu.
---
Shane Ryan is a writer and editor. You can find more of his writing and podcasting at Apocalypse Sports, and follow him on Twitter here .
For all the latest TV news, reviews, lists and features, follow @Paste_TV.