HBO Shares New Photos From Game of Thrones Season Seven Premiere
Photos by Helen Sloan/HBO
TV
News
Game of Thrones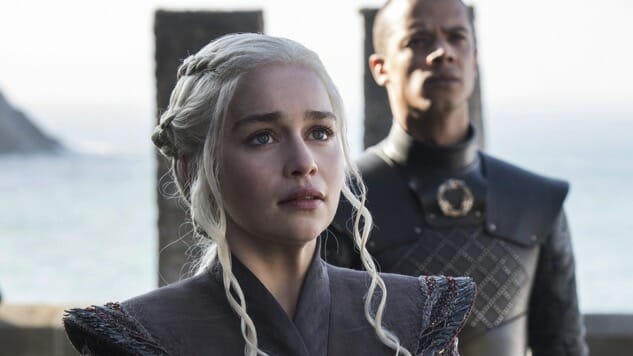 After over a year of waiting, Game of Thrones' season seven premiere is right around the corner, and anticipation for the HBO series' penultimate installment is through the roof. To further stoke that wildfire of excitement, HBO has put out a fresh batch of photos from the first episode of the show's new season, which you can feast your eyes upon below.
The shots don't give away much, predictably. HBO is keeping as much about Game of Thrones' new season under wraps as they possibly can, forcing us to glean whatever information we can from vague plot summaries and episode runtimes in order to survive the long wait for winter.
Mostly, these photos help catch us up on where our favorite denizens of Westeros left off after season six's stunning conclusion. Brienne is still teaching Pod how to fight, and Edd is still growing into the cloak of Castle Black's Lord Commander. Meera is tired and dirty, but at least appears to have found her way back to civilization after fleeing north of the wall with Bran. An uneasy-seeming Queen Cersei looks to have come down from the high she achieved by blowing up half of King's Landing last season. Daenerys is getting her invader on with Grey Worm at her side in one shot and, in another, sizing up a new throne—Dragonstone's, judging by the premiere episode's synopsis. Lyanna Mormont remains the most adorably formidable lord or lady in the north, and lastly, there's … some dude, bent over a big old map of Westeros. All indications are that map will need to be redrawn soon.
See the photos for yourself below. Game of Thrones returns this Sunday, July 16.