GLOW Heads to Vegas in First-Look Images from Netflix Series' Third Season
Images via Netflix
TV
News
GLOW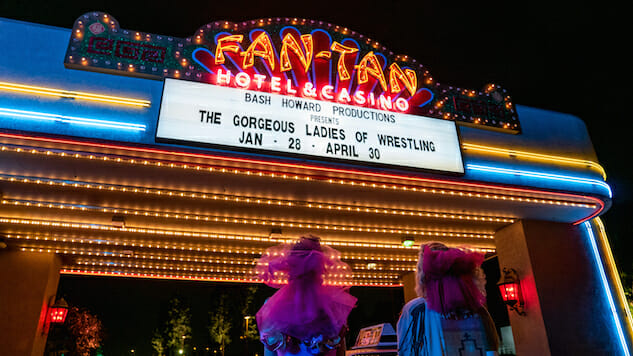 The Gorgeous Ladies of Wrestling are preppin' for a tussle in the ring once again. The 10-episode third season of the Emmy-nominated Netflix series—titled GLOW, for brevity's sake—is due to launch Aug. 3 and sees the ladies, including Ruth (Alison Brie) and Debbie (Betty Gilpin)—heading to the Vegas Strip. But like many soon realize, Vegas ain't all glam. The season's official synopsis outlines:
Season 3 follows the ladies of GLOW as they take the Vegas strip by storm. Now headliners at the Fan-Tan Hotel and Casino, the women quickly realize Sin City is much more grind than glitter. Ever the team cheerleader, Ruth's passion for the show begins to take a backseat to her growingly complicated personal life. Debbie is making headway as a producer, but continues to be consumed with guilt over the distance between her and her son. As their residency wears on, the lines blur between performance and reality, and the cast find themselves struggling with their own identities both in and outside of the ring.
Additional returning cast members include Marc Maron as the washed-up director Sam Sylvia, Sydelle Noel as Cherry Bang, Kate Nash as Rhonda Richardson, Britney Young as Carmen Wade and Chris Lowell as Sebastian "Bash" Howard, among others. Executive producer Jenji Kohan is also responsible for another female-focused streaming hit, Orange Is the New Black.
Check out the promo shots below. GLOW returns to Netflix on Aug. 9.