It Still Stings: Haunted Was a Great Companion Series to Buffy—Until UPN Cancelled it After 7 Weeks
Photo Courtesy of UPN
TV
Features
Haunted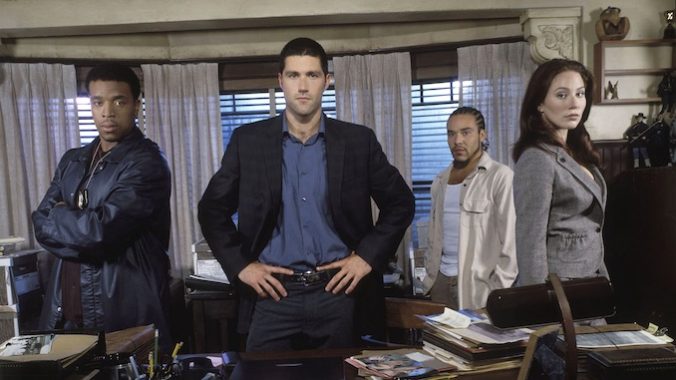 Editor's Note: TV moves on, but we haven't. In our feature series It Still Stings, we relive emotional TV moments that we just can't get over. You know the ones, where months, years, or even decades later, it still provokes a reaction? We're here for you. We rant because we love. Or, once loved. And obviously, when discussing finales in particular, there will be spoilers:

The year was 2002, and the now-defunct broadcast network UPN was preparing to air the seventh and final season of beloved hit Buffy the Vampire Slayer (a series it had acquired a year prior from The WB, before the two networks would eventually merge into The CW a few years later).
It had aired Buffy alongside fellow WB pick-up Roswell in 2001, but was looking for something a bit more on-brand for the ghosts and ghouls audience in year two of Buffy's run on the network.
Enter: Haunted.
The horror procedural, which fit nicely into the formula of The X-Files-meets-The Sixth Sense (which was a recent big screen hit at the time), starred Matthew Fox as he was looking for his next big role after Party of Five's cancellation, and still two years away from landing his career-defining gig on Lost in 2004. Fox starred in the series as ex-cop turned private investigator Frank Taylor, who develops the ability to communicate with ghosts after being stabbed and dying (briefly) while stopping a creepy kidnapper in the series premiere.
Though it thematically fit as a schedule companion with Buffy on the surface, Haunted was a very different type of show. Where Buffy featured that trademark Joss Whedon wit that often skewered the genre, Haunted lived deep within the creepy, comfy confines of straight-up horror and old school practical effects work. It played to the cliches of the genre, but never got lost in them. Frank had recurring visions of the psycho who briefly killed him; he was haunted by blood-soaked murder victims and found himself possessed by wayward spirits. The show also wasn't afraid to use a good jump scare, building out its world and mythos one terrifying case at a time as Frank faces all sorts of spooks across its 11-episode run.
"They did not use any special effects, and we're trying to avoid using special effects; just keep it simple," Fox said in a 2002 interview with CBS News ahead of the show's premiere. "Our goal is to be the scariest show on television. Some have criticized us for taking the scares so seriously and not lightening up, but you can't be all things to all people all the time. I hope we stay really scary."
The series made for a great one-two punch alongside Buffy, showing the breadth of the genre and the way it could be interpreted. Plus, if nothing else, Fox certainly stayed true to the ethos of the show. Haunted is still plenty scary, even two decades later.
The show ran for just seven episodes in a block with Buffy's final season before UPN pulled the plug due to low ratings, leaving the series' final four episodes unaired for years until the series was picked up for syndication by Chiller and the Sci Fi Channel for sporadic re-runs from 2007-2009, with the full series finally landing a DVD release in 2010 (it eventually found its way to Blu-Ray in 2018, too).
But taken as a complete package, that all-too-brief, 11-episode run of Haunted was one of the best little horror shows of the early 2000s you probably didn't see. Fox is bringing it all, showing the leading man charisma that will make him a household name a few years later on Lost. The supporting cast is also solid, with a young Russell Hornsby (who would go on to be a fan favorite in NBC's Grimm a few years later) as Frank's friend and former partner, along with Lynn Collins (X-Men: Origins, John Carter) as his ex-wife rounding out the ensemble.
Though the creepy case-of-the-week format keeps the story moving along, Frank is also still reeling from the loss of his young son, who was kidnapped and never found, which provides a narrative throughline as he finds himself trying to keep a grasp on reality as ghosts and spirits tear his sanity apart week-by-week. Once this world gets space to breathe a few episodes in, and you get a feel for the format and pace, it's extremely compelling. The show was truly hitting its stride at the end, stretching the format and digging into Frank's story and the types of horror stories it could tell.
Behind the scenes, the show also had an interesting pedigree, which might help explain how it pulls off the horror chops so well on a tight budget. The series was co-created by Rich Ramage, who doesn't have many credits to his name, but did write the screenplay for the cult hit 1999 horror flick Stigmata (a weird, freaky little religious-tinged horror story). Ramage was joined by fellow co-creator Andrew Cosby, a comic writer who also created Syfy's hit sci-fi comedy Eureka. Though the projects are worlds apart, both shows do a great job of storytelling and world-building, and that's clearly a skill set Cosby brought in spades. 
Though it never managed to catch on, typically pulling less than half of Buffy's ratings during its run before being axed from the schedule, it's fun to imagine a world where Haunted might've found an audience and went on to anchor a post-Buffy horror block at UPN. Had the show succeeded, it likely would've kept Fox too busy to land that Lost role. It also might have helped keep horror programming on the broadcast dial in the early 2000s, when instead the genre found itself in a bit of a dearth after the end of shows like Buffy and The X-Files in the early aughts.
It's also fairly clear the creators never had a chance to really tell Frank's story to a fitting end, with the episode order chopped at 11 once the show was canceled. But thankfully, its case-of-the-week style isn't all that hurt by an open-ended, makeshift finale. It means Frank might still be out there, helping solve cases one spine-tingling ghost scare at a time. So if you're looking for some early aughts terror, you could do far worse than tracking this set down on DVD or Blu-Ray.
---
Trent Moore is a recovering print journalist, and freelance editor and writer with bylines at lots of places. He likes to find the sweet spot where pop culture crosses over with everything else. Follow him at @trentlmoore on Twitter.
For all the latest TV news, reviews, lists and features, follow @Paste_TV.