Alice Eve Will Join Season Two of Marvel's Iron Fist
We're sorry, Alice Eve
Photo by Jeff Spicer/Getty
TV
News
Iron Fist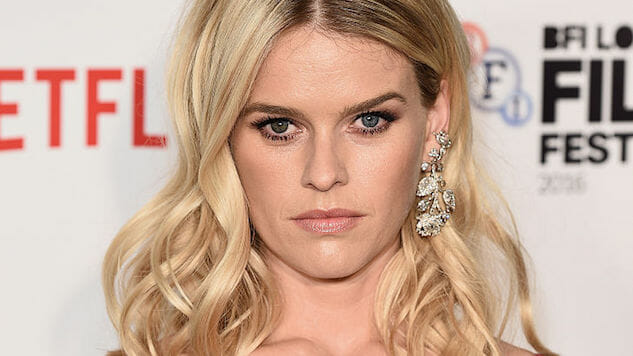 Imagine for a moment that you are high-profile, talented, gorgeous actress Alice Eve. You find out that you've been cast in a Marvel property. What a score! One of the biggest film and television franchises on the planet. After your previous bad luck with blockbusters, surely this time will be different. This time, the mega-budget production will not woefully misuse your talents.
And then you find out that the part is in season two of Netflix's Iron Fist.
Chances are, your reaction would not be favorable. Iron Fist is the black sheep among the flock of not particularly high-quality sheep that is the Netflix-Marvel collaborations. The only truly critically acclaimed show in that stable is Jessica Jones, with Luke Cage, The Punisher, The Defenders and Daredevil all receiving fair-to-middling reviews. And Iron Fist sits solidly at the bottom of that mediocre totem pole.
Loathed by critics and fans alike, Iron Fist manages to find the unhappy middle of the Venn diagram between problematic racial and cultural dynamics, and incompetent storytelling. The show follows Danny Rand, an heir to a billion-dollar fortune who spent his childhood training in a mystical martial arts temple known as K'un L'un. Finn Jones plays him like a college student fresh from their study abroad trip to Asia, ready and willing to explain Asian culture and martial arts to Asian people back home in New York City. Rand, whose sole superpower is that one of his fists punches real hard, isn't even particularly good at punching.
Eve will have to jump right into the middle of all that. Variety reports that Eve will join season two of Iron Fist, and the show is (understandably) happy to have her: "We are very excited to have an actress of Alice's stature join the cast of Marvel's Iron Fist,'" said Jeph Loeb, the head of Marvel television. "Her exceptional talent brings an intrigue and danger to her character unlike anyone else."
There is a chance that Marvel will somehow right the ship, however doubtful that is. Scott Buck has been too busy helming the disastrous Inhumans for ABC, so he has passed showrunner duties on to Raven Metzner. With fresh new blood like Eve joining and rotting old blood like Buck leaving, who knows? Maybe the show will get better. But when your very premise, the core of your show's identity, has been roundly criticized, it seems unlikely.