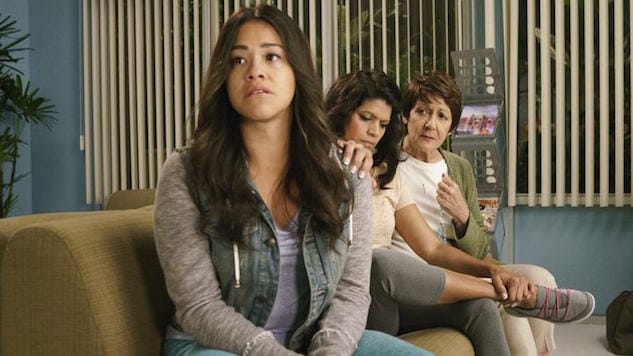 The season premiere of Jane the Virgin was a big one: Hope you brought tissues to your viewing party! Michael Cordero's life is on the line, as Jane finds him outside their honeymoon suite. But before we can find out if he lives to see the next chapter of the story, we are thrown for a loop by flashbacks of the newlyweds' budding relationship, when another love triangle threatened their romance. We also have the Marbella under investigation—again—with Rafael and Petra (or her twin sister, Anezka), helping the cops.
1. Oh, Flashbacks – We've Missed You So!
I often wonder if Jane viewers will ever tire of the show's use of flashbacks, but they're always done so well, especially with the Latin Lover Narrator playing tour guide. It also gives us the chance to watch Jenna Ortega's role as Young Jane expand. Jane goes to her first book reading with mom, Xiomara, but interrupts the event by firing questions about the romance novelist's stylistic choices. It's a small moment, but Ortega is perfect as the knowledgeable Young Jane demanding HEAs (Happily Ever Afters). In older Jane's world, the audience was given another delicious moment. Michael and Jane almost became a different love triangle, which didn't sit well with Michael. It led Jane to call Michael a dick and mock his selfie with his dead pet cat. Again, delicious.
2. Anezka, the Mediocre Actress
Anezka seems to struggle with playing the part of twin-sister, Petra. Their mother, Magda, is behind the plan to steal the Marbella from Rafael, while Anezka wants Rafael to herself. I guess the sisters are more similar than we give them credit for. But one thing is for sure: Anezka should have studied the details of Petra's life a little bit more closely. Anezka earns the suspicion of cops investigating Michael's shooting. When she tries to escape from their grip, she gets locked between stairways. After crying in front of Rafael, the sympathetic man relieves her of duties, and she's off to give Petra her round-the-clock shot to continue her sister's pretend sickness.
3. Rogelio's Latest Program for Addicts
I know this is a stressful episode, but you can't fault me for celebrating Jaime Camil's return as the sweetest, most narcissistic actor—and Jane's dad—Rogelio. Due to the gruesome events, Camil plays off Rogelio's comedic relief subtly, as his sadness for his family and best friend permeates the air. But that doesn't mean there wasn't any time for hijinks this premiere. Rogelio finds two bro-dudes in the hospital's waiting area tweeting, so he asks if they can keep his whereabouts a secret in return for an IOU. And it's a big IOU: Rogelio agrees to give some urine for their drug test. As soon as the deed is done, they thank "Erik," and Rogelio soon realizes that the tweeters have confused him for Erik Estrada. His indignation was heard loud and clear by two cops.
4. The Trouble with In-Laws
Jane is well aware that Michael's parents don't support their marriage, especially since she had to convince them to join the wedding festivities for their son's sake. Jane's first day of wifely duties saw even more friction with Michael's mom, Patricia, as the other woman takes over by questioning the doctors, leaving Jane speechless. The new wife had to walk to another floor to have an emotional release, allowing actress Gina Rodriguez's breakdown to tear us apart. She is the best crier on television, hands down. Jane recalls the early days of her relationship with Michael, realizing that she has to fight for what Michael would want for himself. It's the most simple, profound moment of the episode and helps relieve the tension between both families. Sometimes, that's all we need.
5. Jane and Michael's Future
Were you ready for the emotional wringer of Jane's proposed future with Michael? Because of the build-up since last season's finale, it didn't seem likely that Michael's life would be cut this short. You never know with telenovelas; anything could happen. And with Jane detailing their future to him before he's prepped for surgery, one can only wonder if the writers' will give us an ending we're not expecting. For now, all is well. Michael survives, but we still have a whole season ahead of us to see if the couple will truly have a chance for Happily Ever After.
---
Iris A. Barreto is a writer for
Fangirlish
, freelance writer for
Paste
and social media intern for
Pink is the New Blog
. Heavily caffeinated. Forever lost in Westchester, NY & NYC; all GPS apps hate her. You can follow on Twitter.