The Top 5 Moments from Jane the Virgin's Very Sexy "Chapter Forty-Seven"
(Episode 3.03)
The CW
TV
Lists
Jane the Virgin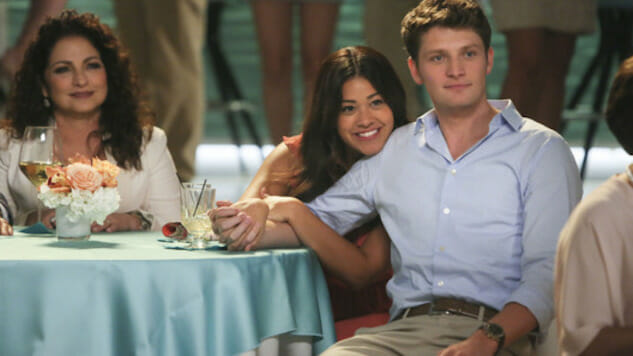 Jane the Virgin's "Chapter Forty-Seven" deals with more sexual politics—and sexual identities—while certain characters feel as if they're at a crossroads. Jane finally has sex, but it isn't anything like she expected. Directed by Eva Longoria, there are plenty of beautiful and well-conceived shots, such as the one where Jane is in her childhood room, while Xiomara plays dress up in the doorway, calling back to the first season.
5. The Sex Tape Plot
There are at least two other series featuring a sex tape as a plot device this season (Pitch is one), and it can be tiresome—but here, the trope is turned upside down by way of Jane's hilarious advisor. After Jane and Michael finally have sex, Jane accidently records her first time and sends to said advisor. Yes, the cringe-factor is high as second-hand embarrassment settles in, but instead of causing too much commotion, Jane's advisor begins to understand why Jane's romance novel borders too much on fantasy elements when it comes to sex. We're now aware of what Jane's story lacked, which leads to the introduction of a fantastic character based on Cecilia.
4. The Making of a Well-Rounded Character
I didn't care too much for the idea that Rogelio was selling a U.S. version of Triago to a fictional version of The CW. However, I did appreciate that Carolina Rivera and Micah Schraft, the writers of "Chapter Forty-Seven," focused on how to create a well-rounded character, especially when based on a real person. Cecilia didn't ruin her sister Alba's life because she's only a "bitch." She's a multifaceted woman with passions and goals, one dealt a heartbreaking blow that severs the sisters' bond. Alba wasn't always the religious, wise woman without faults, and Jane and Xo are more than their sexual identities: Digging deeper than the surface, and seeing the world from other perspectives, is a lesson all writers, including Jane, have to learn.
3. Jane's Sexual Identity
Since being raised by Alba, Jane has endured discussions of how being a virgin is like holding a delicate flower until it's crushed, as in lost—not exactly sex-positive. But Jane was proud to be a virgin and Alba's intentions were good. So when Jane loses her virginity to Michael, it should be magical, especially after waiting so long.
Except, it's not. Sex isn't always about the fireworks. It's messy, and can be physically and mentally daunting. And when possessing the "V card" is part of your identity, well, it can feel like a big part of you is gone. Fortunately, Xiomara reminds Jane that she's more than a virgin, and that sex is another dimension of her world. Does it take anything away from her? No. It's a lesson Jane wasn't ready to hear from her mother until now.
2. Xiomara's Career Crossroads
Xiomara's audition for The Voice leaves her with a new predicament. If she wasn't a singer, what else would she have done as a career? She's never asked the question before, but it brings new depth to a woman who's already a grandmother. How often can we hit the reset button in our lives and re-think what lays in our path?
For Xo, this question haunts her in front of the power couple, Gloria and Emilio Estefan. Instead of telling Xo that she just needs to focus on singing, they bring up the many careers they've taken up since their success, brewing up more ideas for Xo. And this is a great way to test what Xo is made of. This whole episode is about testing the limits of the characters, and so adding new layers to their identities.
1. The Animated Visuals (and Sex Discussion)
Another first: I'm giving this spot to the animated sequences that followed each of the two sex scenes. Of course, Jane isn't going to show Michael and Jane having sex. But the animation lets us know everything we wanted: especially with the "Tap That Ass" message across a field, as the two leads ride a rocket around the world. They're melting ice caps as the screen lights up with bright colors, a suggestion of just how satisfying it was for the couple to finally let their biology speak.
Back on Earth, Michael and Jane had to work to get that animation rocking. During their first time, Jane fakes an orgasm and is displeased, but because she's open with Michael, it hurts. They waited this long for sex that doesn't feel great? Until Michael gets the bright idea of watching their sex tape, which helps him, er, maneuver differently to please his wife. See? Healthy discussions about sex can happen on television!
---
Iris A. Barreto is a writer for
Fangirlish
, freelance writer for
Paste
and social media intern for
Pink is the New Blog
. Heavily caffeinated. Forever lost in Westchester, NY & NYC; all GPS apps hate her. You can follow on Twitter.