The 5 New and Under-the-Radar TV Shows You Can't Miss In September
Photo Courtesy of NBC
TV
Lists
list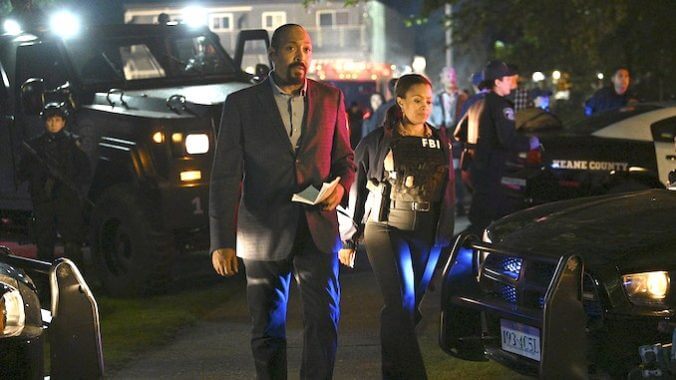 I was in Michael's the other day, and do you know what my favorite arts and craft store had on its shelves? Christmas decorations. Lots of them. I mean it's one thing to see Halloween candy at CVS in July, but this was even more unsettling. I'm buying back-to-school supplies and have to come face-to-face with Santa?
We here at Paste TV Do. Not. Like. To. Rush. Things! So we are savoring the month of September and the beginning of fall (you can keep your pumpkin lattes until October, thank you very much). 
September hasn't been what it used to be for television for quite some time. The years when September signaled the start of the new TV season and the extra thick copy of TV Guide would arrive in your mailbox are long gone. But this September is even more off than usual. With the WGA and SAG-AFTRA still on strike awaiting a fair deal, we will be seeing an increased amount of non-scripted programming (for example, both The Amazing Race and Survivor are expanding to 90-minute episodes this fall).
We love September and the promise of all that TV has to offer. Paste will be covering the long-awaited third season of Apple TV+'s The Morning Show (September 13th), the final season of Netflix's Sex Education (September 21st), and yes another Walking Dead spin-off when The Walking Dead: Daryl Dixon hits AMC on September 10th.
But, as always, we don't want you to miss a thing. Here are the five new shows you can't miss this month. 


1. One Shot: Overtime Elite
Stars:  Amen Thompson, Ausar Thompson, Trey Parker, Somto Cyril, Jahki Howard, Bryce Griggs, Rob Dillingham, and Eli Ellis
Premiere Date: All six episodes premiere September 5th on Prime Video
This six-episode series follows the new basketball league Overtime Elites (OTE), which is for basketball players ages 16-20 based in Atlanta. Among the eight players One Shot focuses on this season are twins Amen and Ausar Thompson who, after playing for OTE, were drafted by the NBA as the fourth and fifth overall draft pick respectively. The league does things a little differently, offering its young players either a salary or a scholarship as well as the opportunity to finish out their high school years at OTE. Even if you aren't that into sports (I'm someone who continues to refer to half-time as intermission and practice as rehearsal, so you know where my head is at), the series will draw you in with its mix of personal stories (from the coaches and the players) and athletic achievement. 
---
2. Dreaming Whilst Black
Stars:  Adjani Salmon, Dani Moseley, Demmy Ladipo, Rachel Adedeji, Babirye Bukilwa, Alexander Owen, and Will Hislop
Premiere Date: The first two episodes premiere September 8th on Paramount+ with Showtime, and on September 10th at 10 p.m. on Showtime
This is the perfect series for anyone who dreams of saying what's really on their mind. Co-created by and starring Adjani Salmon, this six-episode dramedy follows Kwabena (Salmon) who is stuck working a boring day job while he dreams of a life as a director and artist.  The series, which premiered in the UK in July, started as a web series and led to a BBC-produced pilot, which won the BAFTA for Emerging Talent: Fiction and Screen International Star of Tomorrow in 2022.
---
3. Animals Up Close with Bertie Gregory
Stars:  Bertie Gregory
Premiere Date: All six episodes premiere September 13th on Disney+
Filmmaker Bertie Gregory (Seven Worlds One Planet), who last year had the series Epic Adventures with Bertie Gregory, now takes viewers to Antarctica, Africa, South America, and Asia to film animals in their native environment. First up, Gregory travels to Antarctica in search of killer whales. "The best stories are often the hardest to get," he says at the beginning of the series. And he's not kidding. Gregory and his team use drones and underwater technology to get incredibly up close to the animals he's studying. The results are astounding. 
---
4. Still Up
Stars:  Antonia Thomas, Craig Roberts, Blake Harrison, Lois Chimimba, Luke Fetherston, and Rich Fulcher
Premiere Date: Three episodes premiere September 22nd on Apple TV+ followed by a new episode every Friday 
Antonia Thomas (so terrific on The Good Doctor) stars in this eight-episode comedy as Lisa, an insomniac who has tried everything to help her sleep—to no avail. She spends her nights talking to fellow insomniac Danny (Craig Roberts) who, in addition to not being able to sleep, doesn't really like to leave his house. (He is a fan of anchovies and pineapple pizza, however). No one in their lives truly understands their friendship and, as this charming and hilarious series progresses, it becomes clear that maybe they don't either.  
---
5. The Irrational
Stars: Jesse L. Martin, Maahra Hill, Travina Springer, Molly Kunz, and Arash DeMaxi 
Premiere Date: September 25th at 10 p.m. on NBC
If you are a fan of the maverick who solves a case where others cannot (see: Monk, Will Trent, Psych), this new NBC drama is for you. Jesse L. Martin returns to TV as Alec Mercer, a behavioral science professor who knows that people often behave in ways that don't make sense (we are, for instance, more afraid of flying than driving in a car when, statistically, driving in a car is more dangerous). The series is poised to work on two levels: with Alec helping out with the case of the week while investigating an ongoing mystery from his past. It should be noted that NBC is in good shape compared to the other broadcast networks which have turned to reality TV and game shows amid the long-running dual industry strikes. In addition to The Irrational, the network also has the new series Found, along with new seasons of Quantum Leap and Magnum P.I. premiering in October. The Irrational will also begin streaming on Peacock the day after it airs on NBC. 
---
Amy Amatangelo, the TV Gal®, is a Boston-based freelance writer and a member of the Television Critics Association. She wasn't allowed to watch much TV as a child and now her parents have to live with this as her career. You can follow her on Twitter (@AmyTVGal).
For all the latest TV news, reviews, lists and features, follow @Paste_TV.