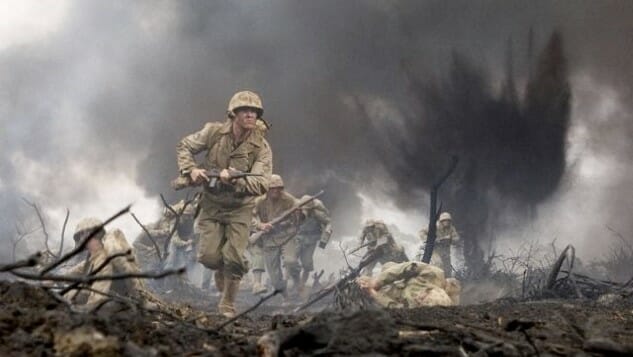 The follow up to Band of Brothers and The Pacific, Masters of the Air takes to the skies and traverses from HBO to Apple. The upcoming show is based off historian Donald L. Miller's nonfiction book Masters of the Air: America's Bomber Boys Who Fought the Air War Against Nazi Germany. This aerial installment will focus on the men enlisted in the Eighth Air Force known as the men of the Mighty Eighth in WII. What makes Masters different from the vastly popular Band of Brothers and The Pacific, besides the change of setting, is that Apple will be launching its own internal production studio with the show, THR reports.
Apple's Worldwide Video heads Zack Van Amburg and Jamie Erlicht will oversee the studio itself. The studio is not yet named, but lining up original, exclusive projects is essential to the success of the streaming platform, as Amburg and Erlicht would know as former studio chiefs at Sony TV. Ownership is shaping up to be a key focus among the crowded landscape of emerging streamers such as Disney+, NBC's Peacock and HBO Max in an effort to own and monetize their content and draw viewers to their domain.
2001's Band of Brothers previously won HBO six Emmys, while the 2010 sequel, The Pacific, won eight. Masters of the Air was put in development at HBO way back in 2013 before halting and now being released to Apple. It seems nonsensical for HBO to give up such a successful saga, but much of return on investment for the previous series' was made back through DVD sales. The boom of streaming has made profiting from physical material less likely, which possibly factored in HBO's decision to let Masters go. Production is estimated to be at a hefty $250 million, a price that Apple is apparently willing to pay.
Masters marks the third international drama series Apple has collected for its TV+ launch. It's other original shows include Pachinko, Shantaram and Amazing Stories, the latter a collaboration between the tech company and Steven Spielberg.
Speaking of Spielberg, all of the many producers for Brothers and The Pacific are expected to follow Masters of the Air to Apple. Tom Hanks, Gary Goetzman and Spielberg will executive produce for Hanks and Goetzman's Playtone and Spielbergs' Amblin Television, respectively. Amblin TV's Darryl Frank and Justin Falvey will co-exec produce alongside Playtone's Steven Shareshian. Band of Brothers writer John Orloff will adapt the script and also serve as an executive producer along with Justified's Graham Yost.