Men in Kilts: A Light, Charming, Vicarious Scottish Pleasure
A Roadtrip with Sam and Graham
Photo Courtesy of Starz
TV
Reviews
Men in Kilts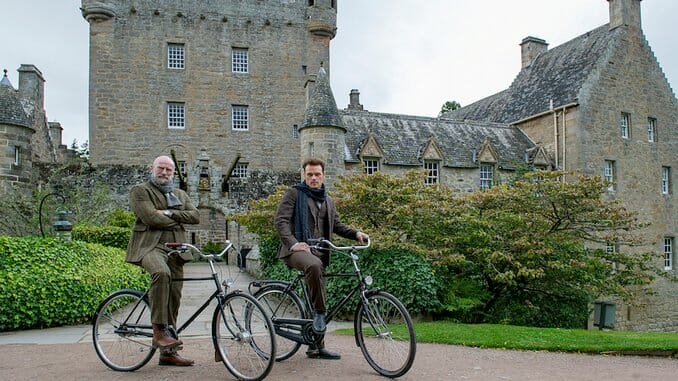 In Starz's Men in Kilts: A Roadtrip with Sam and Graham, Outlander's Sam Heughan (Jamie Fraser in the series) and Graham McTavish (who plays his uncle, Dougal Mackenzie) team up to explore the Scottish countryside. For those who watch Outlander, there's really no need for further convincing. The two handsome, ridiculously charming men have an excellent rapport, and their approach to the series is not unlike a much gentler, kinder version of The Trip with Steve Coogan and Rob Brydon. Like that (fictional) series, Men in Kilts is really a light survey of Scottish exports and elements of national pride—they don't spend too long in any one place or go too in-depth. The main appeal is just spending time with these two (although so far no one has done a Michael Caine impression).
In eight quick 30-minute episodes (two of which were available at the time of this review), Sam and Graham (if I may take such liberties) travel around in a small bus, trade witticisms, and tease each other. In the first episode, "Food & Drink," the two spend time sourcing some truly mouth-watering seafood and visiting famous scotch distilleries; in Episode 2, "Scottish Sport," they compete against one another and take bets on who will win in various feats of strength. Essentially, the show is based totally on these men's many charms (there is never a missed opportunity to have Sam take off a shirt or flash a bare bottom), and it absolutely works.
However, Men in Kilts, which was filmed in 2019, is also a kind of vicarious torture. Look at these people in such close proximity! Look at how they travel and go to restaurants! See how they interact maskless with strangers! It's an odd feeling, and one of intense longing for these kinds of activities to be possible again. Even the idea of going to visit Scotland itself seems as fantastical as time travel at this point. Which is why, in a way, it's almost better that Men in Kilts focuses so heavily on the playfulness of Sam and Graham's banter and the way they ham things up for the camera. To focus more intensely on the specific wonders of a place few to none of us will be able to experience for a long, long time would be nigh-cruel.
As for the production itself, there's nothing that Men in Kilts does to break the mold or reinvent the travel show, but it does excel in what it came to do. In addition to celebrating Scotland, the conversational patter is everything. Sam takes on a kind of sweet and silly role, while Graham is more measured and drole—although not always, especially when they are in competition and Graham wins, absolutely rubbing it in Sam's face (despite protesting earlier, "is there a handicap for him being 20 years younger than I am?") There are also lots of references to Outlander, of course, as well as clips and occasional hilarious montages. Men in Kilts is very self-aware and very funny, a joy to watch and—from what it seems—a joy to film.
What reportedly began as a podcast idea certainly shines in this visual format, which delivers great shots of the beauty of Scotland's countryside as well as of our two sartorially-snappy hosts. It also doesn't relish in trying to be hypermasculine. Yes sometimes they try to throw hammers or pick up giant rocks, but they're also squeamish at weird sea creatures, and look away—pretending to study birds—while the chef guts a lobster behind them. This kind of meta theatricality is the show's secret weapon. Well, that and the two extremely good-looking men at its center. Either way, it's light entertainment and escapist TV at its best.
Men in Kilts premieres, fittingly, Sunday, February 14th on Starz.
---
Allison Keene is the TV Editor of
 Paste Magazine.
For more television talk, pop culture chat and general japery, you can follow her @keeneTV
For all the latest TV news, reviews, lists and features, follow @Paste_TV.