FX's Mediocre Mr. Inbetween Gets Stuck Between Crime Drama and Deadpan Comedy
Photo: Mark Rogers/FX
TV
Reviews
Mr. Inbetween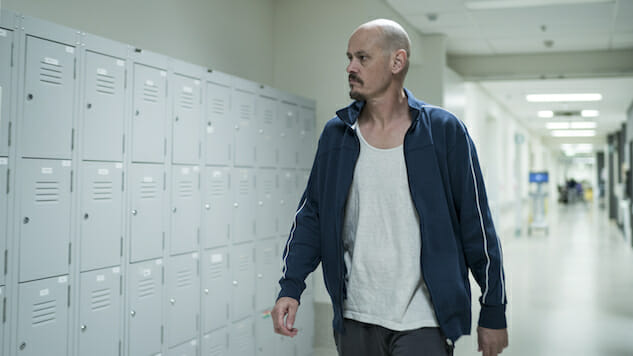 Scott Ryan looks like a skinhead Steve Buscemi, delivering hardass stares with chameleon eyes that always hint at a bit of black humor tucked inside their tired bags. The weary humanity that made a meme out of a great actor is there in Ryan's wrinkled squint. If only he could write himself something worthy of his actorly talents. He created and stars in FX's Mr. Inbetween—the Australian import based on the hitman character introduced in Ryan's 2005 mockumentary, The Magician—a series that, like its antihero, does its job with straight-faced, sometimes dull professionalism.
The six-episode season is all about getting to know Ray Shoesmith and his life. His daughter, Brittany (Chika Yasumura), is a charming kid that he's got an agreement with his ex to see. His boss, Freddy (Damon Herriman), is running small-time stuff out of a strip club. His goofy friend, Bruce (Nicholas Cassim, giving an intimate and detailed performance), ran in the same line of work until his ALS—called motor neuron disease in Australia, one of many things you can learn while you wait for the plot to pick up—caught up with him. This small familial cadre, including Ray's new paramedic girlfriend, Ally (Brooke Satchwell), convey a lazy warmth, periodically interrupted by equally lax detours into the other side of Ray's life. Ray's a problem solver. Think Breaking Bad/Better Call Saul's Mike Ehrmantraut, only with the powder in his keg a little fresher and a little more volatile.
The explosions give Mr. Inbetween its mojo. So stark in its violence that it can be disarmingly funny and often exciting, the series is at its best when blending the harsh practicalities of criminal shakedowns with the lackadaisical attitude and delivery of its leads. This can make for some captivating crimes (a tense kidnapping, a gorgeous multi-story shove), but their link to the episodes they reside in is purposefully tenuous—an attempt to suggest some separation in the work-life balance. I get it. You probably will, too. But the downside is, as we wait two-thirds of the season for worlds to collide, we have to watch detached shots of people who approach assault, robbery, and murder with the same energy they would eating a salad or painting your daughter's nails. Mr. Inbetween is too slow to be engaging, too dulled with drama to be deadpan.
That's a tonal detail that knocks the whole season off kilter. Directed by Nash Edgerton (brother of Joel), who edited and produced the filmic inspiration, the episodes drag their feet—even though each is under 30 minutes. There's repetition and excruciatingly mundane subject matter enough that the show's jokey approach to pacing is clear, but the shots Edgerton chooses and their length never create an atmosphere of itchy, ha-ha nervousness, like a good time-wasting comic sketch does. Instead, the result is often the bemused yet tired smile reflected on your laptop screen when you type "lol"—a face of, "Oh, how quaint" that's generous considering how some of the show's more obvious punchlines dribble out as unfunnily as the watersports they razz.
With so much doltish oddity and character work at play here, that's obviously not what the show is after. But since it doesn't follow through on the details, it never coalesces into much beyond a few amusing twists and a showcase for Ryan (who is, in fact, extremely good at being a world-weary criminal). Why do the main titles use a crosshair identical to the Zodiac Killer's signature symbol? Why does one of Ray's friends (Justin Rosniak) blink while he's in a coma? Why does that same friend watch porn on DVD?
Ryan's performance benefits from those twists as the season accelerates to a close, finally abandoning the rickety balance of the earlier episodes' slice of life in favor of straight criminal hijinks. The loose connection between episodes and the jump in quality of the final, more sequential and traditionally-plotted pair (though still not great in a market saturated with these same stories) makes it clear that Mr. Inbetween is merely caught between media—and would've been much better as The Magician 2.
Mr. Inbetween premieres tonight at 11:26 p.m. on FX, immediately following Mayans M.C.
---
Jacob Oller is a writer and film critic whose writing has appeared in
The Guardian, Playboy, Roger Ebert, Film School Rejects, Chicagoist, Vague Visages,
and other publications. He lives in Chicago, plays Dungeons and Dragons, and struggles not to kill his two cats daily. You can follow him on Twitter here: @jacoboller.