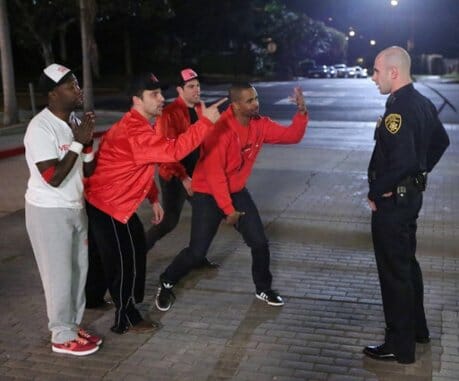 The best part of a beloved show ending is that the actors that made it so great now have time to spread the wealth to a multitude of projects. Look how popular the casts of Arrested Development and Freaks & Geeks became after the end of their series, and it's almost impossible to find a show today that hasn't featured someone from The Wire. When Happy Endings ended earlier this year, I wasn't necessarily disappointed the show ended, since it was more about great laughs than actual story, but I was excited to see where the amazing cast would pop up next.
Apparently Fox must have been a huge fan of Happy Endings, having already picked up Adam Pally as a series regular on The Mindy Project. Even more exciting was the return of Damon Wayans Jr., aka Coach, to the loft on New Girl. After an 11th hour pick up for a second season of Happy Endings, Wayans Jr. left his new gig at New Girl, leaving the spot vacant for Winston to slip right in. With the appropriately titled "Coach," Wayans Jr. returns to New Girl at potentially just the right moment, and already it can be seen how Coach might impact the other characters.
Coach and his girlfriend of two years have broken up, leaving Coach to return to the loft, ready to party as if he had never left. He decides that the boys need to go out to a strip club on a Tuesday night and stay out all night. Almost immediately, New Girl sets up Coach's impact on each character. Nick tries to seem cool in front of Coach, embarrassing himself in front of Jess when he tries to be obnoxiously masculine. The idea of going to a strip club frustrates Jess, but Nick goes along with it to be with his boys, leaving Jess and Cece to have their own girls' night out.
But I think even more interesting will be how Coach impacts Schmidt and Winston. Since Schmidt is at a low point in his life, the reunion with Coach could bring the Schmidt's douchier sensibilities to the forefront. Now that there are four guys in the loft, it might also give Winston more to do, especially since Coach and Winston seem to have a rivalry between them that could prove promising.
The boys' night out is as shameful as a Tuesday night at a strip club should be. Winston accidentally spends $2,000 on Bunny Bucks, a strip club currency that can only be used at the club, and by the end of the night, all four guys are drunk and fighting with each other outside a police station to beat up the new boyfriend of Winston's ex. If there's a equation for guaranteed New Girl hilarity, it's definitely New Girl characters + alcohol = comedy gold.
Meanwhile Jess and Cece are at Nick's bar when Jess decides to make Nick jealous by calling a barista that hit on her once. Cece decides to call the guy, Artie, which is maybe the most inaccurate possible name for a person played by Taye Diggs. Jess is still dealing with the problem of Nick being in the process of growing up. He's in his thirties, yet he throws pizza at seagulls and tries to pull dog's tails. She shouldn't have to tell him not to pull dog's tails.
One thing leads to another and Artie drives the tipsy Jess home, yet Artie has read the signals all wrong and ends up naked in Nick's bed, waiting for Jess, right at the moment when Nick comes home. Jess begs for Nick to trust her that nothing happened, and he does. There may be small problems between the two of them occasionally, but they trust each other and even though they haven't even had the conversation of whether or not they're boyfriend and girlfriend, it's clear that they actually already love each other.
"Coach" does feel a bit light, especially since we already know that Nick and Jess will never do anything worthy of having the other stay mad at them, like say, doing anything with a naked Taye 'Artie" Diggs. But the reintroduction of Coach does have promise for the future, already bringing out sides of these characters we rarely see. Unlike most guest stars (assuming Wayans Jr. isn't rejoining the cast full time), Coach has the ability to go deeper into the intricacies of these characters, to show the worst—and maybe, eventually, the best—in each of them, shaking things up quite nicely in this third season.