The 5 New TV Shows You Can't Miss in August
Our under-the-radar picks.
Photo Courtesy of Discovery
TV
Lists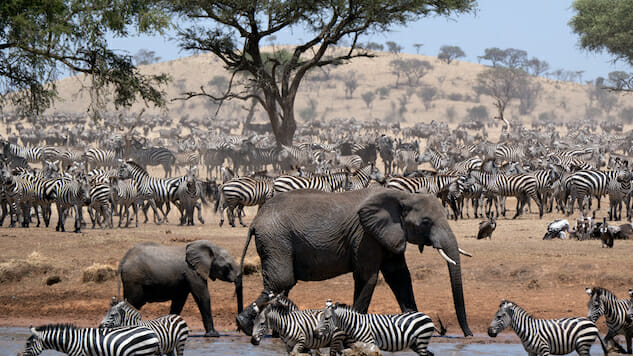 August TV has no idea we are supposed to be in the lazy, hazy days of summer.
So much TV is happening this month including the revival of BH90210, 19 years after it went off the air, August 7th on Fox. Dear White People returns for a third season on Netflix August 2nd. Geena Davis joins the third season of GLOW August 9th (also on Netflix). The sophomore seasons of Lodge 49 and The Terror begin August 12th on AMC. And Marc Cherry (Desperate Housewives) returns with another tongue-in-cheek titled series Why Women Kill August 15th on CBS All Access. The Affair then takes a massive time jump for its final season which begins August 25th on Showtime.
And that's just scratching the surface of all we here at Paste TV will be covering during summer's final hurrah. But, as always, we don't want you to miss out on anything. So here are five under-the-radar new shows to keep an eye on:
1. No One Saw a Thing
Executive Producers: Avi Belkin, Jason Blum, Jeremy Gold, and Marci Wiseman
Premiere Date: August 1 at 11 p.m. on Sundance TV
What happens when someone is murdered in front of 60 witnesses and everyone stays quiet? On July 10, 1981, Ken McElroy was shot to death while sitting in his truck in the middle of town. McElroy had been indicted 21 times on charges ranging from child molestation to rape and was out on bail after appealing a conviction for shooting a 70-year-old man. Residents of the town had had enough. This six-part documentary examines these events in Skidmore, Missouri and how the town's cover up created a corrosive environment that still exists to this day.
2. Serengeti
Executive Producers: Simon Fuller, John Downer
Stars: Lupita Nyong'o
Premiere Date: August 4 at 8 p.m. on Discovery
This six-part series followed lions, zebras, baboons, hyenas, elephants, and cheetah for one year in Tanzania. Narrated by Academy Award winner Lupita Nyong'o, the series delves into the real-life drama of the animals in their natural habitat. Like their human counterparts, these animals form friendships and romantic entanglements. There is loyalty and betrayal. Enemies and frenemies. Food can be scarce and one wrong decision can have a lasting and unexpected impact on your survival. Gloriously filmed and featuring real animals (unlike a certain digitized Disney film), Serengeti is sure to enthrall.
3. Chasing the Cure
Executive Producers: Ann Curry, Kim Bondy, and Eric Ortner
Stars: Ann Curry
Premiere Date: August 8 at 9 p.m. on TNT and TBS
Imagine being able to crowdsource your undiagnosable medical ailment. That's what this new 90-minute series aims to do. Each episode introduces people who are suffering but are unable to determine a correct diagnosis or a cure. Viewers can then submit their advice, own experiences and ideas via Facebook, other social media and the dedicated website chasingthecurelive.com. The show collaborates with doctors, hospitals, social workers, psychologists and others all in an effort to help the patient. Lead by Ann Curry, Chasing the Cure is poised to be the best use of social media yet.
4. Family Pictures
Executive Producers: Thomas Allen Harris and Don Perry
Stars: Thomas Allen Harris
Premiere Date: August 12 at 9 p.m. on PBS
These days family pictures are just a touch away on our phones. Maybe you create a holiday card or calendar out of them but family albums, like the one my parents have of my first year, are in many ways a thing of the past. Photographer Thomas Allen Harris worries that much is getting lost in the digital age. The pictures are still there but the stories and family lore behind them are getting forgotten. Harris travelled to North Carolina, Michigan and Florida to go through people's albums and dusty photo boxes to learn about families and communities and the complex and rich history each photo can represent.
5. Our Boys
Executive Producers: Hagai Levi, Joseph Cedar, Avi Nir, Alon Shtruzman, Karni Ziv, Peter Traugott, Rachel Kaplan, Noah Stollman and Michael Lombardo
Stars: Shlomi Elkabetz, Ram Masarweh, Adam Gabay, Jony Arbid, Ruba Blal Asfour and Tzahi Grad
Premiere Date: August 12 at 9 p.m. on HBO
This ten-episode series was filmed on location in Israel and follows the events in the summer of 2014 when three Jewish teenagers were kidnapped and murdered in Israel and days later the burned body of a Palestinian teenager was discovered in Jerusalem. In the premiere, terrorism agent Simon (Shlomi Elkabetz) investigates the crime and searches for answers. These events lead to the war in Gaza and the series explores the impact of these murders from all perspectives.
---
Amy Amatangelo, the TV Gal®, is a Boston-based freelance writer, a member of the Television Critics Association and the Assistant TV Editor for Paste. She wasn't allowed to watch much TV as a child and now her parents have to live with this as her career. You can follow her on Twitter (@AmyTVGal).