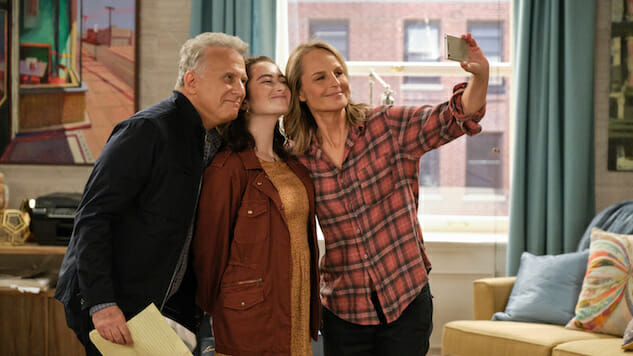 We have a lot to be thankful for this November as two new streaming platforms enter the TV thunderdome arena. And, of course, we will be covering the launch of everything on AppleTV+ (November 1) as well as Disney+ (November 12). We will also be talking about the new season of Netflix's The Crown (November 17), Hulu's Dollface (November 15), the live version of The Little Mermaid on ABC (November 5) and the series finale of Showtime's The Affair (November 3). Oh and we are here for all the Netflix holiday movies.
But still there are five new shows we don't want you to miss this month:
1. Green Eggs and Ham
Executive Producers: Ellen DeGeneres, Jared Stern, Sam Register, Mike Karz, David Dobkin and Jeff Kleeman
Stars: Adam Devine, Michael Douglas, Ilana Glazer, Diane Keaton, Keegan-Michael Key, Eddie Izzard, Jeffrey Wright, Jillian Bell, John Turturro, Tracy Morgan and Daveed Diggs
Premiere Date: November 8 on Netflix
Could you, would you like this 13-episode series based on the beloved Dr. Seuss story? Would you like it in a train? Would you like it in the rain? Would you like it in a box? Would you like it with a fox? Okay I could go on and on with this. But how can you not be excited by an animated series that boasts the voices of Michael Douglas, Keegan-Michael Key and Daveed Diggs. Who knows the show might even get your child to try a new food and declare, " I do so like green eggs and ham! Thank you! Thank you! Sam I Am."
2.Marvel's Hero Project
Executive Producers: Sana Amanat, Sarah Amos, Joe Quesada, Shane Rahmani, Stephen Wacker, Liza Wyles, Maura Mandt and John Hirsch
Premiere Date: November 12 on Disney+
We are ALL IN on this series 20-episode series that celebrates children who are the heroes of their communities. A new episode will debut each Friday and focus on one child, like the boy who grows his own garden so he can help feed the hungry in his neighborhood. For their incredible acts of kindness, the kids are welcomed into the Hero Project and are surprised with some very special gifts. Who doesn't need a little feel-good TV this holiday season?
3. The Preppy Murder: Death in Central Park
Executive Producers: Robert Friedman, Annie Sundberg and Ricki Stern
Premiere Date: November 13 on Sundance and AMC
Alas, it can't all be happy, happy joy joy this November as this documentary revisits the horrific murder of Jennifer Levin 33 years ago. Robert Chambers, the epitome of prep school smarm, was convicted of her murder, but not before Levin herself was put on trial as Chambers' defense rested on the idea that Levin was promiscuous and into rough sex and somehow responsible for her own demise. The five-part documentary, which will air over three consecutive nights, features interviews with Jennifer Levin's mother, sister, and close friends as well as Mike Sheehan, the NYPD detective who arrested Chambers.
4. Mad About You
Executive Producers: Peter Tolan, Helen Hunt and Paul Reiser
Stars: Helen Hunt, Paul Reiser, Abby Quinn, John Pankow, Anne Ramsey and Richard Kind
Premiere Date: November 20 on Spectrum
Twenty years after Paul (Paul Reiser) and Jamie (Helen Hunt) said goodbye, Mad About You returns with new episodes on Spectrum's On Demand platform. Six episodes will drop November 20 and six will drop on December 18. The trick is you have to have Spectrum cable. I'm not going to lie. Since I don't like in an area Spectrum serves, I didn't even know what Spectrum was when I first got the press release. The premiere has Paul and Jamie's daughter Mabel (Abby Quinn) heading off to college (Mabel was actually born during the show's fifth season in 1997 so don't do the math) and the Buchmans coming to terms with their empty nest.
5. Harley Quinn
Executive Producers: Justin Halpern, Patrick Schumacker, and Dean Lorey
Stars: Kaley Cuoco, Diedrich Bader, Jason Alexander, Ron Funches
Premiere Date: November 29 on DC Universe
Here's an excerpt of the letter TV critic received from the executive producers of Harley Quinn: "Let's cut to the chase: you have a million TV shows to watch and every PR executive is selling you hard on why the show they've asked you to watch/review is the next Fleabag. Well, Harley Quinn is not as good as Fleabag." I mean how can you not already love the show a little? Kaley Cuoco voices the title character, the Joker's not-quite-sane ex-girlfriend and follows Harley and her best friend Poison Ivy (Lake Bell) as they join the Legion of Doom.
---
---
Amy Amatangelo, the TV Gal®, is a Boston-based freelance writer, a member of the Television Critics Association and the Assistant TV Editor for Paste. She wasn't allowed to watch much TV as a child and now her parents have to live with this as her career. You can follow her on Twitter (@AmyTVGal).
For all the latest TV news, reviews, lists and features, follow @Paste_TV.