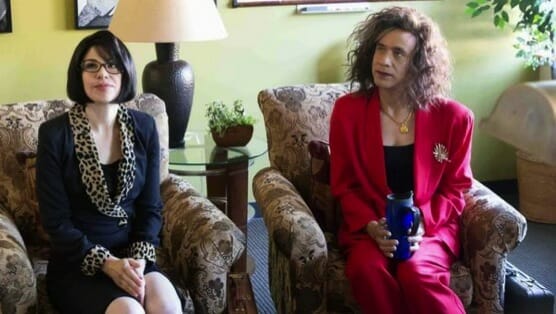 As Portlandia enters its fifth season, longtime fans are probably wondering how the hipster-than-thou IFC sketch comedy can keep things fresh without rehashing the same, old themes or revisiting sketches. (Though we wouldn't be that opposed to a "Dream of the 1790s" video.) But this season's first episode, "The Story of Toni and Candace," Carrie Brownstein and Fred Armisen, along with the show's director and co-creator Jonathan Krisel, have Portlandified the tired TV flashback trope, much to our delight.
Instead of running one or two loose storylines through an entire episode between the standalone sketches, "The Story of Toni and Candace," shakes up the Portlandia formula. It focuses on a single narrative that reveals how our two favorite feminist bookstore owners met and opened their beloved Women & Women First. And my, my, they've come a long way.
The opening sketch dives right into the story. A local reporter from the Killingsworth Neighborhood News enters the store and asks for an interview. Though he's only writing a 50-word blurb about Women and Women First's hours, address, bathroom facilities, etc., Toni (Brownstein) and Candace (Armisen) launch into their story. They set the scene: 1991 in Manhattan, where Candace works as a senior vice president of Crown Books, and Toni is her counterpart at competitor B. Dalton, "making sure there was a B. Dalton in every mall in America." The brilliance of the setup is terrific—for those of us who went to the mall and experienced B. Dalton books—but the humor may be lost on Millennial viewers and younger.
Gone are the beads, Birkenstocks and uber-political correctness of Portland. The Manhattan throwback episode features a lot of big hair and ass-slapping. Toni and Candace faced a lot of misogynistic treatment a la The Wolf of Wall Street from their co-workers and especially their bosses, like Bruce (Peter Giles). We learn the shocking truth about our fav "feminists": they bought into the boys' club back in the day, and endured the sexual overtures and harassment. Bruce pits the women against each other for the one VP job available in "Chick Lit" after B. Dalton acquired Crown Books to form the largest bookstore in America: Cralton.
While Toni and Candace are somewhat civil to each other, asking innocuous questions like, "Did you watch Murphy Brown last night?" or chit-chatting about Crystal Pepsi, the catfight is definitely on. Both women use different tactics to convince Bruce that the job is hers. Toni works at being just one of the guys, but we watch in disbelief as a very different Candace tries to sleep her way to the top.
The battle for Chick Lit domination comes to a head on the dance floor, in the form of an awesome and riotous dance off—in pumps and power suits—to "The Power" by Snap! Candace wins the contest, but at a price. After sleeping with Bruce, she overhears him say that he has no intention to hiring Toni or Candace. "I need testosterone, I need semen…twigs and berries," he says. "I don't care, as long as it's not a woman."
A distraught Candace calls Toni to inform her of Bruce's treachery, and the two women start bonding like sisters. They agree that "chick lit shouldn't be a term that diminishes women's place in literature," giving us that first glimpse into the feminist bookstore owners we've grown to love.
They pull a Bosom Buddies on Bruce and get the Cralton job(s). The episode culminates with a big, violent standoff on a yacht, which explains why they had to get as far away from New York and Bruce as possible. The episode leaves the door slightly open for the return of Bruce, which is great, because we'd love to see him go up against Candace and Toni now.
The gender-busting and role reversals in this episode are mind blowing when you think about it: Armisen is a man playing a woman who plays a man to get the job. As Kirk and Jeremy (aka Candace and Toni), they spout sexist lines like, "I think we're going to give it the manpower that the Chick Lit department needs" and "Did you see the vag on that one?" Offensive? Yes. Funny. Yes. But it all has a point, finally revealing the origins of Toni and Candace's sometimes misinformed feminism. Portlandia took us by surprise with this episode—in a good way—by shaking up the formula. Hopefully, this great first episode bodes well for the rest of Season Five.
---
Christine N. Ziemba is a Los Angeles-based freelance pop culture writer and regular contributor to Paste. You can follow her on Twitter.