Sex Bob-om Is Ready to Explode in First Scott Pilgrim Netflix Anime Teaser
Photos via Netflix
TV
News
scott pilgrim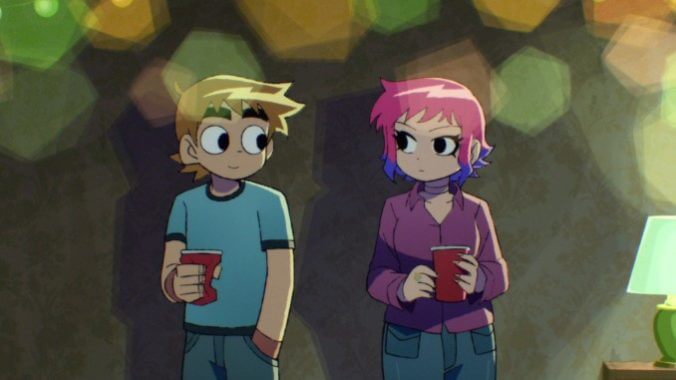 Is Toronto ready to withstand the thunderous strains of Sex Bob-om's music once again? Let's hope so, because Netflix's upcoming anime adaptation of Scott Pilgrim is fast approaching, with a first teaser dropping today–you can view that below. The series, which seems to be inconsistently titled Scott Pilgrim Takes Off, is notable for the fact that they've managed to reassemble the entire iconic ensemble cast of the cult classic 2010 film by Edgar Wright. It's due to arrive on Netflix on Nov. 17, 2023, with eight episodes.
With that said, there's still a lot about Scott Pilgrim Takes Off that we don't quite know. It's not clear whether there are any key omissions from the film cast, though they all certainly seem to be in place, starting with Michael Cera as the title character and including the likes of Chris Evans, Brie Larson, Anna Kendrick, Mary Elizabeth Winstead and Kieran Culkin, though few of them have lines in the teaser below. But it remains to be seen how closely the story will actually hew to Wright's film as it adapts the same original comics by Canadian author and artist Bryan Lee O'Malley. His original Scott Pilgrim graphic novel series ran between 2004-2010, and it seems reasonable to assume that with eight episodes the anime series should be able to include plenty of material that never made it to the film. At the same time, it likely also has the opportunity to venture off into some new side-stories and musical interludes, which could of course include new music from Sex Bob-om and the other scuzzy indie bands that populate this fictional version of Toronto.
One thing that does look spot on is the art style, provided by Japanese animation studio Science Saru. Perfectly capturing the cartoonish, anime-influenced style of O'Malley's original comics, it genuinely looks like the graphic novels have been brought to life. Hopefully, the cast had as much fun making this as they clearly had for Wright's film back in 2010. We'll see for ourselves come November; in the meantime check out the teaser here.