In Favor of Yellowjackets' Jeff and Supporting Deeply Complicated Women
Photo Courtesy of Showtime
TV
Features
Yellowjackets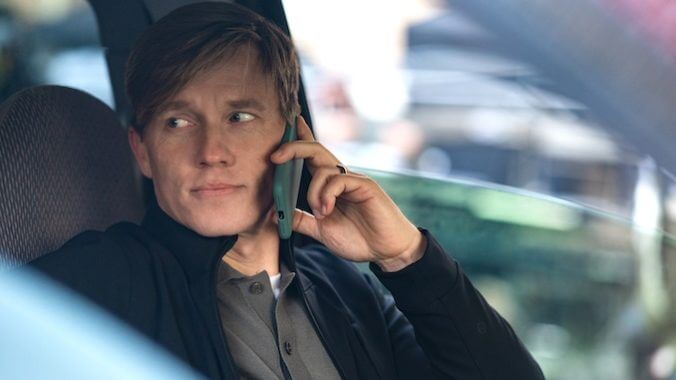 In the first season of Yellowjackets, we didn't immediately warm to Jeff (Warren Kole). It was easy to see him as the deceitful husband, to join Shauna (Melanie Lynskey) in her belief of his betrayal, and share in the justification of her own affair. It wasn't until Shauna's confession of murder and adultery that we really began to feel for him. The shocked realization that there was no book club (Season 1's "Doomcoming") was a moment of heartfelt comedy gold where audiences saw Jeff for the sweet and naive man that he is.
Jump to Yellowjackets' sophomore return, and audiences are as loyal to Jeff as we are to the trainwrecks of women that the show focuses on. Much like adult Shauna's characterization was defined by our introduction to her—masturbating on her daughter's bed in the pilot episode—our understanding of Jeff is now inseparable from the legendary scene in Season 2's "Friends, Romans, Countrymen," where he air drums to Papa Roach's Last Resort.
This moment comes directly after Shauna finally shows her husband who she really is, or at least part of her, admitting that the idea of him cheating is a turn on. Since then, Jeff has played the supportive husband role in a way that we have never seen before; not only is he responsive to her cuckolding kink (an instant win, as no one should be shamed for their fetishes by their partner), but he is going the extra mile by forgiving her affair and helping to destroy evidence of her murdered lover—which is where most husbands would understandably draw the line.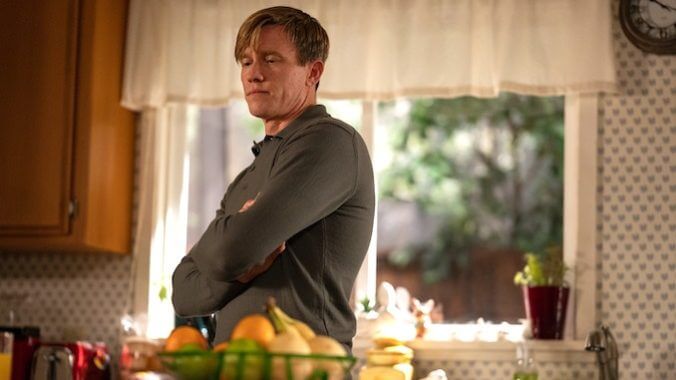 In this burst of teenage angst, we finally see how Jeff's really dealing with all of this. It's clear that while he does everything he can to support Shauna, Jeff is struggling. He is a small-town man, who was always destined to live a simple life, and now he's having to keep his suburban world from crumbling around him. And yet, he's up for the challenge.
For a long time, TV dramas have been concerned with damaged men, those who refuse to reckon with their emotions, and instead allow their toxic masculinity to destroy their lives. Sometimes they are paired with equally insufferable women—Mad Men's chief emotionally illiterate boozehound Don Draper (Jon Hamm) is matched by his toxic wife Betty (January Jones)—but other times, their partners are unfairly painted with the same brush, as in the case of Walter White (Bryan Cranston). Despite him being the meth kingpin of Breaking Bad, it was Skyler (Anna Gunn) who was widely disliked by audiences. Apparently, what's worse than a drug pushing husband is a wife who's struggling to cope with it all.
Yellowjackets has succeeded not only in flipping the perspective, focusing on some extremely controversial women, but also by balancing them out with men who choose to support their wrongs. Jeff may have blackmailed Shauna, setting off this chain of triggering events, but he is also the one to drag her back from the brink, stopping her from pulling a gun on the man who robs their car, and doing his best to prevent his daughter (who's acting more like Shauna with every episode) from getting tangled up in their mess.
The men of this show really should start a support group for those who love extremely traumatized women, as Jeff is far from alone. In Season 2's "Two Truths and a Lie," Walter (Elijah Wood) reveals to Misty (Christina Ricci) that he sees behind her mask. Noting not only that her "friendships are a little more complicated than most: kidnapping, cults, death" but that he likes her regardless of her murderous "extra-curricular activities." Whether Misty can accept love from a man who sees her for the adorable psychopath that she is, though, is yet to be seen.
Walter and Jeff both offer the soft masculine representation TV has been severely lacking. They are men comfortable enough in themselves to allow the women in their lives to take the wheel. These are men that some would call "beta" males for supporting women and becoming accomplices rather than taking the lead. It is for this exact reason that softer male representation is so important, though, as it takes a lot more strength to break free from fragile masculinity and relinquish control of a situation than it does to toxically dominate it. Yellowjackets has given us the gift of these lovable men who allow the women in their lives to hold the reins, involving them in cover ups and taking them on road trips to find kidnapping cults. We love Jeff and Walter exactly because of this. They understand that their survival instinct is not stronger than that of the women they love; Jeff may be the grill master, but he has notably less experience when it comes to getting away with murder.
It would be easy to write Jeff off as a small-minded man. In some ways he is the cliched jock who peaked in high school, one who thinks lube is for "bisexuals and goths." But Jeff's portrayal is much more complicated than the whiskey-drinking, emotionally stunted images of masculinity we are used to. As Warren Kole told Vulture, we are seeing him "activate Super Jeff." A hero to many would be the headstrong aggression that we are accustomed to seeing in media—but Jeff's powers come from his patience in the face of Shauna's unhinged behavior, and the ability to recognize his need for emotional release that makes him stronger than the stereotyped alpha males TV so often offers us.
Yellowjackets first triumphed in its delivery of complex traumatized women, who are both villainous and heroic; they are women at war with the demons they acquired from their teenage experiences. Its second triumph was to allow these damaged women to be loved and understood by the men in their lives. They could have paired them with equally abhorrent husbands. But the showrunners understand that, much like Shauna and Misty, despite our wrongs, women working through their trauma don't need men that suffer in silence, we need ones with healthy emotional outlets. Ultimately every single damaged one of us deserves our own Jeff.
---
Billie is a culture and lifestyle writer with notable bylines in Refinery29, Little White Lies, Hyperallergic and Cosmopolitan. Her writing often focuses on her main passion: horror. However she regularly emerges from her terrifying comfort zone to write regular book reviews for The Big Issue and personal essays covering mental health, sexuality and climate change. She can be found @billierwalker, making her next gory obsession her entire personality. 
 For all the latest TV news, reviews, lists and features, follow @Paste_TV.