ICYMI: Paramount+'s Joe Pickett Is the Western You Should Be Watching Amid the Genre's Resurgence
Photo Courtesy of Paramount+
TV
Features
What to Watch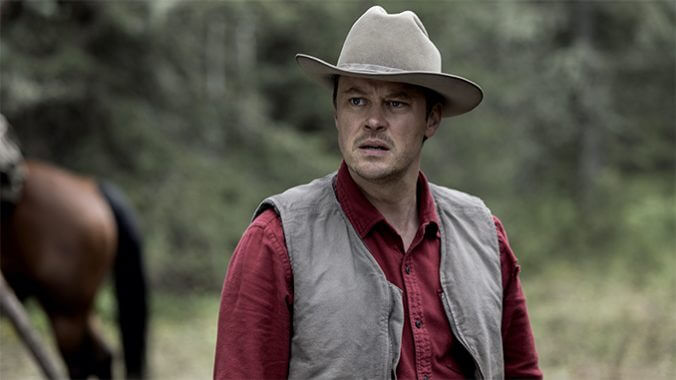 Editor's Note: Welcome to ICYMI! While the writers and actors fight for the fair contracts they deserve, we're highlighting some shows you may have missed in the deluge of content from throughout the year. Join the Paste writers as we celebrate our underrated faves, the blink-and-you-missed-it series, and the perfect binges to fill the void left by delays and corporate greed:

The resurgence of the Western in recent years probably wasn't on anyone's bingo card. HBO's Deadwood and FX's Justified were critically acclaimed dramas that cultivated passionate fan bases during their original runs (2004 -2006 and 2010-2015, respectively), but not even they were able to spark a full-fledged revival of the genre, which peaked in the late 1950s. Shows like Hell on Wheels, Longmire, and Godless all proved to be worthy additions as well, but they too stood on their own as singular entities within a TV landscape that was as expansive as the wide open vistas commonly depicted within them. And then came Paramount's Yellowstone, a soapy, modern-day family drama from writer and director Taylor Sheridan starring Kevin Costner, who starred in, produced, and directed one of the best and most visible modern examples of the Western, the 1990 film Dances with Wolves.
Although it wasn't instantaneous, Yellowstone's immense popularity has since led to multiple spin-offs and a renewed interest in the Western. Now every network and streaming service from Hallmark to Amazon is attempting to get a piece of the action, and TV fans are reaping the rewards. But one show more than any other has all of the pieces to be truly great, and thus deserves your attention: Paramount+'s Joe Pickett.
Based on a series of novels by C.J. Box, the show stars Michael Dorman (also of the criminally underwatched Patriot) as a dedicated game warden who, in the course of his job protecting wildlife and regulating natural resources, repeatedly finds himself embroiled in dangerous situations and murder investigations thanks to the changing socio-economic climate and complicated politics of present-day rural Wyoming. 
The small town of Saddlestring in which the show is set isn't exactly the Wild West, and yet, with various parties jockeying for power and influence, and with little oversight from local law enforcement, there is no shortage of crime happening either. The series features everything from vengeful murderers and threatening crime families to government corruption. In Season 2, it also takes on a storyline involving missing and murdered Indigenous women, making it one of only a few shows to devote time to this very real crisis, bringing much-needed awareness to it. This probably should be enough of an endorsement, but there are many more reasons to watch Joe Pickett, too.
The series, of which two seasons are now streaming, doesn't shy away from depicting violence in the course of its storytelling, but baked into its narrative is also a romantic wholesomeness. Earnest and generally mild mannered, Joe is an empathetic hero, a man of good morals who genuinely loves and believes in the necessity of his job. When he encounters a fisherman who's caught more than he's allowed and doesn't have his fishing license on his person, Joe believes the man when he says he'll take him to his camp and show it to him even though there are multiple red flags. He's not naive, but Joe sees the good in everyone until he's given a reason not to, which makes him the odd man out, not just in Saddlestring but in the often stereotypical Western genre. His dedication to enforcing the laws protecting wildlife doesn't make him beloved by the locals, who dislike outsiders and bristle at the thought of regulation, but it sure does make it easy to root for him.
Adding to the show's enjoyment factor is the way it incorporates the entire Pickett family into the story, beginning with Joe's competent and compassionate wife Marybeth (Julianna Guill), who just might be the show's best character. A former lawyer who is not one to sit idly by as things go south, she is a formidable partner in Joe's investigations while also leading her own. Marybeth is our entry into the show's missing Indigenous women arc, which dovetails with an emotional and personal story about pregnancy loss without ever losing sight of what's at stake for the Native population residing near Saddlestring. But the show's approach to incorporating Joe's family doesn't stop with Marybeth. The couple's young daughters, Sheridan (Skywalker Hughes) and Lucy (Kamryn Pliva), take on surprisingly active roles in the story, too, while a foster daughter, April (Vivienne Guynn), and Marybeth's self-centered mother, Missy (an excellent Sharon Lawrence), fill out the family unit and add to the narrative complexity. 
All of these pieces—the seedy underbelly of Saddlestring that won't quit, the front-row seat to one of TV's few stable marriages, and the respect and admiration for the beauty of the natural world and all of its creatures—come together to create a show that is visually stunning (Canada stands in for Wyoming) and narratively engaging. It is realistic where other shows embellish, and though it is often folksy, it is always watchable. 
While the move to Paramount+ after Season 1 no doubt helped the series reach a larger audience—Joe Pickett started out as a Spectrum Original in December 2021 and became the network's most-watched series before moving to the streaming service—it's more than good enough to be pulling in Yellowstone numbers. In some ways, the show reminds me of Kingdom, the MMA-themed drama that aired on AT&T's Audience Network from 2014 to 2017 and told a story about the complicated nature of family and a never-ending fight for glory and redemption. For years I touted Kingdom as "the best show you've never seen," which spoke to the quality of TV that was being produced outside of the main players at the time, but was also an indictment of the problems created by Peak TV. The show's home on a small network only available to AT&T subscribers obviously limited its reach, and it wasn't until well after the show ended that it was available to stream on Netflix (now Peacock), allowing it to find the audience it always deserved. 
Joe Pickett, which has not yet been renewed for a third season amidst the concurrent WGA and SAG-AFTRA strikes, has already made the jump to Paramount+, allowing it to reach viewers outside of the Spectrum subscriber base, but it deserves more still. With high demand and interest in Westerns and a fall TV season largely devoid of great new options, there is absolutely no reason Joe Pickett shouldn't be your next binge. 
---
Kaitlin Thomas is an entertainment journalist and TV critic. Her work has appeared in TV Guide, Salon, Gold Derby, and TV.com, among other places. You can find her tweets about TV, sports, and Walton Goggins @thekaitling.