Superstar Shakeup: Who Has Benefited the Most from the 2016 Brand Extension Draft?
Image courtesy of WWE.com
Wrestling
Lists
WWE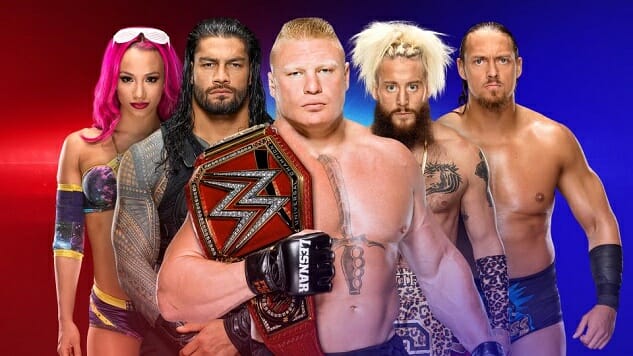 It's been less than year since WWE split its roster into two brands, but the company can't wait to mix things up. Vince McMahon announced upcoming roster changes in the immediate aftermath of WrestleMania 33, with a Superstar Shakeup (presumably taking the form of a trade of some sort) announced for tonight's Raw. In anticipation, and to see how roster placement can have a noticeable impact on a wrestler's career, we look at the wrestlers who have benefitted most from the 2016 draft.
1. Bray Wyatt
Wyatt finally got his due when he won his first WWE title, the Smackdown Tag Team Championship, with Luke Harper and Randy Orton, in December 2016. He then won the WWE World Championship this February, after languishing on the main roster for the better part of four years. Wyatt would have benefitted from a championship retention against Orton at WrestleMania, and more should have been made of him pinning John Cena and AJ Styles in one night at Elimination Chamber, but hopefully WWE realizes what it's got in Wyatt and continues to utilize him thusly.
2. AJ Styles
As "The Champ That Runs the Camp," AJ Styles had perhaps the most successful first year in WWE ever. Along with others on this list, he helped build the blue brand into the unofficial A-show as WWE World Champion for the latter half of 2016. Styles not only shows how the brand extension can help establish new stars, but how to book established ones when they do arrive in WWE.
3. Naomi
If ever there was someone who exemplified the benefits of a brand extension, it's Naomi. Previously just biding time on the main roster and Total Divas for the past few years, Naomi was able to get over with her "Feel the Glow" gimmick (one she'd been trying to pitch to WWE creative for years) and become a two-time SmackDown Women's Champion in the last few months alone.
4. Braun Strowman
The brand extension has allowed this former monster heel to show a bit of personality. In pitting him against Roman Reigns and inserting him into storylines with Kevin Owens and Chris Jericho, WWE has allowed Strowman to defy many expectations about what he can bring to the company. Many were expecting him to win the Andre the Giant Memorial Battle Royal at WrestleMania to put a stamp on a very successful nine months, but we can trust that he'll continue to be an integral part of whatever brand he ends up on after Monday night.
5. Alexa Bliss
Alexa Bliss was arguably not ready for the main roster when she was drafted, but after picking up skills on the job, Bliss has become a cornerstone of the SmackDown Live women's division. Bliss has been given more and better material than she was in NXT, propelling her to two (count em: two!) SmackDown Women's Championships, and potentially positioning her as the next Trish Stratus—or the first Alexa Bliss.
Honorable Mentions
Other wrestlers who come to mind as having a stellar year that they otherwise might not have before the draft include Becky Lynch, the last of the Four Horsewomen to capture gold in WWE as the inaugural SmackDown Women's Championship; Heath Slater, who (in kayfabe) wasn't even drafted but somehow managed to get himself over and become one half of the first SmackDown Tag Team Champions, with Rhyno; Sasha Banks, a three-time Raw Women's Champion since the draft; and Baron Corbin, who is improving in leaps and bounds and is sure to inch his way to the world title sooner rather than later. Superstars who've already proven that they're main event caliber, like Kevin Owens and Dean Ambrose, have seen renewed vitality since the draft, with Ambrose in high profile storylines with John Cena, Styles and The Miz, and Owens in perhaps the most entertaining program of the year with Chris Jericho. This is not to mention their world title reigns helping to establish each brand, as with Styles. And Miz himself has gone from the ignominy of being a former WrestleMania main eventer consigned to the lower card, to turning into one of the hottest acts in all of WWE alongside his wife Maryse.
It's pretty clear that SmackDown Live lives up to its hype as "the land of opportunity," with the majority of wrestlers who made this list heralding from there. SmackDown is still ultimately WWE's progeny, though, so chances are often granted to performers who fit the bill of what has previously worked for the company (ie. white men), with Raw's roster far more racially diverse than SmackDown's.
Where both shows excel in racial diversity, surprisingly enough, is in their women's divisions. Though women of color, and particularly black women, routinely have their accomplishments diminished and erased throughout much of culture, WWE's current female champions across all three brands are women of color.
So maybe tonight wrestlers such as Samoa Joe and The New Day are traded to SmackDown to show that the blue brand, and WWE at large, is serious about showcasing other colors. And perhaps Raw can benefit from the success of its Tuesday night counterpart by devoting less time to authority figures and select main event players and take a chance on actual wrestling and simpler storylines. It will be interesting to see how the Superstar Shakeup will affect the makeup of WWE and whether SmackDown Live retains the underdog status that made it an unassuming success.
---
Scarlett Harris is an Australian writer. You can read her previously published work at her website The Scarlett Woman, and follow her on Twitter at @ScarlettEHarris.