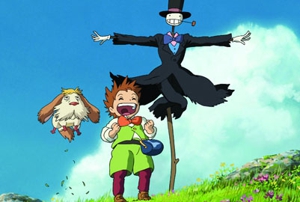 Director: Hayao Miyazaki
Writers: Hayao Miyazaki (screenplay), Diana Wynne Jones (novel)
Cinematography: Atsushi Okui
Studio information: Buena Vista, 131 mins.
Miyazaki's winning streak continues while bringing beloved British teen novel to life
This past year saw a better filmic realization of British youth fiction than Harry Potter and the Goblet of Fire. Diana Wynne Jones' celebrated 1986 novel Howl's Moving Castle held the ideal combination of whimsy and fantasy to match Hayao Miyazaki's sensibilities. The film, as expected, is a feast for the eyes. Miyazaki's background artists craft landscapes with majestic sweep and sun-drenched color. The quaint town of Ingary is bright on the surface, and careworn and gritty just below.
Leaving the Asian settings of North American breakthrough successes Spirited Away and Princess Mononoke, Miyazaki blends Japanese culture with a reimagined Europe circa 1920, similar to 1992's Porco Rosso. Young Sophie is something of a stiff, but discovers her youth after the Witch of the Waste ages her into a 90-year-old crone. Sophie wanders into the Waste seeking restoration, stowing away aboard vain wizard Howl's ramshackle, lumbering home.
It turns out that Howl may not be the heart-devouring baddie his reputation suggests, as he risks his humanity to stop a brutish war. While Howl is away, Sophie bonds with Calcifer the Fire Demon (voiced by Billy Crystal), who keeps the steam-powered castle moving. "I can't stand the fire in gunpowder," Calcifer opines. "Those dopey guys have absolutely no manners."
Others Tagged With