These United States: Crimes
[United Interests]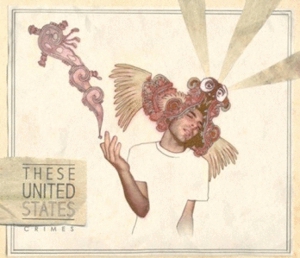 Psych-folkers'
Crimes
worth committing to
Crimes
begins labyrinthine and grandiose, shoving Cain, Dionysius, Don Quixote and Chief Logan into the first two minutes of cataloging opener "West Won." But where digressive hyper-reference pulled some punch from These United States' debut,
A Picture of the Three of Us At the Gate to the Garden of Eden
, helmsman Jesse Elliott cites with a surgeon's precision in his second go-round. The 12-song cycle coils around itself in tales that rage and lull in turns, Elliott charting thieves' honor, murderous worlds, science, space, salvation and sin in a brittle croon. For having such heavy themes,
Crimes
' shuffling feel is an impressive achievement, indicative of the finicky alloy the band managed to forge here. Steady-on folk songwriting has matured to include full-bodied, rise-and-fall structures and call-and-response choruses, while a jangling sheath of electric psychedelics and babbling piano lines—contributed by a cast of D.C. players (now not just debut-collaborator David Strackany)—marks this compendium as a rousing, communal affair befitting its epic and twisted ambition.
Listen to These United States' "Get Yourself Home (In Search of the Mistress Whose Kisses Are Famous)" from Crimes:


Others Tagged With