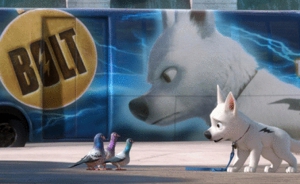 Release Date: Nov. 21
Directors: Byron Howard and Chris Williams
Writers: Williams and Dan Fogelman
Art Director: Paul A. Felix
Starring (voices): John Travolta, Miley Cyrus, Susie Essman, Mark Walton, Malcolm McDowell, Greg Germann
Studio/Run Time: Walt Disney, 96 mins.

Animated charmer falls into awkward place

The era of family animation spiked with irony and winking asides for adults in the audience arrived with the CG format, and together the new traditions have come to dominate what was once a conservative standby in Hollywood. DreamWorks briefly co-opted Disney's habitual dominance of the format with the Shrek franchise, but Disney decisively reclaimed it with its fateful (and bluntly expensive) acquisition of Pixar in 2006.

Left in the awkward wake of a revolution for a format that had gone largely unchanged are movies like
Bolt
, a new feature from Walt Disney Animation that unmistakably bears the conflicting influence of Pixar and Disney's old ideals. The movie follows the title dog (voiced, enthusiastically, by John Travolta), a TV star who believes that the character he plays—a genetically enhanced dog destined to protect a scientist's daughter, Penny (Miley Cyrus)—is very much who he is in real life. When he escapes from the set, it isn't long before he stumbles onto some uncomfortable truths.
It's a forgivably predictable premise, and the movie's decidedly clean-minded approach to comedy (not a single poop joke by our count) bestows the material with maturity unlikely for a film predicated on such a gimmick. If the plot never breaks from a perfunctory routine, the movie's breezy narrative sensibility, enhanced by 3D in equipped locations, ensures a smooth and agreeable ride.
What the movie fails to do is carve a place for itself in animation's new creative paradigm.
Bolt
feels inescapably as if it was designed to fit the old Disney model and reluctantly dragged into its new traditions, a suspicion confirmed when the end credits revert to a classic 2D format that seems more fondly rendered than the actual movie. It's a shame that an animated form that's been around as long as film itself has been subjected to such fierce creative Darwinism, but the tenuous middle ground
Bolt
attempts to strike leaves it as a charming but undistinguished addition to a fast-evolving canon.
Watch the trailer for Bolt:


Others Tagged With