Watch the Trailer for Steven Soderbergh's The Informant!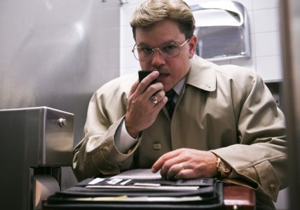 For those of us still smarting over the
cancellation of
Moneyball
, Steven Soderbergh's
The Informant!
may be the last chance we get to see the director in big-budget mode for a while. A comedy about a business executive who decides to turn in his own company, kind of, the movie is based on actual events and reunites Soderbergh with frequent collaborator Matt Damon.
The film's new trailer has an element of grotesque comedy reminiscent of the Coen brothers, which is indicative of how seamlessly Soderbergh shuttles between styles and genres. This kind of screwball can be a tough sell, but there are worse people to trust with your time. Check out the trailer below—the movie opens Oct. 9.
Related links:
Others Tagged With