High Definition: Watching Soccer From Across the Pond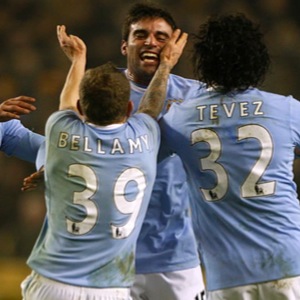 I'll be the first to recognize that I have a bit of an obsessive personality. So, since I decided this summer that I'd adopt the football club of my hosts at the Manchester International Festival, I shouldn't be surprised by how quickly my soccer mania has developed. But what has caught me completely off-guard has been my ability to watch nearly every one of the club's 19 matches so far this season.
I've always enjoyed watching soccer during the World Cup and the Olympics. I love the sport's international reach. I'll never forget my trip to Kenya in 1994. My first night in a small village in the middle of the country, my friends and I heard screaming and shouting as we tried to sleep. We found out it was coming from the hundreds of people packed in front of a 21" TV with mediocre reception. I joined the throng the following night, cheering Cameroon on, as the picture was beamed in from the U.S.
Two years later, I visited my old college football stadium at the University of Georgia, whose sacred hedges had been cleared out for soccer. Nigeria was down 3-1 at the half against Olympic favorite Brazil in the semi-final. But they might as well have been playing the match in Lagos the way all of us in the crowd helped the drumming, chanting Nigeria fans cheer their side on. The Nigerian players responded with three goals in the final 20 minutes, including a 90th minute winner from the top of the box. The celebration was worthy of the SEC football venue where it took place.
In 2006, I spent most of the tournament "working" from the Belgian bar upstairs at the Brick Store Pub, where the owners' broke their long-standing no-television policy by temporarily installing three big flat screens. But my soccer craze went as quickly as it came with U.S. international matches irregular enough to escape my notice and with the MLS offering an Atlanta resident little more than the opportunity to pull for the equivalent of a minor league team in a random U.S. city.
But when I went to Manchester to see the debut of Rufus Wainwright's first opera and hear Elbow perform with the Hallé Orchestra, I expected to be surrounded by Manchester United fans. Instead, everyone I met was a long-suffering Manchester City supporter (who claimed that ManU was primarily for the tourists). With new deep-pocketed owners and striker Carlos Tevez stolen from United, there was also palpable excitement for the new season. I promised to return to the States a City fan, and I've kept that promise in spades.
Thanks to my $5/month Comcast sports package and Fox Soccer Net, fall Saturdays meant more than one kind of football. Once I had a team to call my own, I realized that you can now watch top-flight soccer in States without a lot of effort. ESPN2 regularly shows Saturday-morning and mid-week English Premiere League matches. FSN constantly airs EPL and Italian Serie A. When neither channel has my team's games, a $15 subscription to Setanta lets me watch online. I've even started playing pick-up soccer on Saturdays, and next month will see my debut in a 30-and-over league at the Atlanta Silverbacks Complex, the first time I'll have played on an outdoor soccer team since 8th grade. I can't wait.
It's a beautiful sport, particularly at its highest level. Manchester City alone has some of the best players from England, Ghana, Argentina, Togo, Ireland and Bulgaria. And more and more Americans have joined the EPL. So consider this a public service announcement. Adopt a football club. Chelsea is currently on top. Manchester United is perfect for all you Yankees fans. Arsenal is coached by a veritable football genius in Arsene Wenger. And Newcastle looks like they'll get promoted back into the Premiere League at the end of the season. Or you can join me in supporting Manchester City's Tevez and Craig Bellemy, two players who never seem to stop sprinting on the pitch. The World Cup is coming. It's never too early to go football daft.
Others Tagged With