Catching Up With... Teenage Fanclub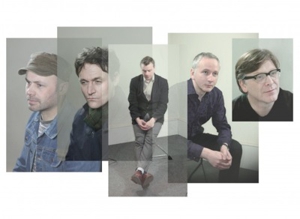 Norman Blake sounds a bit distracted. The Teenage Fanclub founder/vocalist/guitarist is just finishing his morning coffee and he's got a guest this weekend at his new home in Kitchener, Ontario. He's about to go thrift shopping with Laura Chilton (the widow of Big Star's Alex Chilton), who came up from Buffalo to visit for a few days.
"Laura's said to me that Alex liked us as musicians," he says. "I think he saw something of the young Alex in us when we play." Music writers often compare Teenage Fanclub to Big Star, and the band does cite Big Star as an influence, but more than that, Blake says, Chilton was a good friend of the band from the time they met in the early '90s.
"He should have been making records and performing for another few years," Blake says. "But now that won't happen."
To understand the Teenage Fanclub of 2010, fronted by the Norman Blake that is now fortysomething-years-old and married and living happily in Canada, it helps to understand the Teenage Fanclub of 1989. The band has now been around for more than two decades, put out 10 albums, toured extensively and earned fans spanning generation and geography. But everyone has their start, and Teenage Fanclub's came in the then-germinating, now-exploding Glasgow music scene in the '80s, drawing influence from the likes of Josef K and Orange Juice.
"We really liked the attitude that Orange Juice had because it was in the post-punk period, and at the time there was a kind of Year Zero thing where people were saying 'Any record made before 1977 is rubbish and irrelevant,' and of course that was nonsense," Blake says. "[…] [O]f course there was pressure on you as a young person to adhere to that doctrine, but along came Orange Juice who said, 'We like punk rock and we like the Buzzcocks, but we also like Buffalo Springfield and Al Green and the 13th Floor Elevators.' For me as a young person, I had never heard any of this music and it's liberating to be able to listen to all this different music."
Over the past 20 years, Teenage Fanclub has taken that stylistic liberation and run with it, building up a musical legacy to rival other Glaswegian greats. They've been name-checked by everyone from Kurt Cobain to Nick Hornby. Liam Gallagher once called them the second-best band in the world (after, Oasis, obviously). Their landmark 1991 album, Bandwagonesque, was even featured in the 2006 compilation 1001 Albums to Hear Before You Die, an honor Blake finds touching, but surprising.
"I've always kind of thought it's masochistic to listen to your own music," he says. "I remember seeing an interview with Brett Anderson from Suede many, many years ago, and someone asked him, 'What do you listen to when you're at home?' And he said, 'I listen to Suede when I'm at home.' And I kind of thought, 'That sounds like torture, to listen to your own music.' You can make records for yourself in terms of writing songs and you're very happy with the achievement of completing the record, but once it's made, it's for other people to listen to."
Critics tend to agree that Teenage Fanclub hasn't changed much over the past 20 years, but Blake disagrees. The changes have just been gradual ones; with three principal songwriters (Blake, bassist Gerard Love and lead guitarist Raymond McGinley) instead of one, a dramatic reinvention or retooling just wouldn't work. "It's not as though we've radically changed from album to album the way David Bowie would do it, where he'd do his acoustic thing and then do like a tin-machine album," he says. "We're not going to be doing anything like that."
The band released Shadows—their 10th album, first in five years and second on the band's own PeMa label—in June. Blake says the recording process for the new release was more of a "kitchen-sink" approach, a response to the stripped-down production on their last album, Man Made. On that one, because they recorded in Chicago, the members were only allowed to bring one guitar and had to use what the studio had on hand. But, Blake says, "in the UK, we can take all of the equipment we've collected in the last 20 years down to the studio, and that's what we did. We basically set it all up in the live room so we could explore lots of pianos and amplifiers, glockenspiels and Casio keyboards, and all sorts of things all set up, and then we tried to pretty much use everything."
On the final product, strings chase glockenspiels and weave around vocals on the breezy single "Baby Lee," futuristic synths sparkle on "The Past" and the harmonies swing between melancholy-dark and pastoral-light on "The Fall." The new record is rife with examples of the classic pop sound Teenage Fanclub has spent 20 years perfecting, but perhaps more interesting is how it shows off each of the band's three songwriters. The album follows a pattern — Love-penned song, Blake-penned song, McGinley-penned song — all with even representation.
"For each album there would be 12 or 14 songs, so for 10 albums that's 120 songs," Blake says of the spacing. "I think it would be difficult for one person to write 120 good songs, so we feel that the three of us writing helps us to maintain a decent standard."
Following the release of Shadows, the members of Teenage Fanclub are preparing for a rigorous summer and fall tour, but they're keeping themselves busy with other projects: McGinley is producing for a couple of Glasgow bands, Love has a solo album that will be released on Domino sometime in the near future, and Blake recorded an album with Euros Childs of Welsh band Gorky's Zygotic Mynci, which will be released under the name Jonny.
For right now, though, Blake says he's happy to be back on the road with his old band. "It's amazing," he says. "I'm going to be in Stockholm in three weeks. That's fantastic, isn't it?"
Others Tagged With