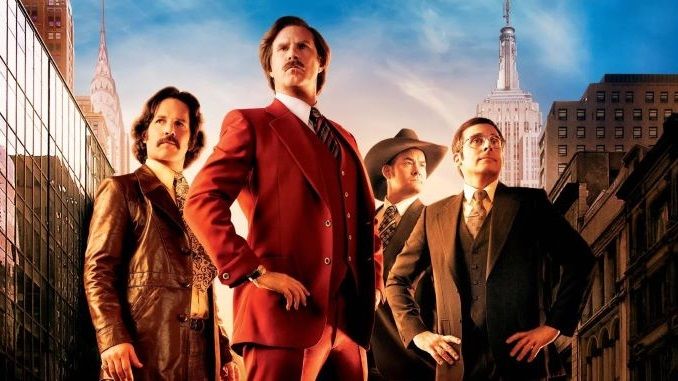 No streamer is harder to navigate than Amazon Prime Instant Video. If you miss how Netflix was during its early streaming years, when it had a large lineup of movies from across the decades available for instant watching, you'd probably be a fan of Amazon Prime. The volume is just ridiculous. There's so much stuff to watch here that finding it can be a nuisance, even through the official Prime Video apps. Much of what you'll find are TV shows, including several Amazon originals, and thousands of other things you've probably never heard of before or since. There's also a large library of hilarious movies, though, including some of the most beloved and influential comedies ever made. That's what we're here to share with you today: the best comedies on Amazon Prime Video.
Oh, and some movies that are pure comedies will rank higher than other movies that are better written or directed or acted, but just aren't as purely funny. There is no universe where Anchorman 2 is a better movie than Charade, but one of them definitely makes us laugh more, and it's not the one Stanley Donen made.
For a broader list, check out The 50 Best Movies on Amazon Prime or you can peruse The 40 Best Comedy Movies on Netflix
Here are the best comedy movies available to stream for free with Amazon Prime:
A Fish Called Wanda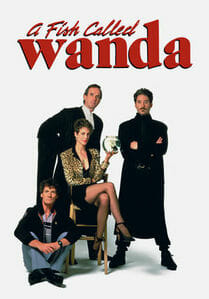 Year: 1988
Director: Charles Crichton, John Cleese
Stars: John Cleese, Jamie Lee Curtis, Kevin Kline, Michael Palin, Maria Aitken
Rating: R
Runtime: 107 minutes
This ensemble piece shows what can happen when four skilled comic actors (John Cleese, fellow Monty Python alum Michael Palin, Kevin Kline and Jamie Lee Curtis) are given a script (written by Cleese) that puts them all on equal footing. The result is a tour-de-force of crisply delivered, character-driven comedy that, while tough on old ladies, fish and terriers, continues to reward new and returning viewers. (The film also broke through the Academy's normal bias against comedies, winning Kevin Kline a richly deserved Best Supporting Actor for his role as Otto.) —Michael Burgin
---
Anchorman 2: The Legend Continues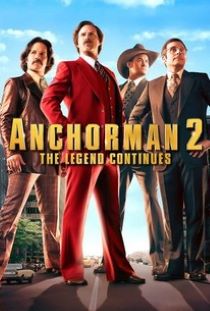 Year: 2013
Director: Adam McKay
Stars: Will Ferrell, Steve Carell, Paul Rudd, David Koechner, Christina Applegate, Meagan Good, James Marsden, Kristen Wiig
Rating: PG-13
Runtime: 119 minutes
Anchorman 2 succeeds because it's not a repetition of what worked in the first film, but, rather, a continuation. (As Adam McKay told Paste, this was purposeful.) As a result, with the exception of a rousing, cameo-crammed news team melee toward the end and a hint of jazz flute, Anchorman 2 is refreshingly light on winks, nudges and other forms of gratuitous fan service to the first film. McKay and co-writer Will Ferrell avoided erring to the other extreme, as well. To their credit, the duo seems to have realized you don't have to reinvent the wheel—you just need to keep it rolling.—Michael Burgin
---
The Big Sick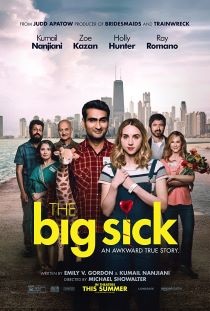 Year: 2017
Director: Michael Showalter
Stars: Kumail Nanjiani, Zoe Kazan, Holly Hunter
Genre: Romance, Comedy
Rating: R
Runtime: 120 minutes
The Big Sick can sometimes be awfully conventional, but among its key assets is its radiant view of its characters. Based on the first year in the relationship of married screenwriters Kumail Nanjiani and Emily V. Gordon, this indie rom-com has a mildly risky structure and some trenchant observations about the culture clashes that go on in immigrant families living in America. But what cuts deepest is just how profoundly lovable these people are. That's not the same as being cutesy: Rather, The Big Sick is defiantly generous, understanding that people are horribly flawed but also capable of immeasurable graciousness when the situation requires. So even when the film stumbles, these characters hold you up. Nanjiani plays a lightly fictionalized version of his younger self, a struggling Chicago stand-up who is having as much success in his career as he in his dating life. Born into a Pakistani family who moved to the United States when he was a boy, he's a dutiful son, despite lying about being a practicing Muslim and politely deflecting the attempts of his parents (Anupam Kher, Zenobia Shroff) to set him up in an arranged marriage. That's when he meets Emily (Zoe Kazan), an American grad student with whom he's instantly smitten. She swears she doesn't want a relationship, but soon they fall for one another—even though Kumail knows it can't work out. What's most radical about The Big Sick is its optimistic insistence that a little niceness can make all the difference. —Tim Grierson
---
Bill & Ted Face the Music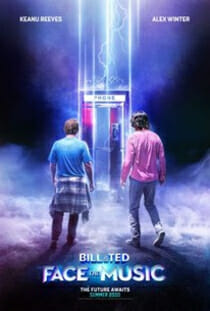 Year: 2020
Director: Dean Parisot
Stars: Keanu Reeves, Alex Winter, Kristen Schaal, Samara Weaving, Brigette Lundy-Paine, William Sadler
Rating: PG-13
Runtime: 91 minutes
Our enjoyment of Bill & Ted Face the Music may only be the direct result of living with a kind of background-grade dread for what feels like the whole of our adult lives. Those of us who will seek out and watch this third movie in the Most Excellent Adventures of Bill S. Preston, Esq. (Alex Winter) and Ted (Theodore) Logan (Keanu Reeves) are bound by nostalgia as much as a desire to suss out whatever scraps of joy can be found buried in our grim, harrowing reality. Sometimes, death and pain is unavoidable. Sometimes it just feels nice to lounge for 90 minutes in a universe where when you die you and all your loved ones just go to Hell and all the demons there are basically polite service industry workers so everything is pretty much OK. Cold comfort and mild praise, maybe, but the strength of Dean Parisot's go at the Bill & Ted saga is its laid-back, low-stakes nature, wherein even the murder robot (Anthony Carrigan, the film's luminous guiding light) sent to lazer Bill and Ted to death quickly becomes their friend while Kid Cudi is the duo's primary source on quantum physics. Because why? It doesn't matter. Nothing matters. There may be some symbolic heft to Bill and Ted reconciling with Death (William Sadler) in Hell; there may be infinite universes beyond our own, entangled infinitely. Cudi's game for whatever. A sequel of rare sincerity, Bill & Ted Face the Music avoids feeling like a craven reviving of a hollowed-out IP or a cynical reboot, mostly because its ambition is the stuff of affection—for what the filmmakers are doing, made with sympathy for their audience and a genuine desire to explore these characters in a new context. Maybe that's the despair talking. Or maybe it's just the relief of for once confronting the past and finding that it's aged considerably well. —Dom Sinacola
---
Bridesmaids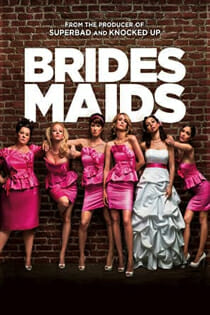 Year: 2016
Director: Paul Feig
Stars: Kristen Schaal, Maya Rudolph, Melissa McCarthy, Wendi McLendon-Covey, Ellie Kemper
Rotten Tomatoes Score: 90%
Rating: R
Runtime: 125 minutes
Unlike The Hangover, which was basically a long comedy sketch, Bridesmaids is actually a movie. This is always the big question when it comes to comedies: Should you aspire to make a full cinematic experience and risk coming up short (Wedding Crashers) or do you simply shoot for non-stop emotionless laughs and achieve wild success at a less transcendent achievement (Anchorman)? Bridesmaids is a thoroughly hilarious, full-bodied story thanks to the brilliance of Kristen Wiig, and it has staying power in the pantheon of less aspirational film comedy. —Ryan Carey
---
Borat Subsequent Moviefilm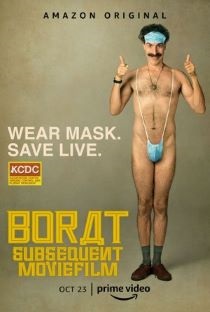 Year: 2020
Director: Jason Woliner
Stars: Sacha Baron Cohen, Maria Bakalova
Rating: R
Runtime: 96 minutes
The gung-ho hilarity and up-for-anything attitude Bulgarian actress Maria Bakalova brings to the Borat sequel (playing Borat's daughter, Tutar) makes for the closest thing to a can't-miss-it performance that 2020 has provided. It's one thing that Bakalova holds her own against Sacha Baron Cohen and his seasoned on-camera bravura. It's another thing altogether to supplant him as the breakout of the sequel, shepherding the soul of a movie—that nobody expected to be as perversely touching as it is—while keeping in hilarious lockstep with the scuzzy legacy that the Borat name implies.
Since Borat Subsequent Moviefilm dropped on Amazon Prime, Rudy Giuliani has unsurprisingly remained the movie's most noteworthy conversational export. News headlines about Giuliani and his most unusual way of removing a mic were the topic of the day at whatever the pandemic-era equivalent of the watercooler is. But it's to the credit of Bakalova, the mockumentary's other buzzed-about element and secret weapon, that its shocking climax is as effective as it is in targeting Donald Trump's private attorney.—David Lynch
---
Charade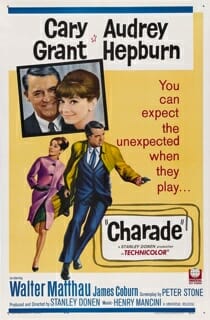 Year: 1963
Director: Stanley Donen
Stars: Audrey Hepburn, Cary Grant
Rating: 7+
Runtime: 113 minutes
Cary Grant is the most charming male lead ever. Audrey Hepburn is the most charming female lead ever. Everything else is just bonus in this romantic thriller about a woman pursued in Paris for her late husband's stolen fortune: the Henry Mancini score, the Hitchcock-ian suspense, the plot twists and Walter Mathau as a CIA agent. It's a screwball comedy and an international spy thriller, and works equally as both. —Michael Dunaway
---
Coming 2 America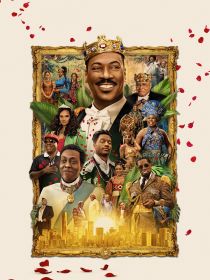 Year: 2021
Director: Craig Brewer
Stars: Eddie Murphy, Arsenio Hall, Jermaine Fowler, Leslie Jones, Tracy Morgan, KiKi Layne, Shari Headley, Wesley Snipes, James Earl Jones, John Amos
Rating: PG-13
Runtime: 109 minutes
Coming 2 America effectively uses the legacy of Zamunda to expand the narrative space not only of the classic original, but for Black diasporic affinity at large. At the end of the 1988 romantic comedy, the royal marriage of Akeem Joffer (Eddie Murphy) and Lisa McDowell (Shari Headley) further symbolically enmeshed the interconnected experience between African-Americans and Black Africans. In this sequel, the legacy of that union is explored through the gendered opportunities of Prince Akeem's lineage and the pressure he faces to determine his royal successor—all while appeasing the tyrannical leader of Zamunda's neighboring country Nextdoria, General Izzi (Wesley Snipes). Coming 2 America is an exciting follow-up that's ensemble cast and increasingly complex musings mostly outweigh its shortcomings. In present-day Zamunda, Prince Akeem enjoys the company of his wife, his three badass warrior daughters and his dear albeit mischievous dude-in-waiting Semmi (Arsenio Hall). But when dying, nearly expired King Jaffe Joffer (James Earl Jones) reiterates that Akeem's eldest daughter, Princess Meeka (KiKi Layne, Beale Street! Beale Street!) will not be eligible to inherit the throne because she is a woman, Akeem and Semmi return to Queens to find Akeem's long-lost bastard son, Lavelle Junson (Jermaine Fowler). Of course, hijinks ensue along the way. Semmi and Akeem must fumble around a new New York stuffed less with mustard-colored cabs and more with rideshares. They become acquainted with an increasingly gentrified Queens, visit some familiar friends and meet new members of Akeem's extended family as they court Lavelle. This film's greater comedic elements come from these familiar moments of cross-cultural tension and new intergenerational differences. Coming 2 America is a deeply fun, goofy, incredibly cast Blackity-Black movie. Viewers be warned of the emotional whiplash they might receive from the returning likes of James Earl Jones and John Amos, as well as the steady stream of Black artists and icons from across the diaspora who make surprise appearances in the film. Coming 2 America achieves exactly what an effective sequel should: It reinforces themes from the original film while offering new, intriguing points of tension, nodding to old gags in a way that rewards fluent fans without alienating newbies.—Adesola Thomas
---
Dazed and Confused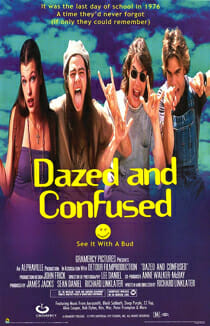 Year: 1993
Director: Richard Linklater
Stars: Jason London, Wiley Wiggins, Sasha Jensen, Rory Cochrane, Milla Jovovich, Marissa Ribisi, Adam Goldberg, Anthony Rapp, Matthew McConaughey, Ben Affleck, Parker Posey
Rating: R
Runtime: 103 minutes
Set in 1976 Texas, Dazed and Confused flows from one group of high-school and middle-school students over the course of one night—the traditional cinematic one-night-that-changes-everything.— Richard Linklater's follow-up to Slacker shows a variety of vantage points on a number of issues, philosophical, political and otherwise. The camera lingers, offering multiple perspectives, and allowing you to take your time and consider all sides of these various excursions. Ultimately, these digressions circle back on one another, and Linklater forms them into a coherent narrative that resembles an updated American Graffiti for a new generation. As the day begins, there is a very rose-tinted-glasses style outlook on the whole scene, one that is, layer by layer, peeled away over the course of the ensuing evening. For all the seeming importance placed on things like playing football, chasing romantic partners and finding some good old-fashioned visceral experiences, there isn't much in the way of consequences. You may get your ass kicked a little bit, but there isn't a lot at stake. Whatever happens, you'll be fine. This is never more apparent than as Dazed and Confused draws to a close and the film takes a dark turn towards what can only be described as adulthood. —Brent McKnight
---
Dilwale Dulhaniya Le Jayenge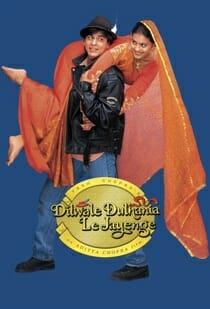 Year: 1995
Director: Aditya Chopra
Stars: Shahrukh Khan, Kajol, Amrish Puri
Rating: PG-13
Runtime: 188 minutes
Usually referred to simply as DDLJ, this movie is credited to have started Shah Rukh Khan on his path to eventual superstardom. Even today, Bollywood actresses tend to play second fiddle to their male counterparts, so Kajol (who goes by her first name) never quite got the same glory. Nevertheless, it's fair to say that DDLJ changed the game for Hindi rom-com films. Twenty years on, Bollywood films continue to invoke DDLJ as an epitome of romance, with young actors trying to recreate their own versions of Raj and Simran. Set partially in London and partially in Punjab, India, DDLJ was one of the first films to specifically target an Indian diasporic audience with a story that stays true to Indian traditions such as respect for your elders, while also advocating young lovers to follow their heart. A win-win situation! Raj and Simran accidentally meet on a train trip across Europe. After a couple of cute confrontations, sparks fly between the two. But Simran's father has promised her hand to a friend's son in Punjab. On overhearing his daughter's love for Raj, he flies in a rage and immediately packs the family bags for a flight to India and a quick wedding. Raj follows Simran with the intent to ask her father for Simran's hand in marriage. He befriends the prospective groom, and slowly wins over all the family members with his shenanigans. But will he be able to convince Simran's strict father? A hit soundtrack, lovely visuals of India and abroad, and a leading couple that charmed their way into its audiences, all contribute to DDLJ being included in all sorts of Bollywood lists. —Aparita Bhandari
---
Duck Soup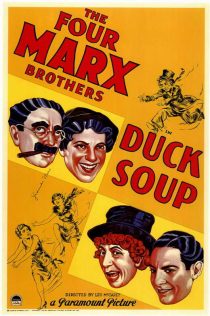 Year: 1933
Director: Leo McCarey
Stars: Groucho Marx, Harpo Marx, Chico Marx, Zeppo Marx, Margaret Dumont, Raquel Torres, Louis Calhern, Leonid Kinskey, Charles Middleton, Edgar Kennedy
Rating: N/R
Runtime: 70 minutes
Although some critics would argue that Duck Soup's pacing make it inferior to other films in the Marx catalog, the film's incredible one-liners and the brothers' great on-screen chemistry make it one of their most clearly beloved films. The audience sees Groucho's spitfire mouth in its prime as Rufus T. Firefly, a newly appointed leader of the struggling country Freedonia, and it's as much a solid chunk of hilarity as it is a satire of government and politics of the time. Harpo and Chico are incredible in their secondary parts as spies, showcasing their hold on slapstick and physical comedy that's most pronounced in Harpo's hilarious, near-blank facial expressions throughout. —Tyler Kane
---
Election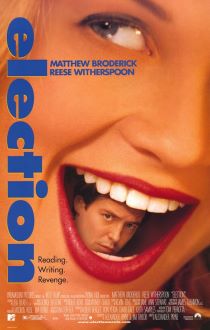 Year: 1999
Director: Alexander Payne
Stars: Matthew Broderick, Reese Witherspoon, Chris Klein
Rating: R
Runtime: 102 minutes
Tom Perrotta writes novels that strip the veneer from polite and "civilized" mid-American suburban life to expose it as the Starbucks-ian jungle that it is: The most reptilian impulses of human nature can strike at any time to dismantle the weak ones in the pack, or to at least flirt with pure narcissistic and hedonistic behavior. In fact, two great films based on his work outline this thematic connection—in Todd Field's Little Children, the sexual indiscretions of small town characters are narrated like an old school National Geographic documentary, and in Alexander Payne's Election, the soundtrack blares with a screeching, angry tribal chant whenever a character feels slighted, preparing for an attack to socially destroy an enemy. Perrotta and Payne's narrative covers a rift between a high school teacher, Jim McAllister (Matthew Broderick), who isn't self-aware enough to realize how much of a selfish prick he really is, and a student, Tracy Flick (Reese Witherspoon), the embodiment of blind and ruthless ambition, during the election to appoint the new student body president. Underneath this simple story rides a precise and nimble exploration about the lengths anyone might go to on the road to success to protect their fragile ego while stabbing many backs. Witherspoon's now-iconic take on Tracy Flick is the embodiment of that person we've all encountered who will do and say literally anything to get ahead in life. However, Broderick's seemingly caring and guiding teacher also succumbs to his own basest desires. Which one perishes, and which one comes out on top depends not on any preconceived cosmic hierarchy of good morals (or ethics—what's the difference?), but on who can be the shrewdest and cleverest animal in the pack. —Oktay Ege Kozak
---
The Foot Fist Way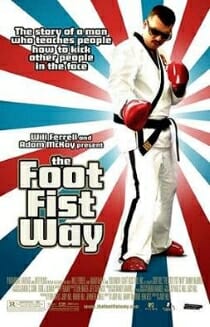 Year: 2006
Director: Jody Hill
Stars: Danny McBride, Mary Jane Bostic, Ben Best, Spencer Moreno, Carlos Lopez, Jody Hill, Collette Wolfe
Rotten Tomatoes Score: 54%
Rating: R
Runtime: 87 minutes
Before The Righteous Gemstones, before Kenny Powers, even before his role in Hot Rod, Danny McBride made his mark with The Foot Fist Way. Together with his long-time collaborator Jody Hill and co-writer Ben Best, McBride introduced us to Fred Simmons, a Taekwondo instructor in a small Southern town with a huge ego and an anger problem. Consider Fred the proto-Kenny Powers, with McBride diving into the same reservoir of toxic masculinity and extreme arrogance undercut by insecurity and a barely understood depression. Rough around the edges, and visibly low budget, The Foot Fist Way isn't as refined or powerful as McBride and Hill's later HBO shows, but it's still a hilarious character study with a keen eye for place and an understanding of the modern South rarely seen in movies or TV.—Garrett Martin
---
The General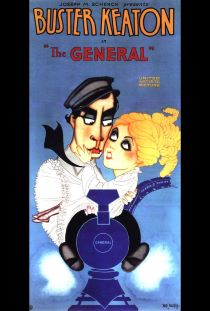 Year: 1926
Directors: Buster Keaton and Clyde Bruckham
Stars: Joseph Keaton, Marion Mack, Glen Cavender
Genre: Silent, Comedy, Romance
Rating: NR
Runtime: 79 minutes
When Yankee spies steal his locomotive and kidnap his girlfriend, a Southern railroad engineer ("The Great Stone Face" Buster Keaton) is forced to pursue his two beloveds across enemy lines. While a few Charlie Chaplin pictures give it a run for its money, The General is arguably the finest silent comedy ever made—if not the finest comedy ever made. At the pinnacle of Buster Keaton's renowned career, the film didn't receive critical or box-office success when released, but it has aged tremendously. It's a spectacle of story, mishmashing romance, adventure, action (chases, fires, explosions) and comedy into a seamless silent masterpiece. —David Roark
---
Harold and Maude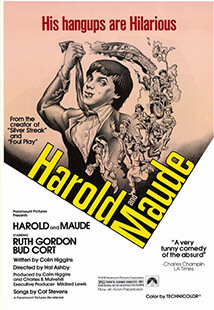 Year: 1971
Director: Hal Ashby
Stars: Ruth Gordon, Bud Cort, Cyril Cusack, Vivian Pickles
Rotten Tomatoes Score: 84%
Rating: PG
Runtime: 92 minutes
The original Daily Variety review begins, "'Harold and Maude' has all the fun and gaiety of a burning orphanage." History has been kinder. Though it may be dark, Harold and Maude is certainly a romantic comedy: Young Harold (Bud Cort) and 79-year-old Maude (Ruth Gordon) do find love, their courting wickedly funny as Harold finds increasingly more gruesome ways to scare off the suitors sent by his mother. Still, Hal Ashby's masterpiece is unlike any other film of its ilk, before or after its 1971 release, and Gordon is brilliant as the manic pixie dream septuagenarian. Just don't go in expecting a happily ever after. —Josh Jackson
---
Heathers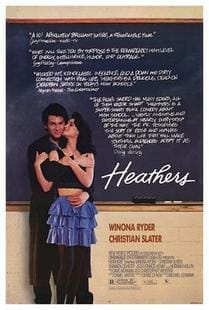 Year: 1989
Director: Michael Lehmann
Stars: Winona Ryder, Christian Slater, Kim Walker
Rating: R
Runtime: 102 minutes
As much an homage to '80s teen romps—care of stalwarts like John Hughes and Cameron Crowe—as it is an attempt to push that genre to its near tasteless extremes, Heathers is a hilarious glimpse into the festering core of the teenage id, all sunglasses and cigarettes and jail bait and misunderstood kitsch. Like any coming-of-age teen soap opera, much of the film's appeal is in its vaunting of style over substance—coining whole ways of speaking, dressing and posturing for an impressionable generation brought up on Hollywood tropes—but Heathers embraces its style as an essential keystone to filmmaking, recognizing that even the most bloated melodrama can be sold through a well-manicured image. And some of Heathers' images are indelible: J.D. (Christian Slater) whipping out a gun on some school bullies in the lunch room, or Veronica (Winona Ryder) passively lighting her cigarette with the flames licking from the explosion of her former boyfriend. It makes sense that writer Daniel Waters originally wanted Stanley Kubrick to direct his script: Heathers is a filmmaker's (teen) film. —Dom Sinacola
---
Licorice Pizza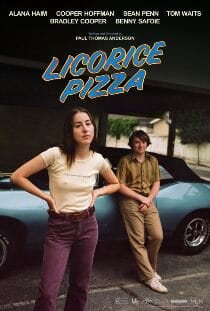 Year: 2021
Director: Paul Thomas Anderson
Stars: Alana Haim, Cooper Hoffman, Sean Penn, Tom Waits, Bradley Cooper, Benny Safdie
Rating: R
Runtime: 133 minutes
Licorice Pizza is writer/director Paul Thomas Anderson's second ode to Los Angeles in the early 1970s: A city freshly under the oppressive shadow of the Manson Family murders and the tail end of the Vietnam War. But while in his first tribute, Inherent Vice, the inquisitive counter-culture affiliate Doc Sportello (Joaquin Phoenix) earnestly engages with his surroundings and follows the threads of societal paranoia all the way to vampiric drug smuggling operations and FBI conspiracies, Licorice Pizza's protagonist, 25-year-old Alana Kane (Alana Haim), refuses to follow any such thread. A bored, directionless photographer's assistant, Alana nonchalantly rejects any easy plot-point that might help us get a grasp on her character. What are her ambitions? She doesn't know, she tells successful 15-year-old actor Gary Valentine (Cooper Hoffman, son of Philip Seymour Hoffman) over dinner at a restaurant called Tail o' the Cock. What interests and excites her? It's hard to say. When Gary first approaches Alana while she's working picture-day at his high school, it's hard to imagine that Licorice Pizza isn't going to follow the playful design of a sunny Southern California love story. Alana is instantly strange and striking, and—when Anderson introduces her in a languid dolly-shot with a mini-skirt, kitten-heels, slumped shoulders and a gloriously pissed expression—we are compelled to fall in love with her, just like Gary does, at first sight. Of course, Anderson quickly rejects the notion that Licorice Pizza is going to be a straightforward romance. Anderson knows that this ambling, disjointed structure reflects what it's like to be young, awkward and in love. Each shot, filled with dreamy pastels, glows with a youthful nostalgia. Anderson and cinematographer Michael Bauman balance out this haziness with a unique control of the camera, implementing long takes, slow dollies, and contemplative pans galore. What is it that Alana gets from being friends with someone ten years younger than her? And why does Gary always return to Alana even when she tries her best to put him down? Like gleefully gliding through the streets of L.A. in the midst of a city-wide crisis, it's a madness you can only truly understand when you're living it.—Aurora Amidon
---
Love & Friendship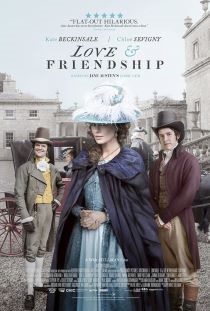 Year: 2016
Director: Whit Stillman
Stars: Kate Beckinsale, Chloe Sevigny, Xavier Samuel
Rating: PG
Runtime: 93 minutes
The title of Whit Stillman's latest comedy may be Love & Friendship, but while both are certainly present in the film, other, more negative qualities also abound: deception, manipulation, even outright hatred. Underneath its elegant period-picture surface—most obviously evident in Benjamin Esdraffo's Baroque-style orchestral score and Louise Matthew's ornate art direction—lies a darker vision of humanity that gives the film more of an ironic kick than one might have anticipated from the outset. Still, the humor in Love & Friendship is hardly of the misanthropic sort. As always with Stillman, his view of the foibles of the bourgeois is unsparing yet ultimately empathetic. Which means that, even as Stillman works his way toward a happy ending of sorts, the film leaves a slightly bitter aftertaste—which is probably as it should be. Such honesty has always been a hallmark of Stillman's cinema, and even if Love & Friendship feels like more of a confection than his other films, that frankness, thankfully, still remains. —Kenji Fujishima
---
My Man Godfrey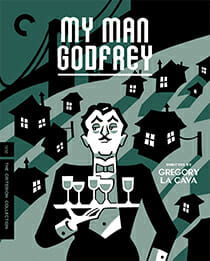 Year: 1936
Director: Gregory La Cava
Stars: Carole Lombard, William Powell
Rating: 7+
Runtime: 93 minutes
Gregory La Cava's My Man Godfrey is kind of like a proto-Le Dîner de Cons—or Dinner for Schmucks—except that My Man Godfrey is really good and neither the latter nor the former film measure up to it. (Because Le Dîner de Cons is coarse, condescending trash, too.) La Cava's inroads to skewering the upper crust is through the upper crust itself: The film takes its outsider protagonist, Godfrey "Smith" Parke (William Powell), who's not an outsider at all but a man in exile from high society's bosom, and inserts him into circumstances where he's the sanest, sharpest man in the room. Rich people are wild. That's the film's subtext, or just its text, because Godfrey's charges, the members of the family Bullock, are either completely out of their gourds or stuffed headfirst up their own asses. They'd have to be, perhaps, to mistake him for a vagrant when he's actually a member of the elite class just like they are. They'd also have to be observant and considerably less self-absorbed to make these fine distinctions. La Cava has fun with the scenario, as does Powell, and as does the rest of the cast, in particular Carole Lombard, playing young Irene, who falls head over heels for Godfrey, blithely unconcerned with his disinterest, and Gail Patrick as the daffy Mrs. Bullock, full of unfettered, dizzying joy. Dizziness, of course, is a requirement. Films like My Man Godfrey, screwball joints that move at a laugh-a-minute pace, demand the exhaustion of their viewers, and La Cava wears us out as surely as he delights us. —Andy Crump
---
Pride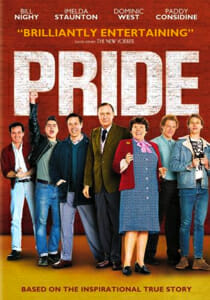 Year: 2014
Director: Matthew Warchus
Stars: Bill Nighy, Andrew Scott, Imelda Staunton, Dominic West
Rating: R
Runtime: 120 minutes
From its first frames, Pride opens itself wide to scrutiny: this is based on a true story. We're used to this, of course. We turn to the cinema for escape, but by invoking REALITY the so-called "true story" breaks the illusion we've sought, and in turn, we feel it's our obligation to call the veracity of every single element on the screen into question. Heartfelt speechifying, noble human gestures, lifelong struggles against adversity: when a film purporting to be true douses these idealistic pursuits in a sheen of Hollywood glitter, it's hard to take that film seriously—let alone not resent it. Two hours of being willfully manipulated hardly sounds like a good time at the multiplex. Which makes Pride kind of remarkable, because unlike so many other attempts to translate honest-to-goodness life to celluloid, it refuses to take itself too seriously. —Andy Crump
---
Saint Ralph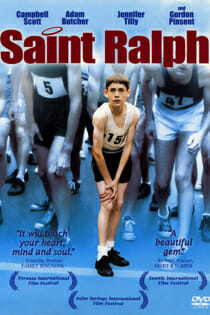 Year: 2005
Director: Michael McGowan
Stars: Adam Butcher, Campbell Scott, Gordon Pinsent
Rating: PG-13
Runtime: 98 minutes
Saint Ralph is the story of Ralph Walker, a precocious Catholic schoolboy living in Canada in the early 1950s. Blessed with an Eddie Haskell eagerness and plagued by a cruel libido, he's willing, at one point, to receive fellatio from a swimming-pool jet. But, when the 14 year-old's mom slips into a coma, he decides to win the Boston Marathon, a miracle he hopes will wake her. Ralph falls short as a sports film, but it succeeds as a coming-of-age comedy. To see this boy bring a jar of dog feces to his mother's hospital bed because "smell is one of the strongest memories," and to see him blanch from shock at the possibility of actually having a consensual kiss, is much more poignant and charming than the many training montages. First-time writer/director Michael McGowan, the steadfast Campbell Scott as Father Hibbert, and magnetic newcomer Adam Butcher as Ralph create an endearing tale of woe and redemption, redeeming the melodrama.—Kennan Mayo
---
Something Wild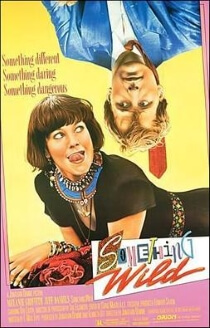 Year: 1986
Director: Jonathan Demme
Stars: Melanie Griffith, Jeff Daniels, Ray Liotta, Tracey Walter, Jack Gilpin
Rotten Tomatoes Score:
Rating: R
Runtime: 113 minutes
Something Wild offers the odd-couple pairing of Charles Driggs (Jeff Daniels), a vice-president of a banking company living a comfortable existence in a Long Island suburb, and Audrey Hankel (Melanie Griffith), a free-spirited woman seemingly without attachments, but also with a lot of money at her disposal to fund her devil-may-care ways. At first introducing herself to Charles as Lulu, Audrey basically ropes this yuppie into following her on a bizarre road trip throughout a good part of the East Coast—an adventure that, true to genre form, encompasses everything from screwball comedy to violent thriller, with the tone often shifting on a dime. Certainly, Demme's film lives up to its title just in the all-over-the-place story it weaves. But the film is more than just the sum of its deliberately disparate parts—especially because neither of these two characters can be easily pinned down as types. The first time we see Charles in the film, he's walking away from a diner having not paid for his meal—an act he later justifies as his way of rebelling within the system. Whether that is in fact true or not, it's nevertheless clear that he does have certain unruly impulses in him just itching to pop out—which naturally catches the eye of someone like Audrey, who has made such unruliness her life's mantra. But Audrey isn't simply the kind of character who would later become known as the "Manic Pixie Dream Girl." Both Audrey and especially Charles do learn new things about themselves during this odyssey—but it's not as simple as Audrey learning the dangers of her unfettered lifestyle and Charles becoming more of a bad-ass by embracing that same lifestyle. Instead of being about self-improvement, Something Wild is more about self-awareness: a realization of how complex human beings can be. —Kenji Fujishima