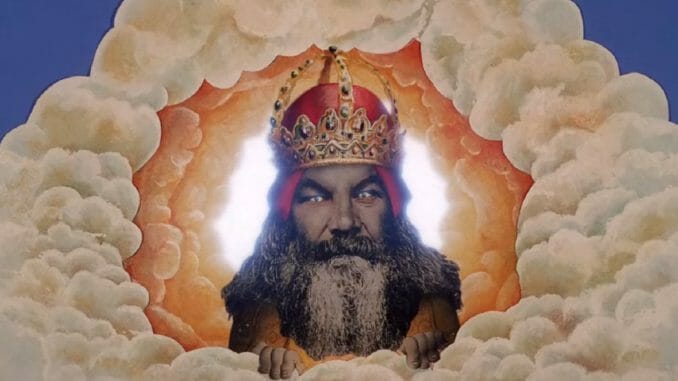 Netflix's focus on original content is really starting to impact its lineup of movies. You'll see a lot of Netflix originals on the list below, but not enough to make up for all the classics that have fallen out of rotation over the last few years. At one point this list had 50 movies on it every month; now it's usually less than 30 movies deep. At this point we might have to sit through every one of those Adam Sandler movies to see if any are actually good enough to recommend. To Netflix's credit, they've been slowly building up a roster of legitimately good Netflix exclusives like The Mitchells vs. the Machines and Bad Trip. It might not be as deep of a roster as it was five years ago, but there's still a great variety of comedies to choose from.
Anyway. Enough blather. Let's take a quick trip through the funniest movies on Netflix right now. Again, for the purpose of these rankings I'm looking at how funny a movie is alongside how well made it is—meaning you might see some absolutely hilarious comedies that aren't that well respected by critics coming in higher than better reviewed, more technically proficient films.
Here are the best comedies on Netflix as of May 2023.
1. Monty Python and the Holy Grail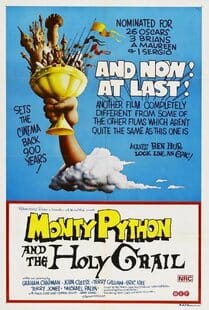 Year: 1975
Directors: Terry Gilliam, Terry Jones
Stars: Graham Chapman, John Cleese, Eric Idle, Terry Jones, Connie Booth
Rotten Tomatoes Score: 97%
Rating: PG
Runtime: 92 minutes
It sucks that some of the shine has been taken off Holy Grail by its own overwhelming ubiquity. Nowadays, when we hear a "flesh wound," a "ni!" or a "huge tracts of land," our first thoughts are often of having full scenes repeated to us by clueless, obsessive nerds. Or, in my case, of repeating full scenes to people as a clueless, obsessive nerd. But, if you try and distance yourself from the over-saturation factor, and revisit the film after a few years, you'll find new jokes that feel as fresh and hysterical as the ones we all know. Holy Grail is, indeed, the most densely packed comedy in the Python canon. There are so many jokes in this movie, and it's surprising how easily we forget that, considering its reputation. If you're truly and irreversibly burnt out from this movie, watch it again with commentary, and discover the second level of appreciation that comes from the inventiveness with which it was made. It certainly doesn't look like a $400,000 movie, and it's delightful to discover which of the gags (like the coconut halves) were born from a need for low-budget workarounds. The first-time co-direction from onscreen performer Terry Jones (who only sporadically directed after Python broke up) and lone American Terry Gilliam (who prolifically bent Python's cinematic style into his own unique brand of nightmarish fantasy) moves with a surreal efficiency. —Graham Techler
---
2. Monty Python's Life of Brian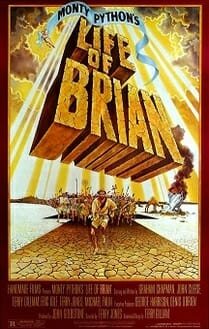 Year: 1979
Director: Terry Jones
Stars: Graham Chapman, John Cleese, Terry Gilliam, Eric Idle, Terry Jones, Michael Palin
Rotten Tomatoes Score: 95%
Rating: R
Runtime: 92 minutes
Pretty much made on George Harrison's dime and considered, even if apocryphally, by the legendary comedy troupe to be their best film (probably because it's the closest they've come to a three-act narrative with obvious "thematic concerns"), Life of Brian got banned by a lot of countries at the butt-end of the '70s. As a Christ story, the telling of how squealy mama's boy, Brian (Graham Chapman) mistakenly finds himself as one of many messiah figures rising in Judea under the shadow of Roman occupation (around 33 AD, on a Saturday afternoon-ish), Monty Python's follow-up to Holy Grail may be the most political film of its ilk. As such, the British comedy group stripped all romanticism and nobility from the story's bones, lampooning everything from radical revolutionaries to religious institutions to government bureaucracy while never stooping to pick on the figure of Jesus or his empathetic teachings. Of course, Life of Brian isn't the first film about Jesus (or: Jesus adjacent) to focus on the human side of the so-called savior—Martin Scorsese's take popularly did so less than a decade later—but it feels like the first to leverage human weakness against the absurdity of the Divine's expectations. Steeped in satire fixing on everything from Spartacus to Franco Zeffirelli's Jesus of Nazareth, and buttressed by as many iconic lines as there are crucifixes holding up the film's frames (as Brian's equally squealy mother hollers to the swarming masses, "He's not the messiah. He's a very naughty boy!"), the film explores Jesus's life by obsessing over the context around it. Maybe a "virgin birth" was really just called that to cover up a Roman centurion's sexual crimes. Maybe coincidence (and also class struggle) is reality's only guiding force. Maybe the standard of what makes a miracle should be a little higher. And maybe the one true through line of history is that stupid people will always follow stupid people, whistling on the way to our meaningless, futile deaths. —Dom Sinacola
---
3. Galaxy Quest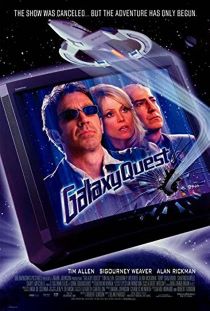 Year: 1999
Director: Dean Parisot
Stars: Tim Allen, Sigourney Weaver, Alan Rickman, Tony Shalhoub, Sam Rockwell
Rating: PG
Runtime: 104 minutes
J.J. Abrams once called this Star Trek parody one of the best Trek movies ever. He's not wrong. Galaxy Quest is less interested in making fun of Star Trek than in making fun of Star Trek culture, from obsessive fans to goofy special effects to actors who alternately hate, resent or are proud of their time on the show. It also features one of Alan Rickman's greatest roles, in case you're one of those kids who only knows him from his Harry Potter stuff and wants to take in the full measure of the man.—Alan Byrd
---
4. The Mitchells vs. The Machines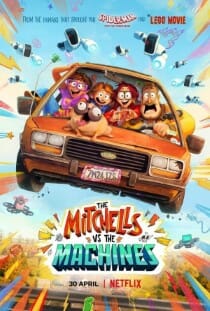 Year: 2021
Director: Mike Rianda
Stars: Danny McBride, Abbi Jacobson, Maya Rudolph, Mike Rianda, Eric Andre, Olivia Colman, Fred Armisen, Beck Bennett
Rotten Tomatoes Score: 98%
Rating: PG
Runtime: 109 minutes
Animated generational divides have never been more like a sci-fi carnival than in The Mitchells vs. the Machines. Writer/director Mike Rianda's feature debut (he and co-writer/director Jeff Rowe made their bones on the excellently spooky, silly show Gravity Falls) is equal parts absurd, endearing and terrifying. It's easy to feel as lost or overwhelmed by the flashing lights and exhilarating sights as the central family fighting on one side of the title's grudge match, but it's equally easy to come away with the exhausted glee of a long, weary theme park outing's aftermath. Its genre-embedded family bursts through every messy, jam-packed frame like they're trying to escape (they often are), and in the process create the most energetic, endearing animated comedy so far this year. —Jacob Oller
---
5. Glass Onion: A Knives Out Mystery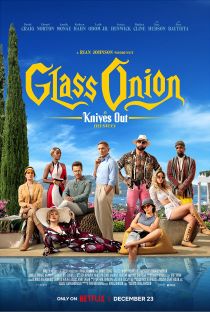 Year: 2022
Director: Rian Johnson
Stars: Daniel Craig, Janelle Monae, Ed Norton, Kate Hudson, Kathryn Hahn, Dave Bautista, Leslie Odom Jr., Jessica Henwick, Madelyn Cline
Rotten Tomatoes Score: 93%
Rating: PG-13
Runtime: 140 minutes
In Rian Johnson's latest Knives Out mystery, the Glass Onion is as much a metaphor for the nature of the whodunit as it is for the grandeur of the film itself. Resting upon a gorgeous Greek villa (on a billionaire's private island, no less), the titular emblem is created through a combination of VFX and a practical structure that stands a mighty 20 meters high. Made in the U.K. from all-glass paneling, the Onion's design was so intricate that it had to be assembled in its birthplace first to ensure that all its pieces fit together, disassembled entirely for its journey to a Serbian studio and then reassembled for the film. This extravagance perfuses beyond budget and set design to inform key elements of the overall work—most notably, its characters, sense of humor and roller coaster narrative. In Glass Onion, everything is more. More jokes. More self-reflexivity. More twists and turns. And, undeniably, more fun. Peeling back the layers of this campy mystery is none other than Benoit Blanc (Daniel Craig), "The Last of the Gentlemen Sleuths." He opens a mixed bag of eccentric personalities, including unfiltered fashion designer Birdie Jay (Kate Hudson), Connecticut governor Claire Debella (Kathryn Hahn), mysterious scientist Lionel Toussaint (Leslie Odom Jr.), men's rights influencer Duke Cody (Dave Bautista), wealthy entrepreneur Miles Bron (Edward Norton) and Andi Brand (Janelle Monáe), his estranged business partner. This absurdly delightful cast and gags are accompanied by a narrative that mirrors their chaos and lightheartedness. Where Knives Out is a straight whodunit, this second installment is more of an adoring parody of the subgenre. From recurring jokes about Clue to the utilization of famous novella tropes, the film dives headfirst into all things murder-mystery. It has multiple puzzles layered onto each other to create a viewing experience jam-packed with revelations and shocks—hence its overarching onion metaphor. Glass Onion is the kind of crowd-pleasing entertainment that is best experienced in a group setting, where the film's topsy-turvy take on the whodunit is sure to keep you guessing (and laughing).—Kathy Michelle Chacón
---
6. She's Gotta Have It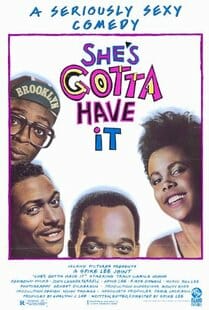 Year: 1986
Director: Spike Lee
Stars: Tracy Camila Johns, Spike Lee, John Canada Terrell, Tommy Redmond Hicks
Rotten Tomatoes Score: 91%
Rating: R
Runtime: 85 minutes
Spike Lee arrived as a fully-formed talent with this small-budget, black-and-white debut, which wound up being one of the most important movies in the rise of independent films in the 1980s. Lee brought a voice and verisimilitude to the screen that hadn't been seen before, with a movie that's smart, funny and audacious. The central theme—that women can sleep around as much as men, and that they shouldn't be judged or scorned for it—is still relevant 30 years later. In fact, it's so relevant Lee adapted the movie into a Netflix series that premiered last year.—Garrett Martin
---
7. National Lampoon's Animal House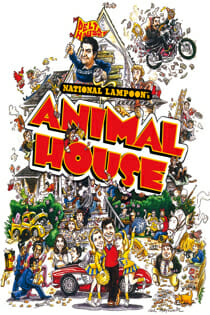 Year: 1978
Director: John Landis
Stars: John Belushi, Tim Matheson, Karen Allen, Peter Riegert, John Vernon, Tom Hulce, Bruce McGill, Stephen Furst, Donald Sutherland, Kevin Bacon, Mark Metcalf, Verna Bloom
Rotten Tomatoes Score: 91%
Rating: R
Runtime: 109 minutes
Times change. A lot of what might've been acceptable when Animal House came out 45 years ago is absolutely not today. Even when I first saw it in the early '90s John Belushi's peeping tom act felt uncomfortable and outdated, to say nothing of using statutory rape as a punchline. Animal House might be hard to get into for younger generations, but if you can set aside the miserable sexual politics (which were probably not that unrealistic for a group of college boys in the '60s [or '70s, or '80s, or '90s, or '00s…]) you'll find a comedy that otherwise deserves its classic reputation, and one whose influence on Hollywood comedies is almost incalculable. Animal House is an endlessly quotable movie full of memorable set pieces, the prototypical Boomer soundtrack, and an all-time great performance by Belushi, and that's why we're recommending it today.—Garrett Martin
---
8. Hunt for the Wilderpeople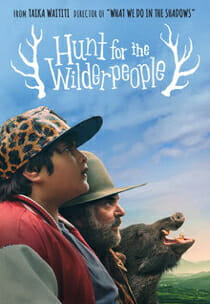 Year: 2016
Director: Taika Waititi
Stars: Sam Neill, Julian Dennison, Rima Te Wiata, Rachel House, Oscar Kightley, Tioreore Ngatai-Melbourne, Rhys Darby
Rotten Tomatoes Score: 96%
Rating: NR
Runtime: 101 minutes
Bella's (Rima Te Wiata) first encounter with Ricky (Julian Dennison), the new foster child she's agreed to take on, doesn't inspire confidence, especially with her clumsy jokes at the expense of his weight. In turn, with child-services representative Paula (Rachel House) painting Ricky as an unruly wild child, one dreads the prospect of seeing the kid walk all over this possibly in-over-her-head mother. But Bella wears him down with kindness. And Ricky ends up less of a tough cookie than he—with his fondness for gangsta rap and all that implies—initially tried to project. An adaptation of Barry Crump's novel Wild Pork and Watercress, Taika Waititi's Hunt for the Wilderpeople thrives on upending preconceived notions. The director shows sympathy for Ricky's innocence, which is reflected in the film's grand-adventure style. Cinematographer Lachlan Milne's sweeping, colorful panoramas and a chapter-based narrative structure gives Hunt for the Wilderpeople the feel of a storybook fable, but thanks to the warm-hearted dynamic between Ricky and Hec (Sam Neill), even the film's most whimsical moments carry a sense of real underlying pain: Both of these characters are outsiders ultimately looking for a home to call their own. —Kenji Fujishima
---
7. Easy A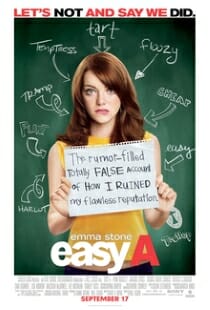 Year: 2010
Director: Will Gluck
Stars: Emma Stone, Penn Badgley, Amanda Bynes, Thomas Haden Church, Patricia Clarkson, Stanley Tucci, Malcolm McDowell, Lisa Kudrow
Rotten Tomatoes Score: 85%
Rating: PG-13
Runtime: 93 minutes
Countless comedies have played up the singularly unique experience called high school. Most have faded into late night obscurity while a few like Fast Times at Ridgemont High, Cluelessand Mean Girls have offered witty accounts of this near ancient ritual of teen life. Easy A, highlighting teenage promiscuity and social prejudice, actually elevates the genre to a higher level of intelligence. Oh, and it's funny, too. Although the film possesses subtle messages on social intolerance and the good and bad of marriage and family, Easy Anever comes close to preaching or talking down. In fact, director Will Gluck most likely had no intention of making a message movie. It stands on its own as a smart comedy from start to finish. But like a candy-flavored elixir the morality is in there. It just goes down easy. —Tim Basham
---
8. Sleepless in Seattle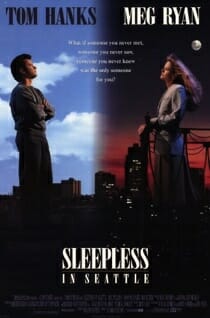 Year: 1993
Director: Nora Ephron
Stars: Meg Ryan, Tom Hanks, Rosie O'Donnell, Bill Pullman, Rob Reiner
Rotten Tomatoes Score: 74%
Rating: PG
Runtime: 105 minutes
Sleepless in Seattle is essentially one giant love letter to 1957's An Affair to Remember from writer/director Nora Ephron. Rita Wilson gives a memorable teary summary of the movie, and Annie (Meg Ryan) watches it before writing to Sam (Tom Hanks) inviting him to meet her at the top of the Empire State Building—the way Cary Grant and Deborah Kerr attempt to in their movie—on Valentine's Day. When they finally meet on the observation deck, the theme from An Affair to Remember swells, setting the mood for anyone with an appreciation for good rom-coms. —Bonnie Stiernberg
---
9. Dumb and Dumber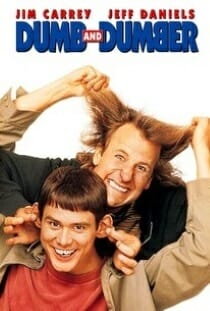 Year: 1994
Director: Peter and Bobby Farrelly
Stars: Jim Carrey, Jeff Daniels, Lauren Holly, Teri Garr, Karen Duffy, Mike Starr
Rotten Tomatoes Score: 68%
Rating: PG-13
Runtime: 106 minutes
There is a special brand of nihilism at play in the Farrelly Brothers' debut, one which vaunts stupidity above all else, not because the Farrellys want to celebrate being dumb over being smart, but because they seem to find no real consequences in the kind of ignorance inhabited by Lloyd (Jim Carrey, beloved) and Harry (Jeff Daniels, best role of his career) to the extent that morality for these characters is moot. Devoid of the brain power required to fully comprehend the vast world around them, operating on little more than teenage horniness and threats of unemployment (plus the image of a decapitated parakeet), Harry and Lloyd blissfully become involved in a kidnapping caper concerning the husband of wealthy heiress Mary Swanson (Lauren Holly). It works out as one might expect—in that it doesn't work out, and that doesn't matter—but not without developing a lot to love in these two dipshits, making its sequel feel unrelentingly mean-spirited by comparison. It shouldn't be surprising then that pretty much every other Farrelly movie (sans There's Something About Mary) has aged poorly: America doesn't need any more movies that seem to actually honor our dumbest assholes. —Dom Sinacola
---
10. Bad Trip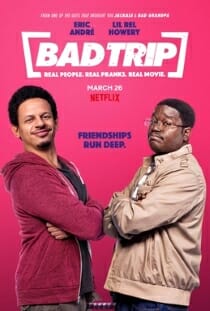 Year: 2021
Director: Kitao Sakurai
Stars: Eric Andre, Tiffany Haddish, Lil Rel Howery, Michaela Conlin
Rotten Tomatoes Score: 73%
Rating: R
Runtime: 84 minutes
What's most distinguishable about Bad Trip is the way that it depicts the public which it interacts with. The film never aims to humiliate or dehumanize its subjects—instead of being disparaged or mocked in the name of comedy, bystanders are portrayed as more of a righteous tribunal than mere crabs in a barrel. The reprehensible behavior showcased always stems from Andre, Haddish or Howery, with spectators taking it upon themselves to moralize and attempt to salvage any remaining shred of the incognito actors' perceived dignity—perhaps all too perfectly exemplified in a scene with a parking lot Army recruiter who civilly declines Andre's offer of a blowjob in exchange for execution during a profound period of hopelessness. This ability to invoke public reaction—with no rubric for hardline emotions that the actors must elicit—is what allows the fabric of Bad Trip's humor to shine through. With the professional actors shouldering the burden of both maintaining character for the benefit of the film's overarching narrative as well as ensuring that the orchestrated gags play perfectly, the public's only obligation is reacting genuinely, whether that be expressing anger, frustration, disdain or bewilderment. It's this spectrum of varied emotion that is woven into the very fabric of the film, giving it an overtly genuine tone. At times it is even surprisingly heartwarming, with good samaritans stepping in to talk characters off of ledges and break up public quarrels.
---
11. Dolemite Is My Name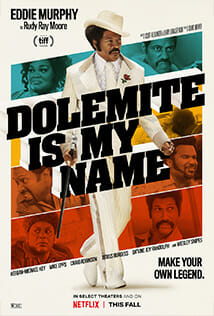 2019
Director: Craig Brewer
Stars: Eddie Murphy, Keegan-Michael Key, Mike Epps, Craig Robinson, Tituss Burgess, Da'Vine Joy Randolph, Kodi Smit-Mcphee, Snoop Dogg, Ron Cephas Jones, Barry Shabaka Henley, Tip "TI" Harris, Luenell, Tasha Smith, Wesley Snipes
Rotten Tomatoes Score: 97%
Rating: R
Runtime: 118 minutes
"I want the world to know I exist," Rudy Ray Moore (Eddie Murphy) declares in Dolemite Is My Name. Awareness on a grand scale is an ambitious goal—but it didn't stop Moore from trying. Rudy Ray Moore is a multi-hyphenate performer looking to propel his comedy career. After seeing Rico (Ron Cephas Jones), the local homeless man that visits where Rudy works, do stand-up, Moore decides to steal and refine Rico's material. He assumes the character of Dolemite, a sharp, vulgar pimp who oozes confidence, and the "new" material kills in local clubs. Eventually, Moore signs a comedy record deal and charts on Billboard. Emboldened, he sets a new goal: to make a Dolemite film, exhausting all his personal expenses to do so. At the heart of Dolemite Is My Name is the smooth-talking man himself, played by Eddie Murphy. The actor has, since 2012, been quiet in the public eye, taking years-long breaks between films. In 2016, he resurfaced for the drama Mr. Church, his performance praised but the film critically panned. Being hailed as his "comeback" role, Dolemite finds Murphy in fit comedy shape, tackling this lead part with gusto. He embraces Moore's slightly goofy enthusiasm and can-do attitude without a hint of mocking. For a character like Dolemite, so deeply rooted in the Blaxploitation era of the '70s and frankly riddled with so many stereotypical elements, Murphy succeeds by being earnest, even when delivering Dolemite's raunchiest lines. He reminds us he's one of the best at balancing drama and comedy. A figure who could have been an offensive caricature in the wrong hands, Dolemite, in Craig Brewer's film, is so much more; we go beyond the surface of the character, exploring one man's quest for stardom and the entrepreneurial risks he took to be the talk of the town. We get a film befitting of Moore's legacy while simultaneously reminding audiences the star power of Eddie Murphy. —Joi Childs
---
12. Hail, Caesar!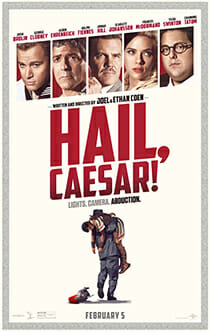 Year: 2016
Directors: Ethan Coen, Joel Coen
Stars: George Clooney, Tilda Swinton, Josh Brolin, Ralph Fiennes, Jonah Hill, Alden Ehrenreich, Christopher Lambert, Channing Tatum, Scarlett Johansson
Rotten Tomatoes Score: 86%
Rating: PG-13
Runtime: 106 minutes
The period zaniness of Joel and Ethan Coen's Hail, Caesar! is an ode to old Hollywood—and much more—as only they can do, tracing the efforts of James Brolin's studio scandal fixer through a parade of 1950s soundstages, back lots and actors. His latest potential headline concerns the abduction of a Biblically epic movie star—George Clooney having a helluva good time doing his best Chuck Heston/Kirk Douglas amalgam—by what turns out to be a tea sandwich-serving think tank of communists. Other subplots have Scarlett Johansson's starlet plotting out her unwed motherhood in the public eye and the screen makeover of an unsophisticated cowboy by Ralph Fiennes' debonairly enunciating director, Laurence Laurentz. There are dueling gossip columnist twins (Tilda Swinton pulling double duty), a hapless film editor (Frances McDormand) and scattered movies-within-the-movie, which even pauses midway through for a thoroughly enchanting—and cheeky—Gene Kelly-styled song-and-dance number starring Channing Tatum as a heavily made-up matinee star with controversial extracurricular activities. Most of the main characters/performances take blatant inspiration from Hollywood legends of yore, and the cast seems to have as much fun as the Coens. Hail, Caesar! is by no means their best work, but it's characteristically gorgeous, spiritedly acted and rife with political, religious and creative (sub)text for moviegoers as thoughtful and dorky as Joel and Ethan themselves. —Amanda Schurr
---
13. Mindhorn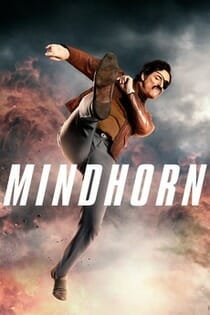 Year: 2016
Director: Sean Foley
Stars: Julian Barratt, Essie Davis, Richard McCabe, Alex Wyndham, Steve Coogan
Rotten Tomatoes Score: 92%
Rating: NR
Runtime: 89 minutes
Julian Barratt gives a charismatic lead performance, using those chiseled cheekbones and glorious mustache in concert with uncommonly sad eyes to make his washed-up actor Richard Thorncroft both recognizable and worthy of empathy, despite his arrogance and stupidity. The rest of the cast is also strong, though largely overshadowed by Barratt's magnetism. If Steve Coogan, who also produced, wants to continue spending large chunks of his time in very small, brutally funny roles in comedy movies (see: The Other Guys, In the Loop, and technically Hot Fuzz), that's fine by me. Kenneth Branagh, shockingly, cameos as himself in one early scene where he auditions Richard for a Hamlet adaption—it's nice to see he has a sense of humor about still being the go-to Shakespeare guy. It's clear, in any case, that Mindhorn is a labor of love for the cast and crew.—Deborah Krieger
---
14. The Nice Guys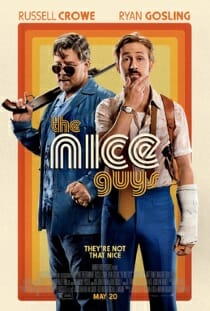 Year: 2016
Directors: Shane Black
Stars: Russell Crowe, Ryan Gosling, Angourie Rice, Margaret Qualley, Keith David
Rotten Tomatoes Score: 92%
Rating: R
Runtime: 116 minutes
Good performances can polish average movies with just enough elbow grease they end up looking like gems. Think Jennifer Lawrence in Silver Linings Playbook, or Alan Rickman in Robin Hood: Prince of Thieves. Every advance that Shane Black's The Nice Guys takes toward quality is made on the strengths of Russell Crowe and Ryan Gosling. Black is as quick with action scenes as with punchlines. The Nice Guys is funny. It's exciting. If you find yourself growing tired of wordplay, Black will turn things around and slide in some Three Stooges slapstick. If you get tired of that, he'll set off a gun or throw a few punches, though it is impossible to imagine anybody finding the clownish sight of Gosling tumbling off of balconies or crashing through plate glass tiresome. Gosling and Crowe are a great pair, so great that their team-up should justify funding for a buddy picture series where Holland and Jackson undertake jobs that spiral out of hand and above their pay grades. Crowe plays it straight and grumpy, and you half expect him to declare that he's too old for this shit at any given moment. Gosling, on the other hand, shapes Holland through boozy tomfoolery and pratfalls. They're a standout odd couple, but Black's films are defined by great odd couples as much as they are by great scripting. In The Nice Guys, he leaves it up to Gosling and Crowe to use the former to fill in the gaps left behind by the lack of the latter.—Andy Crump
---
15. The Lovebirds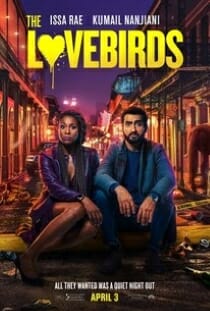 Year: 2020
Director: Michael Showalter
Stars: Issa Rae, Kumail Nanjiani, Paul Sparks, Anna Camp, Kyle Bornheimer
Rotten Tomatoes Score: 65%
Rating: R
Runtime: 87 minutes
Michael Showalter updates the After Hours template with this fun romp, in which a modern, mundane couple who just broke up gets entangled in unexpected crime and danger. Rae and Nanjiani are a great comic duo who nail the mix of pettiness, tenderness and lived-in comfort of a couple who have already been going through the motions longer than it took to establish them; their blithe bickering and chatter, insistent whether they're infiltrating a secret society orgy or about to be tortured, is consistently funny without feeling too quippy or sitcom-ish. There are a lot of movies like this—Date Night, Game Night, probably others that have the word "night" in the title—but The Lovebirds might be the sharpest one since Scorsese sent Griffin Dunne panicking through mid '80s Manhattan.—Garrett Martin
---
16. Always Be My Maybe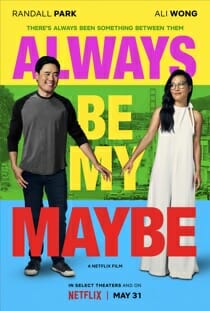 Year: 2019
Director: Nahnatchka Khan
Stars: Ali Wong, Randall Park, Keanu Reeves, Michelle Buteau, Vivian Bang, Karan Soni
Rotten Tomatoes Score: 89%
Rating: PG-13
Runtime: 102 minutes
A film written by and starring Ali Wong and Randall Park was always guaranteed to be a home run, but the endlessly funny and charming Always Be My Maybe truly exceeds all romcom expectations. The duo (who penned the script with Michael Golamco) play childhood friends who lose touch after an impulsive teenage romance ends badly. From there, Wong's Sasha becomes a celebrity chef as Park's Marcus continues to live at home and work for his father's blue collar business after his mother's tragic passing. They each have things to learn from one another, sure, but Always Be My Maybe doesn't just end when romance blossoms; it leans into the complications of two adults with independent lives choosing to be together and figuring out how to make it all work. Part of that, crucially, includes both Marcus and Sasha playing supportive roles in one another's careers rather than compromising and giving up their passions to be together. Director Nahnatchka Khan keeps the stylish film moving at a pleasant comedic clip throughout, and there's a killer cameo appearance you will not want spoiled before you see the movie. Seriously, you should watch it right now. —Allison Keene
---
17. Between Two Ferns: The Movie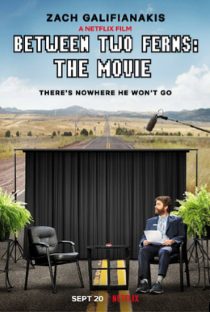 Year: 2019
Director: Scott Aukerman
Stars: Zach Galifianakis, Lauren Lapkus, Ryan Gaul, Matthew McConaughey
Rotten Tomatoes Score: 74%
Rating: NR
Runtime: 82 minutes
Netflix originals are routinely criticized for their general low stakes vibe, like they're the modern equivalent of old primetime made-for-TV movies from the '70s and '80s. You can't really say that about Between Two Ferns: The Movie, because "low stakes" has been the entire point of Zach Galifianakis's web series all along. This Funny or Die production sends Galifianakis and his public access crew (including Lauren Lapkus) on a cross-country jaunt to save their show and help Zach realize his dreams of being a legitimate late-night talk show host. Along the way they interview people like David Letterman, John Legend, Chance the Rapper, Benedict Cumberbatch, Brie Larson, and more. (And for some reason Phoebe Bridgers and that guy from The National show up for a musical number.) Scott Aukerman's screenplay is as absurd and hilarious as you'd expect, and a game cast keeps it running smoothly throughout. Between Two Ferns: The Movie is basically the Citizen Kane of entirely unnecessary feature-length adaptations of one-joke web shows.—Garrett Martin
---
18. The Incredible Jessica James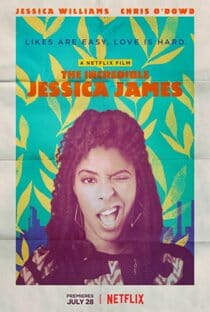 Year: 2017
Director: Jim Strouse
Stars: Jessica Williams, LaKeith Stanfield, Noël Wells, Taliyah Whitaker
Rotten Tomatoes Score: 88%
Rating: NR
Runtime: 85 minutes
Jessica Williams plays Jessica James, a twenty-something theatre fanatic who's trying to get one of her plays produced while simultaneously dealing with a breakup. The ex? Damon, played by the equally wonderful Lakeith Stanfield (Atlanta, Short Term 12), who can't manage to stay out of Jessica's dreams. When she meets a new fling, played by the comically refreshing Chris O'Dowd, she begins to re-evaluate her love life while clinging to her life goals. When do you know you've made it? As lighthearted as the film can be, it's rooted in an exploration of the deeper questions that any artist, or person for that matter, grapples with. Williams is hilarious, which we all know from her time on The Daily Show. She's also incredibly powerful, showcasing a feminine strength that's so crucial to this generation and a passion for her craft that's the opposite of the indifference often associated with millennials. The film is perfect for a popcorn and beer night with the gals and guys. —Meredith Alloway
---
19. To All the Boys I've Loved Before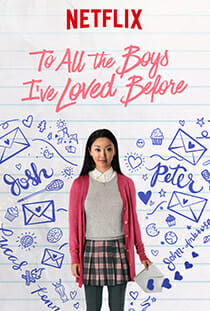 Year: 2018
Director: Susan Johnson
Stars: Lana Condor, Noah Centineo, Janel Parrish
Rotten Tomatoes Score: 97%
Rating: NR
Runtime: 100 minutes
To All the Boys I've Loved Before, the teen scene's newest runaway hit, is a flat-out excellent film. It is not excellent "for a teen flick." It is not excellent "for a romantic comedy." It is excellent for a film. TATBILB fully inverts the 80/20 ratio: Within the first 20 minutes, all five of the deeply private love letters our daydreamy, emotionally buttoned-up protagonist Lara Jean (Lana Condor) has written to her childhood crushes over the years have been stolen and mailed out—including the one to her neighbor and best friend, Josh (Israel Broussard), who just happens to also be her older sister's just barely ex-boyfriend. This swift puncturing of any protracted emotional dishonesty Lara Jean might have hoped to indulge in, well, forever, leaves the film's final eighty minutes free for her to embrace some really radical emotional honesty. The importance of Lara Jean and her sisters being half-Korean, and the majority of the cast (along with Mahoro) non-white, is hard to overstate, but it isn't the most impressive thing about the cast by a long shot. In a genre that can so often see its characters lean too far into caricature, Lara Jean's world is instead populated with teens—and through them, love—you can believe in. —Alexis Gunderson
---
20. Little Evil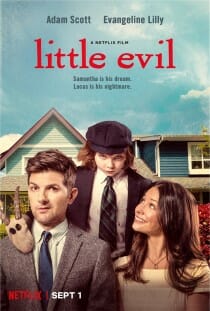 Year: 2017
Director: Eli Craig
Stars: Adam Scott, Evangeline Lilly, Bridget Everett, Clancy Brown, Sally Field, Owen Atlas
Rotten Tomatoes Score: 92%
Rating: NR
Runtime: 94 minutes
Seven years after he gave us Tucker & Dale vs. Evil, one of the best horror comedies in recent memory, director Eli Craig has finally returned with another horror comedy exclusive for Netflix, Little Evil. An obvious parody of The Omen and other "evil kid" movies, Little Evil wears its influences and references on its sleeve in ways that while not particularly clever, are at least loving. Adam Scott is the sad-sack father who somehow became swept up in a whirlwind romance and marriage, all while being unfazed by the fact that his new step-son is the kind of kid who dresses like a pint-sized Angus Young and trails catastrophes behind him wherever he goes. Evangeline Lilly is the boy's foxy mother, whose motivations are suspect throughout. Does she know that her child is the spawn of Satan, or as his mother is she just willfully blind to the obvious evil growing under her nose? The film can boast a pretty impressive supporting cast, from Donald Faison and Chris D'elia as fellow step-dads, to Clancy Brown as a fire-and-brimstone preacher, but never does it fully commit toward either its jokes or attempts to frighten. The final 30 minutes are the most interesting, as they lead the plot in an unexpected direction that redefines the audience's perception of the demon child, but it still makes for a somewhat uneven execution. Tucker & Dale this is not, but it's still a serviceable return for Craig. —Jim Vorel
---
21. Mascots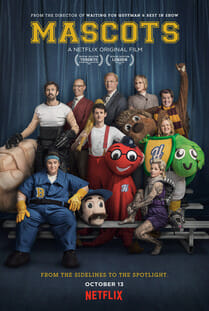 Year: 2016
Director: Christopher Guest
Stars: Jane Lynch, Parker Posey, Fred Willard, Christopher Guest, Ed Begley Jr., Jennifer Coolidge, Harry Shearer, Zach Woods
Rotten Tomatoes Score: 49%
Rating: NR
Runtime: 120 minutes
"Diminishing returns" might apply to Christopher Guest mockumentaries more than anything else on earth, but when you start from the unparalleled heights of Waiting for Guffman and Best in Show there's a long way to plummet. To wit: Mascots, his latest film, is still full of great performances and good jokes. Much of his stock company returns for the Netflix exclusive (Parker Posey, Jane Lynch, Fred Willard and Ed Begley Jr. are still standouts), and although the absence of Eugene Levy and Catherine O'Hara is palpable, the ensemble is still stocked with capable improvisers. The satire isn't as sharp as his earlier films, but there's still an endearing goofiness at the movie's heart.—Garrett Martin
---
22. Wine Country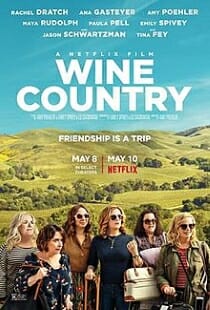 Year: 2019
Director: Amy Poehler
Stars: Rachel Dratch, Ana Gasteyer, Amy Poehler, Maya Rudolph, Paula Pell, Emily Spivey, Tina Fey, Jason Schwartzman, Cherry Jones
Rotten Tomatoes Score: 65%
Rating: R
Runtime: 100 minutes
As much of a vacation for its cast as a movie, Amy Poehler's Wine Country is a low stakes sketch of a movie that gets by on charisma and sweetness. Poehler and a crew of fellow Saturday Night Live vets—including Rachel Dratch, Maya Rudolph, Ana Gasteyer and Tina Fey, as well as former SNL writers Paula Pell and Emily Spivey—play a group of friends touring California's wine country on a 50th birthday trip. They're each in their own way dealing with their own midlife crises and disappointments, and the ways they discuss and relate to them are both funny and realistic. It's essentially a woman's take on the kind of shaggy hang-out comedy Adam Sandler's been making with his friends for decades, and with the requisite differences in taste and perspective you'd expect from that comparison. Wine Country is perfectly fine.—Garrett Martin
---
23. Eurovision Song Contest: The Story of Fire Saga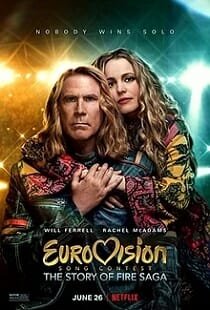 Year: 2020
Director: David Dobkins
Stars: Will Ferrell, Rachel McAdams, Dan Stevens, Pierce Brosnan
Rotten Tomatoes Score: 64%
Rating: PG-13
Runtime: 121 minutes
Eurovision Song Contest: The Story of Fire Saga is—let's be honest here—a bit on the thin side, and a little confusing. It's got just enough sincerity to undermine its own satirical impulses and just enough pandering snark to undermine its own sincerity. It runs long, and it leans on a trope, Ferrell's master trope and the common denominator in most of his best performances—the lovable but fundamentally clueless and self-absorbed man-baby who can't get out of his own way. It's a trope that, thanks to Ferrell himself, we have mined pretty thoroughly in comedy over the last few decades. And yet, even as Eurovision Song Contest makes a number of perplexing moves in its two-hour-plus runtime, you kind of can't help rooting for it, and for its principal characters, because its refusal to be cynical operates as a vital, oxygenating escape hatch right now.—Amy Glynn
---
24. Vampires vs. the Bronx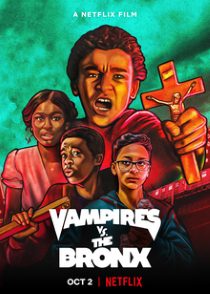 Year: 2020
Director: Osmany Rodriguez
Stars: Jaden Michael, Gregory Diaz IV, Sarah Gadon, Shea Whigham, Method Man, Chris Redd
Rotten Tomatoes Score: N/A
Rating: PG-13
Runtime: 85 minutes
Vampires have historically been used as a metaphor for practically any societal evil you can think of in cinema, but the "vampire as gentrification allegory"? Now that's a new one. And that's what you'll see in Netflix's Vampires vs. The Bronx. It makes its political message abundantly clear. These are indeed vampiric real estate developers, intent on snapping up properties like the neighborhood courthouse, which is immediately reimagined as an upscale condo development titled "The Courthaus." A bit on the nose, perhaps, but pretty funny at the same time.—Jim Vorel