Mr. Miner's Phish Thoughts: An Anthology By A Fan For The Fans by David Calarco
A Live Music Blog's New Life in Print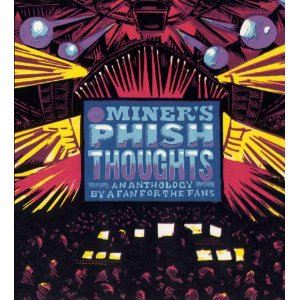 Rather than a standard review of David Calarco's new Phish anthology, author/poet/Phishhead Paul Siegell has given us a poem about a book about a band.
YOU CAN FEEL GOOD ABOUT MR. MINER
Congratulations! an email hails. You have just
purchased the following tickets:
tickets to follow, to follow a band: tickets to
Phish. head-
"YES!" mental
music adventures—
(I still can't believe we're still able to go to
these shows.)
"In the matter of one moment, we segued from
a Phishless life directly into a ticket frenzy!"
Oom Pah Pahhh—
with Phish to look forward to: transcendence-obsessed: with our
favorite musicians amping up tour:
Page the Key. Trey the Red. Mike the Groove. Fish the Freak.
few things are more fun than stretched-out, Set II
dancing.
with fellow revelers,
like-minded folk—
with friends that I'm still friends with, we lit this trip of Phish
years before any of us could grow a beard, years before
a bootleg spun to download.
mid-'90s, improv-inspired: off of MTV in favor of less-exposed
live experience—a subgeneration seduced:
"Phish-following psychonauts" with gratitude in tune, we rolled
the road American, indulging in every show our semesters
allowed, welcoming the unknown:
(((Whooo's got my extraaa?)))
"Creating a narrative for fans to discover, sort out and immerse
themselves in, this fantastyland catapulted live Phish into
the realm of the sacred among their loyal followers."
our escape of choice:
to live live Phish—
but as experimental summer breaks segued into mortgages,
careers, life! and for some even children: making epic
heady runs unreasonable:
like everyone else
for everything else,
to the Internet we inquired—updates, setlists, sound-
boards and reviews from tour:
"There are musical moments, and then there are experiential
moments of unbridled energy, passion and adrenaline,
those when life simply cannot feel any richer."
and there presides Mr. Miner, blogging his Phish Thoughts up
for a bustout-hungry community of freaks, both old and
n00b:
"Our secret mission in seeking the ultimate: frozen moments
where thoughts go blank, and we forget who and where
we are, utterly engulfed by the psychedelic monstrosity
of Phish."
Mr. Miner the Generous. Mr. Miner Prolific. Mr. Miner the Brave.
to listen to Phish, to their twisted myths & musicianship, is to be
reminded that music, that all of this, is infinite, so the time
to enjoy it is now—
and now, with controversial yet always emotive show reviews >
tales of legendary fests sets vibes venues > wise "Miner's
Picks" > and exuberant musings about all things tour, this
blog has been edited, polished, and adorned with majestic high-
definition photography, into a beautifully bound 680-page
book!
"Leave it to Phish fans, the most obsessive sub-genre of people
on this planet."
Mr. Miner, The Blogger Who Stepped Into Book Publishing.
but: is this book meant to be read right now? or rather: years
of fading memory from now, after?
is this book more than just an 8 lb. indulgent showcase
of adjective-happy hyperbole?
is it "connected with crazy glue and firing musical ideas
like a sawed-off shotgun"? —or is it, as in the very next
sentence: "like a ship bouncing in the whitewater of the
open sea"? —or, like the one right after that: "a maniacal
magic carpet ride"?
is this book even necessary, given so much of it already
exists: online?
ahh, Mr. Miner—
one yes! two yes! red yes! blue yes!
spotlighting his critical and insightful ear, his lively yet at times
overpowering analogies, and above all: his overflowing
devotion to "the most interesting band alive"—
for the love of our lot—
Mr. Miner says, Thank you! to Phish by deep-dive, song-by-song-
by-set-by-limb-by-tour-by-era by listening to The Phish
like no one else in the entire audience of the world:
from "musical molasses" to a "funkified splash," a "liquid-groove
session" to "pure Phish crack," this memorabilia of the jam
embodies with creativity what we as a community are still
relentlessly chasing down tickets to experience.
and the least we can do, for now, for all of his invaluable efforts,
is say, Thank you, Mr. Miner! in kind.
Paul Siegell is the author of the Phish-inspired Jambandbootleg (A-Head Publishing), as well as Wild Life Rifle Fire and Poemergency Room (Otoliths Books). Find more of Paul's work at ReVeLeR @ eYeLeVeL and @paulsiegell.
Others Tagged With