Anger Management Review: "Charlie Goes Back to Therapy"/"Charlie and the Slumpbuster" (Episode 1.01/1.02)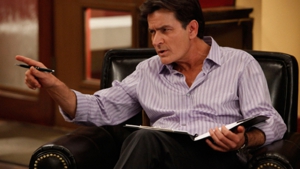 "Anger took away something important to me."
That's what Charlie, the character, tells his group therapy. I guess Charlie Sheen could say the same thing—as long as Sheen's "anger" is "mounds of coke."
All of the promos leading up to the Anger Management premiere led a lot of people to believe Sheen would be playing a more crazed, sexed-up, off-the-wall version of the character he played on Two and a Half Men and for the most part, he does.
Instead of a being womanizer, this Charlie consistently sleeps with another therapist (Selma Blair) and juggles the trials of an ex-wife (Shawnee Smith) and a teenaged daughter (Daniela Bobadilla). Instead of being a millionaire commercial jingle writer, he's a working anger management therapist.
The show, which premiered with two back-to-back episodes, starts off as a hunky-dory traditional sitcom filled with some above-average jokes and some below-average. It also comes complete with a laugh track, but unlike a lot of people I know, it's not a dealbreaker for me.
Anger Management's blocking and pacing reminds me of Whitney. Unlike the annoying NBC show, the show does have redeeming qualities. They're basic, but they certainly are there. We just need to see where they go. Sheen is surrounded by a slew of recurring characters including his family, members of group therapy, a sassy bartender and a neighbor. Not all of them worked in these episodes.
"Charlie Goes Back to Therapy" is a solid pilot that doesn't make any magic happen. It's uneven and predictable. It comes complete with Charlie struggling to befriend his ex-wife's new beau, juggling therapy sessions and sleeping with a colleague. It wraps up with the equally predictable ending involving Charlie choosing to go back to anger management…and having to choose his sex-buddy as his therapist.
The second episode, "Charlie and the Slumpbuster" is a more plot-driven episode and takes a few steps in the right direction. It would have taken more steps if this was written in the early 1990s, but it still seems so basic—especially compared to what FX normally puts out there—that it still ends up being an unsatisfying debut.
It's not raunchy enough. It's not gritty enough. It's not Sheen enough.
Anger Management isn't what I thought it was going to be. Not even close. Instead of being on par with Wilfred, The League and Sunny it's somewhere between the horrific Man Up and a run-of-the-mill comedy that will be a moderate hit thanks to Sheen's star power.
Others Tagged With