Catching Up With Death Cab for Cutie's Ben Gibbard
"I'll always put songwriting before anything else. Whether it's something people want to hear from me is to be determined. "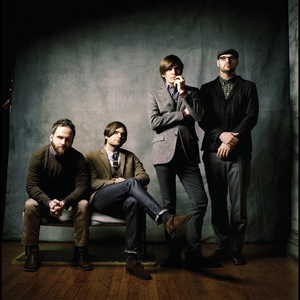 Although it's been a while since we heard new output from Death Cab for Cutie's Ben Gibbard, fans won't have to wait long. The songwriter, who is just wrapping up a long touring cycle behind Death Cab's latest, Codes and Keys, is also set to release his own solo album, Former Lives, this fall. In anticipation of the band's Firefly Music Festival set tonight, Gibbard talked to us about their latest tour and shed some light on his forthcoming solo album.
Paste: Your tour is wrapping up with the Firefly Festival tonight, how has it been?
Ben Gibbard: It's good. We're on the tail end of the tour cycle, doing some festivals. The tour's been really great. People have been hearing songs from [Codes and Keys] for the first time ever.
Paste: How have the songs from Codes and Keys been treating you over this touring cycle?
Gibbard: The longer we tour a record, the more people become familiar with it. There are songs we didn't think we would play much live but turn out to be fan favorites. Fourteen months in, there have been obvious songs that have been clear singles, but now that the record's been out in the universe, there are songs people like that aren't necessarily the single. There's more song recognition now, and we've been playing the songs now long enough together that the songs feel natural, they don't feel like black sheep.
Paste: What did you take away from touring with The Magik*Magik Orchestra this year? Has that changed the way the band plays?
Gibbard: We've always been a four-piece rock band. It's always been that way for me. I think we learned something about what it's been like to play with other players, but it's always been the four of us, and now we're back on stage and rocking out.
Paste: What can you tell me about your upcoming solo album, Former Lives? Where are these songs coming from?
Gibbard: These songs haven't been so much "old songs." There are songs that are relatively new and some songs go back to 2004. I didn't record with the idea of it being a long record. I just found myself with enough surplus material, and I wanted to do more recording. I was doing songs for Codes and Keys and I found myself with time and a place to do this record.
[Collaborator Andrew Kenney] and I decided to start working on some songs and see how they turned out. I worked for it for a year, not like a year as in every day for a year, but maybe five days a month for every couple months sort of thing.
Paste: The songs are distinctly written by you, but they do have a much different feel from Death Cab for Cutie releases.
Gibbard: I think that for the most part, whenever somebody talks about making a record where songs don't fit much with the band, I think it's just that I write a lot of songs—I'm a songwriter by trade. Not every song I write fits in with the band. That means some songs won't fit stylistically into Death Cab's catalog. I think if I put some of these songs on a Death Cab record, it would throw people for a loop. I listen to a lot of music, and I'm a fan of classic songwriting more than anything else. The Randy Newmans of the world, the John Lennons—people who are straight-up songwriters. I want to present these in a way, I wasn't trying to make it sound like a throwback, but I didn't want the presentation to make it overly contemporary, and I'm not saying that like it's a bad thing.
A song like "Teardrop Windows" is a dangly guitar-pop song, and I wasn't trying to make it more complicated than it needed to be. I'd like to think that years from now that there are songs that I've written that people feel this way about, but time will always tell. Songs last, good songs will always last. Things that are made with an overly contemporary style tend to be so much of their time that they don't make it. At the end of the day, that's my goal. I want to make music like that. Only time will tell if I have or not. I'll always put songwriting before anything else. Whether it's something people want to hear from me is to be determined.
Others Tagged With