Rosco Bandana: Time To Begin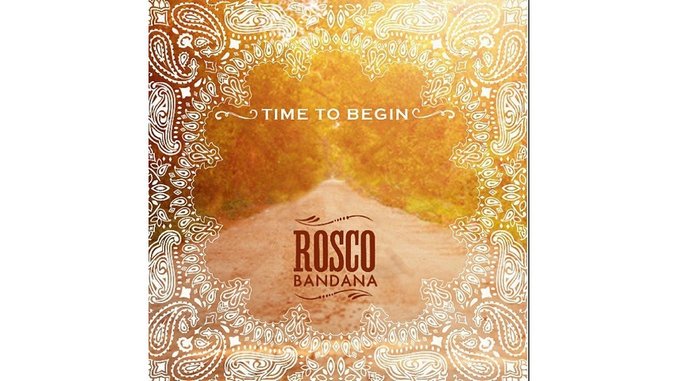 Welcome to the backyard alligator roast, y'all. Here's the debut album from Gulfport, Miss.'s Rosco Bandana. Bug spray highly recommended.
The collection of songs grips tightly to a charming, small-town and undeniably Southern sensibility. Somehow it makes perfect sense that I write this review from a plane between Tallahassee, Fla. and Atlanta. That fact combined with a lingering wild honeysuckle taste in my mouth lend a well-timed understanding of what I think Rosco Bandana is up to here. It makes me resent the social intolerance of barefootedness (which I'm convinced is a word) while airborne. The band conjures a down-home flavor only occasionally bordering on annoying (see "Tender"), classically paired with secondhand cowboy boots and poorly hand-rolled cigarettes.
Although the album starts more as a ripple than a splash, Rosco only waits til the second cut to impress. Split song "Woe Is Me" riles up mad Mississippi mud, caked on thick to the handclaps and fiddle. It's a self-gratuitous bummer-gone-party track with barn-rattling foot stomps.
Mandolin marmalade dances in "Radio Band Singer." Female vocal harmonization glows the most bright here, so take note. Singer/songwriter Jason Sanford plainly paints the wild flower field we all suspected before, plopping new love dead center of the hanging pollen.
"Tender" kidnaps the listener on a youth group ski trip—and none of the fun "making purple" parts of one, either. Instead, the suspicious (religious?), motivational poster components ("Come on, come on / Love's the greatest thing / Waiting for that feeling [x 1 billion, approximately]), would leave even a smoothie shop counter girl's throat dry. It almost made me question exactly what the hell Rosco had added to Time's agenda. But, after just four and a half minutes, it's all a bad dream of the past and totally skippable upon future listens.
I originally felt only lukewarm about Sanford's part-Dylan-part-Elvis Perkins-splash o'-Walkmen vocals, but during my time with Time, they intensified. Its slight twang and warble make the album's narrator seem like a sagacious, older—also maybe cardigan'd—mockingbird. Sanford tells a good story, especially in the dark "Heartbreak Shape" and rowdy "Tangled Up." It hardly matters that the lyrics themselves don't hold a lot of poetry on their own. They're simple, sure, but Sanford lights them with a branch from the bonfire, sparked first by all the raging banjo.
Essentially, Time To Begin makes this beer snob feel satiated with the idea of a hay barrel Natty Ice—hell, whatever beer, really—as long as it's cold and from the can.
Others Tagged With