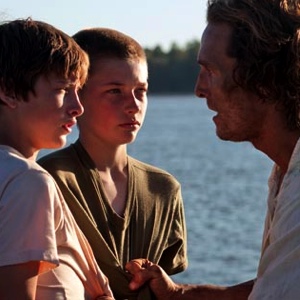 Director/Writer: Jeff Nichols
Stars: Matthew McConaughey, Reese Witherspoon, Tye Sheridan, Jacob Lofland
Two years ago, Jeff Nichols turned heads at Sundance with his second film Take Shelter—as did his fast-rising stars Jessica Chastain and Michael Shannon. He's back, this time in the spotlight section, with Mud, a coming-of-age thriller about two young boys who encounter a man on the run in rural Arkansas.
Ellis (Tye Sheridan from Tree of Life) lives on the river with his parents, who are on the brink of splitting up, when he and his friend Neckbone (Jacob Lofland) discover Mud (Matthew McConaughey) living alone on an island in the river. Mud is waiting on his one true love, played by Reese Witherspoon, and enlists the boys to help. But Ellis has to navigate the oncoming adult world on several fronts at once.
It's a sweet tale that displays plenty of faith in humanity without ever veering into sappiness and always keeping you on the edge of your seat—just the kind of thing you hope to find at a festival like Sundance. And Nichols once again coaxes amazing performances from his cast.
Others Tagged With