143 of the Best Sour/Wild Ales, Blind-Tasted and Ranked
Photos by Annie Black, Grace Nelson and Mae Copeland
Drink
Lists
Best Sour Beers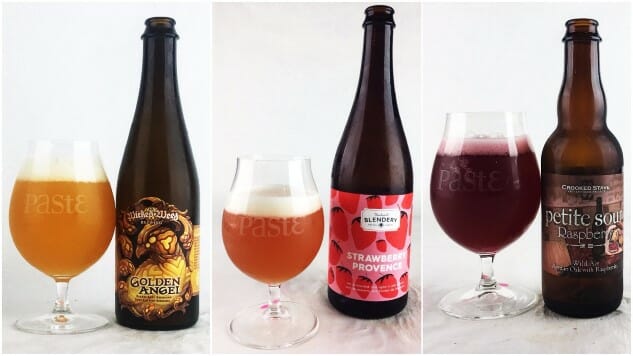 This list is part of a Paste series of bottom shelf liquor and craft beer style tastings. Click here to view all entries in the series.
On some level, what you're about to read is the most schizophrenic of all Paste blind tastings. Approaching "sour beers" or "wild ales" for this style of tasting is like venturing into a quagmire of conflicting styles and substyles—you're just hoping to find your way out again, when all is said and done. Every beer just raises further questions about which other beers should be included. Fruited vs. neutral? Kettle sours vs. barrel-aged sours? Different strains of bacteria and wild yeast? How do you compare all of them to each other? And what of other "sour beer" styles that are now better defined in the American market, such as Berliner weisse or gose?
In the end, the only way is to make a decision and stick with it. This is a large tasting, and a wide-ranging one that includes beers from some of the country's most sought-after sour beer producers. It includes many styles of beer, brewed with a dizzying array of fruits, spices, barrels and strains of funk-forward yeast and bacteria. Some of these beers bear a passing resemblance to each other. Others are so uniquely bizarre that we barely knew what to do with them.
It's perhaps easiest to simply state which types of beer were NOT included: Saison/farmhouse ale, Berliner weisse and gose. There are plenty of tart saisons, but as you probably recall, we just blind-tasted 116 of them last month. Berliner weisse and gose, on the other hand, are so well established now on their own that each of them really deserves its own tasting—something that we will address in the August tasting, which will tackle gose specifically.
Everything else that is tart in the world of beer can be found in this tasting. Flanders red ales and oud bruins are alongside dry-hopped American kettle sours, which are alongside oak-aged fruited sours and other beers freshly dumped from whiskey or tequila barrels. You might say that the only other requirement is that the beer must be sour—or at least claim to be. So let's get started, and let the best tart beer win.
---
A Note on Beer Acquisition
As in most of our blind tastings at Paste, the vast majority of these sours were sent directly to the office by the breweries that choose to participate, with additional beers acquired by us via locally available purchases and the occasional trade. We always do our best to reach out to breweries we're aware of that make exemplary versions of particular styles, but things always do slip through the cracks. We apologize for a few significant omissions that we couldn't acquire, either due to seasonality or market shortages. There will never be a "perfect" tasting lineup, much as we continue to try.
---
Rules and Procedure
– As explained above, this is exclusively a tasting of sour/wild ales, largely determined by how the breweries chose to label their products. Nothing labeled as "saison/farmhouse ale, berliner weisse or gose" was admitted. There was no ABV limit. When in doubt, we simply allow a brewery's marketing to define a beer's style, and expect them to stick to the designation they've chosen.
– There was a limit of two entries per brewery. The beers were separated into daily blind tastings that approximated a sample size of the entire field.
– Tasters included professional beer writers, brewery owners, brewmasters and beer reps. Awesome, Paste-branded glassware is from Spiegelau.
– Beers were judged completely blind by how enjoyable they were as individual experiences and given scores of 1-100, which were then averaged. Entries were judged by how much we enjoyed them for whatever reason, not by how well they fit any kind of preconceived style guidelines. As such, this is not a BJCP-style tasting.
---
The Field: Sours/Wild Ales #s 143-51
This was, at times, a confusing and difficult tasting for our judges. Tackling a lineup every afternoon that has beers made with 10 different varieties of fruit can be a perplexing experience for one's taste buds, and some of the results were unexpected. There were relatively unheralded breweries that performed exceptionally, and some brewers considered among the best in the world that missed out on the ranked portion of the list. In short, it was a good example of the kind of results that make blind tastings so interesting.
The best beers in this tasting were often the ones with some semblance of balance. There are a disproportionate number of beers in The Field that missed out on the top 50 because on some level they were just too bombastic—often too tart, without any balancing quality to rein in all that acid. Rule of thumb: "bile" is not the kind of quality you want to evoke in a fruited sour. If it seems like something that would be best used to shine up tarnished old pennies, your sour beer might be getting away from you a little bit. But at the same time, there are many ways to make an exemplary beer—balance may be one of them, but others you can't help but love for the purity with which they channel specific flavors. There are examples here that succeed both with bombast and subtlety.
As ever, the following beers are simply listed in alphabetical order, which means they are not ranked. I repeat: These beers are not ranked.
Adirondack Puree: Tart Cherry
Avery Ginger Sour
Ballast Point Sour Wench
Beachwood Blendery Coolship Chaos
Black Project Supercruise
Boneyard Gooze Cruise
Boulevard Love Child #8
Braxton The Pot Calling the Kettle Sour
Braxton Yesterday's Headlines
Breakside B-Sides # 4
Brewery Vivant Angelina
Burial Fall of the Damned
Burlington Beer Co. You Can't Get There From Here (Strawberry Rhubarb)
Burlington Beer Co. You Can't Get There From Here (Blackberry, Black Currant)
Calicraft Zinfandel Sour Ale
Carton Brewing Co. Dune Fruit
Carton Brewing Co. Monkey Chased the Weasel
Casa Agria Heritage Gold
Cascade Brewing Apricot Ale
Cerebral Brewing/TRVE Brain Transplant
Cigar City Lactobacillus Guava Grove
Creature Comforts Triangulation
Destihl St. Dekkera Vuile Blonde
Destihl Synchopathic Sour
Dogfish Head Alternate Takes #5
DuClaw Sour Me This
Epic Oak and Orchard (Blueberry, boysenberry, black currant)
Finch Beer Co. Tacocat
Firestone Walker SLOambic
4 Hands Brewing Co. Kriek
Four Quarters Brewing Sour 47
Fulton Beer Culture Project Series One
Funkwerks Luminoso
Funkwerks Raspberry Provincial
Goose Island Gillian
Goose Island Lolita
Grand Teton Sour Brown
Great Raft You, Me and Everyone We Know 002 (peach)
Great Raft You, Me and Everyone We Know 004 (pluot)
Green Flash Nouveau Tarte
Green Flash Passionfruit Kicker
Half Acre Pennon
Henniker Brewing Co. Sour Flower
Henniker Brewing Co. Queen Pollyana
Hi-Wire Brewing Blackberry Sour
The Hourglass Brewery Violet
Indeed Brewing Co. Lucy
Ipswich Ale Brewery Bramble On
Ipswich Ale Brewery Cranberry Beret
Iron John's Copper Sky
Jester King Spon (Apricot & Peach)
Kelsen Lucious Sour Brown
Lagunitas Aunt Sally
Lagunitas Dark Swan
Lindemans Cuvee de Rene Kriek
Lost Abbey Framboise de Amorosa
New Belgium La Folie
Night Shift Ever Weisse
NoDa Boba Brett Sour Project
NOLA Out Tequilya
Odell Brazzle
Odell Green Coyote
Ommegang Pale Sour Ale
Orpheus Brewing Like a White Curtain Blowing in the Draft From a Half-Opened Window Beside a Chair on Which Nobody Sits (Yes, this is the actual beer name.)
Oud Beersel Bzart Lambiek
Perennial Artisan Ales Savant Beersel
pFriem Family Brewers Peche
Prairie Apricot Funk
Quest Brewing Co. Funkscursion
Rhinegeist Hurricane
Rodenbach Fruitage
Samuel Adams Grand Cru
Samuel Adams Stony Brook Red
Short's Anni Ale 13irteen
Silver City Foxy Lady
Sixpoint Stun Gun
Ska Brewing Co. Pink Vapor Stew
Societe The Thief
Straight to Ale Paramecium
Sun King Afterparty
SweetWater Cambium
Thirsty Bear Isidore's Transfiguration
Three Taverns Blueberry Inceptus
Timmermans Kriek Lambic
Track 7 Chasing Rainbows
Troegs Freaky Peach
TRVE Red Chaos
Upland Brewing Co. Cherry
Upslope Dry Hopped Wild Ale
Vanberg & DeWulf LambickX
Wicked Weed Angel of Darkness
Wild Heaven Beer Joni
Yards Brewing Co. Pynk
Next: The rankings! Sour/Wild Ales #s 50-26
The Finals: Sour/Wild Ales #s 50-26
As stated above, the best beers in this tasting were typically ones that manifested some kind of balance, rather than entirely throwing themselves behind a single flavor note or two. With that said, there are of course exceptions to the rule, but the sours below all gave us something that made us want to go back and taste repeatedly—a desire to understand them better. That's what a great, complex wild ale should do, right?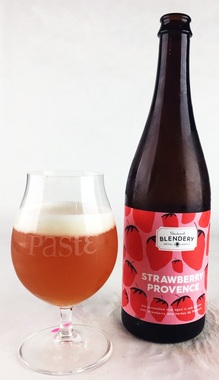 50. Beachwood Blendery Strawberry Provence
City: Long Beach, CA
ABV: 6.9%
The verdict: It seemed like every single day of this tasting gave us a reason to say "I've never had that in a beer before" at some point, and on this day it was herbs de provence, the classic French herbal blend used to roast poultry among other things. These blends usually include savory, marjoram, rosemary, thyme and oregano. Combining that with strawberry, one of the hardest fruits to work with in the fruit beer arcana, seems like it could be a recipe for disaster, but Beachwood makes it work somehow. The result is moderately sweet and juicy, with a fruit character that is definitely "red fruit" but not necessarily identifiable as strawberry without difficulty. Moderate funkiness plays nicely with very light herbaceousness—the dried herbs de provence don't make a huge appearance on the palate, which is probably a good thing. All in all, it's actually surprisingly well balanced and easy drinking—a little bit nebulous and hard to place when drinking blind, but substantially less weird in execution that it might sound while looking at the bottle.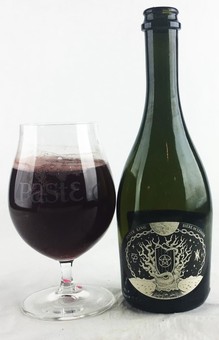 49. Jester King Bière De Lenoir
City: Austin, TX
ABV: 6.9%
The verdict: Jester King had to be considered one of the favorites to come out of this tasting in the #1 position, but their beers simply didn't surge to the forefront quite like they had in some of our previous tastings, such as when fruited sours Aurelian Lure and Atrial Rubicite made a huge impact in our 2015 sour ranking. Perhaps that speaks to the vast evolution that two years represents in the American wild ale scene (and it is vast indeed), or perhaps a beer like Atrial Rubicite would still have landed near the very top, but we can't say anything for sure. Bière De Lenoir is an unusual, fairly unique dark sour that begins with some familiar funk and fruity esters that recall an oud bruin, before segueing into toasted oak, which has an almost "roasty" quality, and very dark, dried fruit richness of raisin or prune—presumably contributed by the Black Spanish grapes. Every tasters certainly noted the viniferous qualities, but several wished it could be a bit brighter.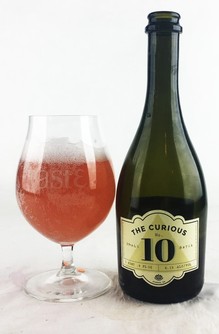 48. Creature Comforts Curious 10
City: Athens, GA
ABV: 6.1%
The verdict: This vibrantly pinkish beer certainly stands out immediately for its hue, which falls somewhere between rosé and pink lemonade—not quite the same as anything else on the table. Aged in oak barrels with Cabernet Sauvignon grape skins, the fruit imparts just its color and a hint of tannin more than anything distinctly "grapey." Both flavor and body are on the lighter, more delicate side, with a nice balance of fruit (passionfruit, nectarine, hibiscus) and tartness. Light and refreshing, it's like the Champagne cocktail of sour beers, and that ain't a bad thing.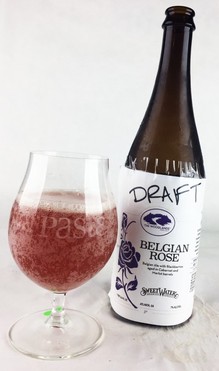 47. SweetWater Belgian Rose
City: Atlanta, GA
ABV: 7%
The verdict: Compared with the previous beer, this entry from SweetWater isn't quite so aesthetically pleasing to look at … but the flavors are there. This is the beginning of a trend emerging, which will become apparent later, but here's a preview—breweries from Paste's native Georgia really stepped up for this particular sour/wild ale tasting. Belgian Rose is SweetWater's first bottled offering from their new sour-focused Woodlands facility, and it points at promising releases to come. Aged with blackberries in red wine barrels, it's fruit-forward without being syrupy, with zingy tartness. We had quite a few blackberry beers in this tasting, enough to realize that they're a little bit more difficult to work with than the brighter, more piercing character of raspberry, but this one makes the fruit in question pretty clear.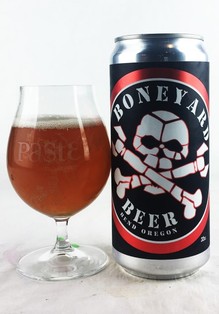 46. Boneyard Beer Co. Funky Bunch
City: Bend, OR
ABV: 6%
The verdict: This beer was the sort of thing we certainly weren't expecting out of Boneyard, a brewery we've repeatedly praised for producing some of the best hop-forward styles in Oregon. But sours? We've never had anything like that from Boneyard before, but the brewery must have faith in both this and their second sour Gooze Cruze, because they're actually the brewery's first bottled beers, ever. This one feels just a touch less tart than it might be, but sports some very nice dark berry flavors—we were reminded of blackberry/strawberry preserves, but in reality Funky Bunch is made with "a blend of fresh raspberries." Regardless, it's just one more of many appearances by Boneyard in these rankings—they remain impressive in nearly every single style they attempt.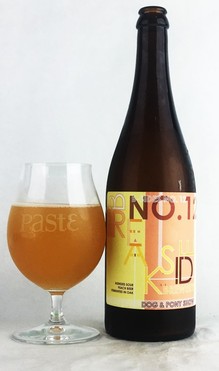 45. Breakside Brewery B-Sides # 12
City: Portland, OR
ABV: 7.9%
The verdict: Our two entries from Breakside in this tasting were both B-Sides—numbers 4 and 12, to be precise. The #4 was both fascinating and unique—described by the brewery as "gin meets brett meets hops"—but couldn't quite tie itself together. The #12, on the other hand, is both more accessible and more enjoyable, being a blended sour peach beer fermented in oak. Tasters waffled in terms of their flavor descriptions, with some correctly picking out the peachy stone fruit influences and others finding this B-Side to have more of a grapefruit citrus profile, along with firm, well-established tartness. Regardless, there's an undercurrent of unusual, bretty funk and spice (almost something ginger-like?) that elevates this one above some of the less inspired peach beers—and there were a lot of stone fruit sours in this tasting, believe me. This beer begs for another examination in the future.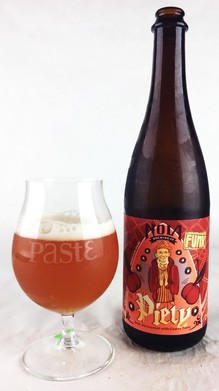 44. NOLA Piety
City: New Orleans, LA
ABV: 4.1%
The verdict: Despite the fact that cherry sours are classically among the most common in the history of tart beer brewing, thanks to Belgian krieks, they're not always the easiest to work with for American breweries when compared to the scores of raspberry and stone fruit sours out there. When poorly made, cherry beers are all too likely to come off as medicinal or cough syrupy—that, or unpleasantly musty. This one is neither, and it's packed with flavor despite its lower ABV. Slightly earthy, with a pronounced tart cherry/strawberry note, it stops short of reminding one of pie filling. There's a twist of unexpected, lime-like citrus to the tartness here that makes Piety a bit more refreshing than it would have been otherwise, and we can easily appreciate that.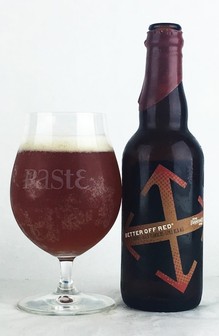 43. Crux Fermentation Project Better Off Red
City: Bend, OR
ABV: 7%
The verdict: You can do just about anything to a Flanders red ale, can't you? The style is perfect for sour experimentation, falling right in the middle of the range in terms of tartness, assertiveness, color and ABV. Here, Crux has stuck their Flanders red into Oregon pinot noir barrels for 18 months, and the results are well balanced and impressive. Creamier in texture than many of the other sours, with an appreciably supple mouthfeel, it presents big dark fruit flavors of cherry, fig and perhaps cranberry. This beer is quite round, with no sharp edges that stick out, and fairly gentle tartness that doesn't distract from the modest, well-balanced fruit profile. From start to finish, well executed.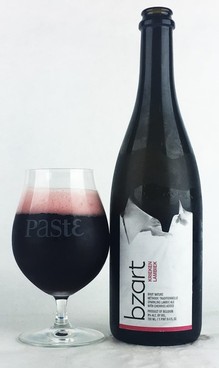 42. Brouwerij Oud Beersel Bzart Kriekenlambiek
City: Beersel, Belgium
ABV: 8%
The verdict: These pricey Belgian lambics (bottles can easily run $50 or more) don't necessarily get a lot of attention in the American sour beer scene these days, but they do offer unique experience that can't easily be replicated elsewhere. This beer was succinctly (and accurately) described on one tasting sheet as "barrels 'n berries," and features a nice blend of oak and dark, slightly jammy fruit. Flavors of black cherry and currant are prominent, but this beer still finishes plenty dry, with a tannic, lightly vinous character from the oak it was finished in. Can you find comparable American kriek-style beers that will cost you 1/5th as much? You certainly can, but there's something to be said for sampling it from the source.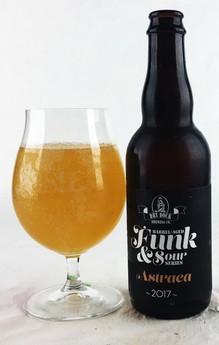 41. Dry Dock Astraea
City: Aurora, CO
ABV: 6.5%
The verdict: If you haven't heard, Colorado's Dry Dock is producing some really nice, sneaky-good sours these days, in a clear indicator of how these styles have become so much more universal and accessible to the average drinker in the last two or three years. Both their entries in this tating were excellent, and neither is simple—Astraea isn't one beer so much as it is four, from four different wine barrels, blended together with passionfruit. We had a fair number of passionfruit beers in this thing, and although many of them performed well, we came to see the fruit itself as something of a chameleon—it can present very differently from beer to beer. Here, several tasters noted stone fruit characteristics, while others keyed in on mango, noting the beer's fairly substantial tartness as well. With more than a little residual sugar and prominent tropical fruit on the aroma, Astraea certainly isn't left wanting for character.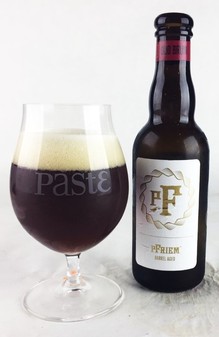 40. pFriem Family Brewers Oud Bruin
City: Hood River, OR
ABV: 8.7%
The verdict: Beers from pFriem have become a pretty common site in the ranked portion of these tastings, as the Hood River brewery continues to demonstrate an affinity for numerous beer styles. Their take on oud bruin is aged in oak barrels that may or may not have contained red wine—we're not entirely sure. Regardless, the result is quite dark and opaque, with clearly fruity Belgian yeast esters and a little bit of spicy clove phenol that was largely absent from most of these other beers, even in the traditionally Belgian styles. Dried fruit flavors of raisin and prune are the straw that stirs the drink here, with a pleasantly creamy, full-bodied texture and well-hidden booze. Caramelized fruit richness is the star, with fairly gentle tartness backing it up. A very solid example of oud bruin indeed.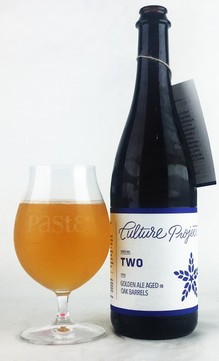 39. Fulton Beer Culture Project #2
City: Minneapolis, MN
ABV: 6.2%
The verdict: No added fruit, whatttttttt? Yes indeed, there actually were some beers in this tasting that didn't rest on top of apricot, raspberry or passionfruit, although this one did sit in wine barrels, so it's still halfway there. This is a golden ale that was initially fermented clean before being transferred into wine barrels for nearly two years, where it had plenty of time to build a profile of funk. Almost saison-like, it would likely have done very well being compared to some of the tart saisons in last month's tasting: Funky and bretty, with subtle earthy, hayloft aromatics and moderate tartness. Really nice citrus/nectarines fruitiness rounds the whole thing out to make an elegant, complex beer that one taster insisted "demands a thick pork chop." We're fairly certain that's a compliment.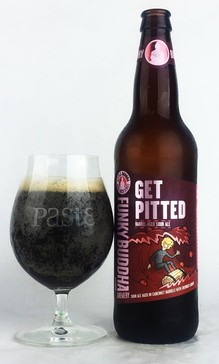 38. Funky Buddha Get Pitted
City: Oakland Park, FL
ABV: 7%
The verdict: This is the kind of beer in which Funky Buddha always seems to excel—big, boisterous flavors with a fun, kooky theme. That's their wheelhouse, so no surprise here. Cabernet barrels and tart cherry yield a pretty wood-forward brew that you'd probably nail down as red wine, but with a spice, vanilla and caramel note that might also make you think bourbon. Dark red, jammy fruit drew comparisons to cherry and plum, which made one taster who wasn't too far off write "the merlot of barrel-aged sours." From another tasting sheet: "fig and balsamic flavors, cola spice and cherry finish." This is an excellent meeting point between complexity and big flavors that dark fruit lovers will enjoy.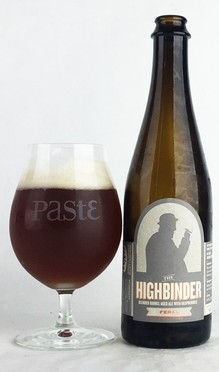 37. Societe The Highbinder
City: San Diego, CA
ABV: 5.7%
The verdict: If the profiles of some of these berry sours have a tendency to be sort of similar, then it's the "little things" that help some of them stand out against similar beers. In the case of this raspberry sour from Societe, it's texture—a big, creamy, velvety smooth mouthfeel that feels considerably bigger than you'd expect from the ABV. Fresh raspberry/darker blackberry fruit juice is there, but it's not over the top—we had plenty of raspberry beers that were more intensely fruity than this one. But The Highbinder has that completist quality; it comes together nicely and ties up its loose ends. That's always worth some points.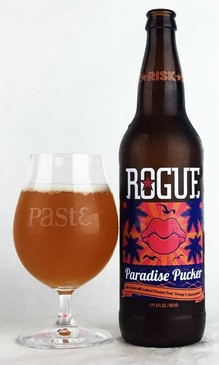 36. Rogue Paradise Pucker
City: Newport, OR
ABV: 6%
The verdict: Perusing the beers in this tasting, I found myself asking the question: "Why do we have a handful of beers that all have 'passionfruit, orange, guava' as a fruit combination?" The answer led me to the history of "POG" juices in Hawaii, which are the popular combination of those three fruits, so there you go. It would seem that the flavor profile has now caught on among American sour beer producers as well, although the results in our tasting were mixed, with several of the POG beers being far too sweet and cloying. This offering from Rogue, however, reins in the residual sweetness for something that is simultaneously clean and refreshing. Passionfruit is the most obvious of the three to identify, and although there is some orangey citrus as well, tasters also noted something similar to white grape. "POG beer?" says one tasting sheet. "Bright and juicy, but not too tart." Sometimes in sour ales, less is more.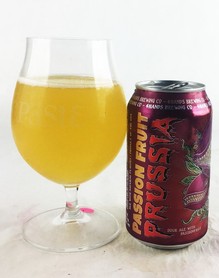 35. 4-Hands Passion Fruit Prussia
City: St. Louis, MO
ABV: 4%
The verdict: Another sour where passionfruit played with our senses, about half of the tasters thought this was pretty clearly a peach beer on first pass. Regardless, it's light of body and quite juicy, with passionfruit/stone fruit aromatics and easygoing tartness that suggests a juicy grapefruit citrus note. Certainly no shortage of flavor for 4% ABV here; this would be some exemplary pool beer in the summer given its dry-ish finish. To think that a Bud Light actually has .2% ABV more than this stuff is frankly insulting, given the disparity in flavor.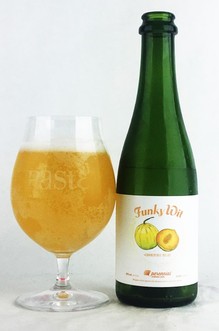 34. Perennial Artisan Ales Funky Wit + Charentais Melon
City: St. Louis, MO
ABV: 5%
The verdict: This tasting was obviously open to sour styles of all descriptions, but Perennial was still the only brewery to send in a soured witbier, which wasn't exactly a result we were expecting. Odder still is the fact that you would never identify this as a witbier at all; it has almost none of the typical flavor notes after spending a year in French oak. Don't go looking for coriander and orange peel here—it's more like a big, tart wave of honeydew melon and perhaps pear. There's some citrus in there as well, but it's clear that the time spent in the wood has completely transformed the base beer here. With a nose that evokes a tropical, acidic white wine varietal with more than a little funk, this beer stood out in quite a unique way on its day of tasting.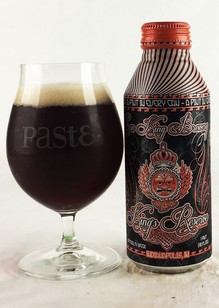 33. Sun King Cherry Busey
City: Indianapolis, IN
ABV: 6.9%
The verdict: Most of the fruit beers in this tasting are so driven by the fruit addition that it's all too easy to completely lose track of the underlying beer, but that's not really a problem for Cherry Busey. Dark, rich and distinctly malty, it layers its fruit addition on top of a creamy bed of caramel malt, subtle Belgian esters and dried fruit. When beer tasters call a sensation "round," they're talking about something like this in both flavor and texture—milder acidity, creamy mouthfeel and gentle, intuitive transitions from one flavor into another, complementary flavor when you're not sure where the first ends and the second begins. These are the kinds of hallmarks of breweries that have been making a style for a while and have placed value in nuance.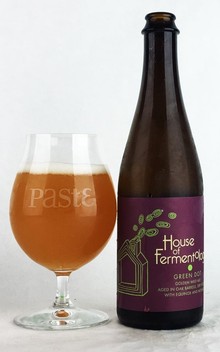 32. House of Fermentology Green Dot
City: Burlington, VT
ABV: 5%
The verdict: There's a good amount of buzz about Burlington's Foam Brewers these days, and this tasting gave us a pretty clear picture of why that is. Green Dot is part of the House of Fermentology "dot series" of color-coded beers, and unsurprisingly serves as the dry-hopped entry in the lineup. There were quite a few dry-hopped sours in here, but I'm pretty sure none of them were more explosively flavorful than Green Dot. In both hop character and tartness, this beer has been cranked up to 11. It smells like an NE-IPA, exploding with juicy tropical fruit (pineapple) and orangey citrus. But at the same time, Green Dot is seriously sour, which merges with the citrus-heavy flavor profile to make something seriously tangy. This is beer that might be accurately described as "challenging," because it will probably be BOTH too hop-forward and too tart for some drinkers, but for someone looking to scratch both itches at once—and seriously scratch them—Green Dot is a rush of wish fulfillment.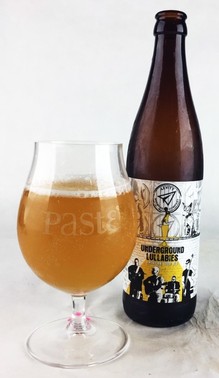 31. Levity Brewing Co. Underground Lullabies
City: Indiana, PA
ABV: 5.6%
The verdict: This is another beer that would have fit rather perfectly into last month's saison tasting, but there's plenty of room for it here as well. Driven by brettanomyces rather than souring bacteria, it's more funky than it is overtly tart, although there's a soft sourness on the back end as well that enhances drinkability. Serious hayloft aromatics on the nose are followed by earthy flavors and touches of green apple and tropical fruits, in good balance. It could scarcely be a more different beer from the one that precedes it on this list, but it's nice to have a variable level of tartness in a sour beer tasting.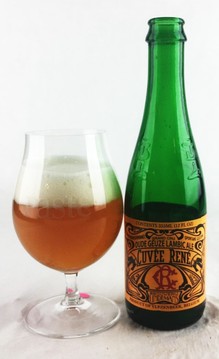 30. Lindemans Gueuze Cuvée René
City: Vlezenbeek, Belgium
ABV: 5.5%
The verdict: Not particularly tart by current American standards, Lindemans nevertheless produces a solid, classic-style gueuze here that is among the better bargains in buying an expensive style in the U.S.A. Light of body and approachable, with aggressive, prickling carbonation, it's funk-forward rather than strongly sour, with peppery phenols and a herbaceous spice similar to Thai basil. Apple/pear fruitiness rounds everything out, on a beer that is pretty clearly announces itself as being from across the pond when you bring it to your nose. Don't sleep on Lindemans just because your college girlfriends love the sweet, syrupy kriek—they're still producing some very elegant Belgian styles as well.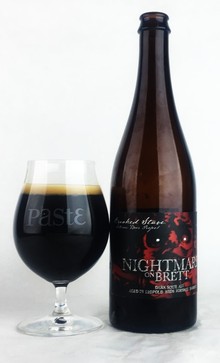 29. Crooked Stave Nightmare on Brett
City: Denver, CO
ABV: 9.66%
The verdict: Whenever we taste Nightmare on Brett, we can't help but wonder why more American sour producers don't make these kinds of sours. Big, dark, roasty and chewy, it's such a unique entrant in any given day of tasting that you just keep coming back to it, hoping to understand it better. Tasting completely blind, you might peg it as a sour stout, thanks to the coffee-like roast and creamy texture, but it's not skimping on tartness either. From one score sheet: "Vanilla, dark grapes and chocolate malt." From another: "Coffee and boysenberries, really unique on this table." You feel the ABV more in terms of texture than you do in overt booziness in Nightmare on Brett, which is also impressive. We'll say it again: Give us more of these dark, high-ABV, whiskey barrel-aged sours.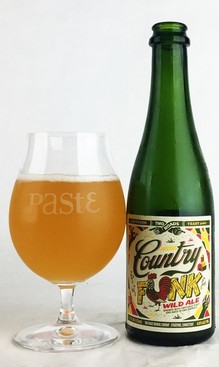 28. Two Roads Brewing Co. Country Funk
City: Stratford, CT
ABV: 6%
The verdict: We are all too aware, reading through the ranked portion of this tasting, that it wasn't the easiest road for non-fruited sours. They were outweighed in terms of sheer entries by the ones that were fruited in some way, and it's understandably more difficult for them to immediately stand out with specific flavors, but really excellent examples like this one from Two Roads still managed to capture the attention of tasters. This one is more or less a lambic, or a "lambic-style beer" as we have to say in America, made with captured wild yeast from Connecticut and then aged in oak. The results are funky, firmly tart and uniquely fruity, with a very nice melon note reminiscent of fresh cantaloupe. It's a bit sweeter than you might expect out of a spontaneously fermented beer, but it works with the fruity profile and makes something that would almost certainly be a crowd pleaser. Where can we get some samples of that Stratford wild yeast?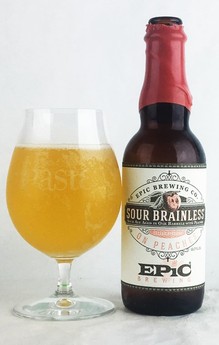 27. Epic Sour Brainless on Peaches
City: Salt Lake City, UT or Denver, CO
ABV:
The verdict: Just the basic description, "a blend of brett and lacto foeders, and pedio wine casks that were blended into neutral oak white wine casks and aged 18 months," gives you a good idea of the time and blending that went into this beer, and all that effort pays off. Wonderful stone fruit aromatics are big on the nose, along with piercing lemon citrus. That duality is at the heart of this brilliantly clear beer, which packs considerable, semi-puckering tartness. From one score sheet: "Fuzzy peach skin and tart, tart lemon juice are a solid combination." This is a stone fruit beer for drinkers who want their tart beers to be appreciably, lip-smacking sour, and it works in a big way for us.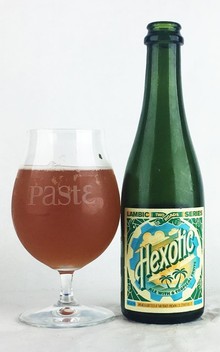 26. Two Roads Brewing Co. Hexotic
City: Stratford, CT
ABV: 5.8%
The verdict: Well hello again, Two Roads. This was a hell of a tasting for the Connecticut brewery, but they certainly earned it. This beer alone spent 28 months in oak, with a blend of six different fruits: orange, passionfruit, mangosteen, soursop, guava and mango. As such, it's appropriately complex, and tasters had a difficult time trying to nail down its fruity influences. The wood comes forward pretty strongly, with a drying, tannic astringency that helps rein in the tropical fruit sweetness. Ultimately, it strikes a fine balance between juicy, crowd-pleasing fruit and the more subtle funk of the barrel, with neither dominating the other. Keep your eyes on the Two Roads sour program, because there's clearly some good stuff going on here.
Next: The Finals! Sour/Wild Ales #s 25-1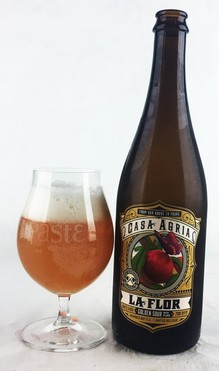 25. Casa Agria Specialty Ales La Flor
City: Oxnard, CA
ABV: 8.4%
The verdict: This tasting was our first exposure to Southern California's Casa Agria, but after tasting this beer and the peachy Heritage Gold, our curiosity has certainly been piqued. This one is a foeder-aged golden sour aged on California red plums, which is a subtle, though pleasant change of pace in terms of fruit. Heady stone fruit aromas give way to a bit of darker fruit influence on the palate, with bracing, puckering tartness throughout. Wild yeast funkiness also comes through in a big way on the nose, with a blast of farmhouse esters that keep La Flor from being one-dimensionally just about the fruit and sourness. Hopefully we'll see some more beer from these guys in the August gose tasting.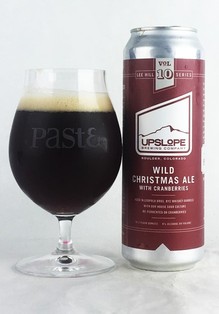 24. Upslope Wild Christmas Ale
City: Boulder, CO
ABV: 9.2%
The verdict: Okay, now here's a truly unique sour concept that perplexed the hell out of tasters who were going at it blind. When does a wild ale taste like a Christmas beer? Well, when it IS one, that's when. Upslope simply took their well-regarded Christmas Ale and aged it for 10 months in rye whiskey barrels with a sour culture, and boom, this Frankensteinian achievement was born. From one score sheet: "Oaky, viniferous and big spices. Christmas cookies?" From another: "Ginger spice, very big, full body and smooth mouthfeel." From yet another: "Really robust and full bodied for a sour; whiskey barrel is very smooth. A sour for a steak." Clearly, our thoughts were all over the place, but it's clear on this beer that Upslope produced exactly what they were going for. It's an awesome concept, and they executed the hell out of it.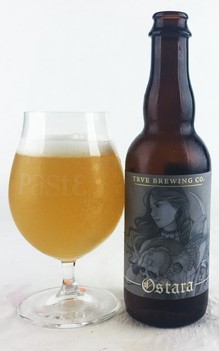 23. TRVE Ostara
City: Denver, CO
ABV: 6.9%
The verdict: Sometimes, a sour is great because it's just refreshing as hell, and Ostara might be the poster child of this ranking in that respect. A light-bodied (although 6.9% ABV) sour with lemon peel, lemongrass and dandelion, it manages to replicate the qualities of a lot of the better dry-hopped sours without actually raising the hop rate, which is a fascinating tact to take. All of the named flavors present themselves quite clearly: Lemon citrus, grassy herbaceousness, crisp malt and some wonderful floral notes on the nose. It's like the most elegant shandy you've ever tasted, and I mean that in the most complimentary way possible. There might not be another beer on this entire list that would be more perfect for drinking at a beachside restaurant with some fresh fish or oysters.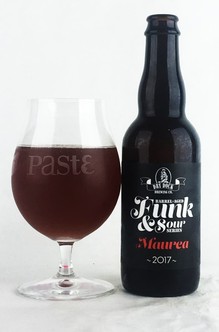 22. Dry Dock Maurea
City: Aurora, CO
ABV: 6.1%
The verdict: We had plenty of cherry beers in this tasting, and more than a few blueberry and strawberry beers, but this might very well have been the only "cherry, blueberry and strawberry" beer. The result doesn't exactly evoke any of those fruits individually—they mesh to create a melange of red fruit and berry flavors that are judiciously wound through moderate tartness and funk. It's a bit vinous, and there's some wet oakiness as well, but all in good balance—you might actually peg it as a pretty classic Flanders red, considering the oaky, tannic notes and dry finish. This is one beer that was using its fruits as an accent rather than the entire attraction.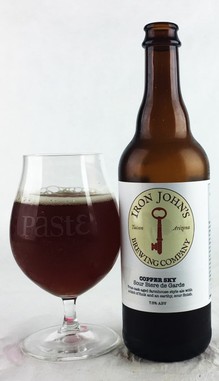 21. Iron John's Brewing Co. The Beast of Flanders
City: Tucson, AZ
ABV: 6%
The verdict: When I visited Tucson back in 2016, the brewery I walked away most impressed with was a tiny little place called Iron John's. The man in question, John Adkisson, is brewing on a scale so small and intimate you almost have to call it "professional homebrewing," but when I went there I tasted some fruited sours that were absolutely fantastic. For a year and a half, I've been waiting for Iron John's to send in something for a Paste tasting that would evoke the great sour I had in Arizona, and it would seem that Beast of Flanders is that beer. A classic oud bruin that pitches its flavors right down the middle, it's a quintessential Belgian sour brown ale. Subtle dark fruit and black cherry puree mix with toasty malt and a slightly vinous character, with modest tartness. From one score sheet: "Smells perfect. Tart cherry, classic oud bruin." That about sums it up; it's the beer we knew we'd eventually get one of these days from Iron John. Note: The photo is of the other Iron John beer that was entered, as the Beast of Flanders photo somehow went missing.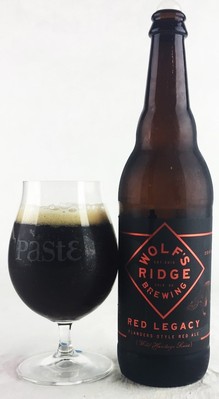 20. Wolf's Ridge Brewing Red Legacy
City: Columbus, OH
ABV: 6.6%
The verdict: I've described a few beers here as hiding their booze well, but Red Legacy is one of those on the opposite end of the spectrum that feels considerably larger than it apparently is, but that's apparently what 16 months in oak will do for your Flanders red. For whatever reason, this beer sucked some serious color and vanillans out of the wood—the brewery simply says "oak," but we'd believe them if they said they were bourbon barrels. Woody and tangy, with firm tartness, it's very assertive and is punching over its weight class in terms of volume of flavor. "Black currant and figs," cites one score sheet, while another calls it "boozy balsamic-covered plums." It's our first beer from Columbus brewery/restaurant Wolf's Ridge, but hopefully it won't be the last.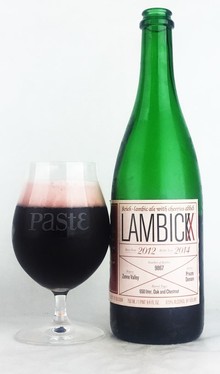 19. Vanberg & DeWulf LambickX Kriek
City: Cooperstown, NY
ABV: 6.5%
The verdict: Vanberg & DeWulf are U.S. importers bringing in traditional Belgian lambics from several producers, of which their LambickX Kriek is one. The brewer isn't actually publicly available, although it's often cited as Brouwerij Boon. Regardless, this entry is a lovely, blood-red cherry beer that is jammy and gentle in tartness, but also drier than it likely looks. More funky than overtly tart, tasters noted "very old wood" among other things, which imparts a certain earthy character to the dry, elegant tart cherry fruit. One of the tasters compared the flavor profile to scuppernong, which are a southern variety of muscadine grape occasionally used for jelly and winemaking. From another score sheet: "Dry berries, mild funk, lots of wood." That's a pretty classic Belgian-made kriek.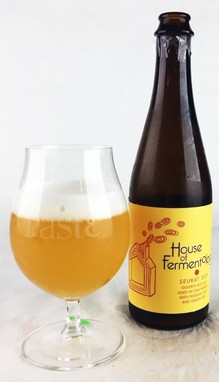 18. House of Fermentology Seurat Dot
City: Burlington, VT
ABV: 5.6%
The verdict: The coolest new brewery discovery of this tasting may have been Burlington's House of Fermentology, whose beers were sent in by a very helpful Paste reader to whom we offer our thanks. Their earlier Green Dot was one of the better dry-hopped sours of the tasting, and here the pointillism-inspired Seurat Dot veers off in another interesting direction with the combination of passionfruit and lemon peel additions. The aroma is a big melange of tart citrus and pungent, vinegary sourness, with notes of passionfruit juice and apricot skin. Tartness is quite high—on the aggressive side, which gives the fruit flavors punchy vitality. This is a near-perfect example of the kind of in-your-face, fruit flavor-packed sour style that would have seemed insane or impossible to most beer geeks only a decade ago. It's good to keep in mind how far this field has come in such a short, short amount of time.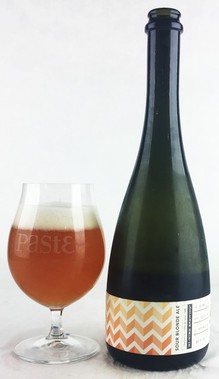 17. Hi-Wire Brewing Sour Blonde Ale
City: Asheville, NC
ABV: 6.75%
The verdict: Hi-Wire's distinctive, thin-necked 750 ml bottles make their sours easy to pick out in a lineup, but it's the quality of the liquid in the bottles that will likely continue making a bigger impression. Red wine barrels were the vessel for its fermentation with brettanomyces, lactobacillus and pediococcus, which yield a complex, funky profile of barnyard esters, balanced tartness and tropical fruit notes—is that kiwi we're getting? From one score sheet: "Oak and wine grapes, nicely down the middle in terms of balance." From another: "Mild peach and tropical notes on the finish, just nice from start to finish." Yes indeed, this is an easy beer to enjoy.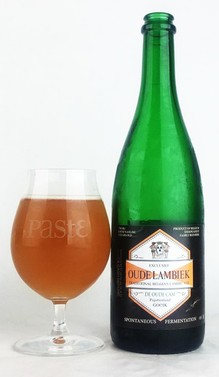 16. De Cam Geuzestekerij Oude Lambiek
City: Gooik, Belgium
ABV: 4.8%
The verdict: Big props to one of the brewmasters at the table whose tasting notes for this beer literally say "De Cam-esque," as he clearly hit this nail right on the head. This is about as "old world" as these beers get, and it's truly difficult (and more than a little absurd) to even try to judge it in this kind of tasting, flanked on all sides by lacto-driven fruit bombs. De Cam's unblended lambic is simply not trying to compete in the same sort of way, but it is doing exactly what it intends to do. The funk of pediococcus provides an earthy twang and slightly vinegary notes, with a nose that is slightly buttery and wood-forward. Tartness is moderate, although gentle compared with some of the really sour American beers, with almost no remaining carbonation. Light fruit flavors of grapefruit or gooseberry add layers of complexity. It's an extremely different experience from drinking a huge fruit bomb from Jester King or Wicked Weed, and one that everyone should experience for themselves at some points, despite the prohibitive cost for authentic Belgian lambics.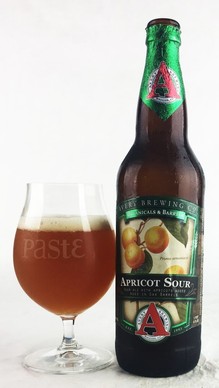 15. Avery Apricot Sour
City: Boulder, CO
ABV: 7.3%
The verdict: It will no doubt become clear, reading these rankings, that the tasters at Paste are in love with stone fruit sours. We just are; they make for some of the most undeniably delicious American wild ales, whether it's peach, plum, apricot or whatever else. With that said, though, we had a good number of them in this tasting that were ultimately disappointing, either missing out on the purity of the fruit or becoming artificial, overly sweetened messes. Avery's beer finds the sort of happy medium we're looking for—juicy sweet and fruit forward, but with moderate tartness and even a little bit of grainy malt on the back end that was missing from the vast majority of these beers. There's no missing the apricot, which lingers on well afterward with a lovely flavor of fresh stone fruit. Overall, this is certainly not the most "complex" of sours, but it has exactly the sort of balance between tartness and fruit that we're looking for in this case. It's what most people would hope it would be from the words on the label.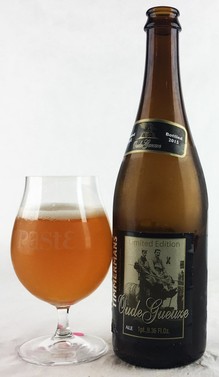 14. Timmermans Oude Gueuze Limited Edition
City: Dilbeek-Itterbeek, Belgium
ABV: 5.5%
The verdict: Another classic old country gueuze, this entry from Timmermans is equal parts funky and acidic, or as one score sheet put it, "tart 'n twangy." Slightly cidery, it brings the green apple note of brettanomyces but is also fairly sour, pointing toward a varied cocktail of souring bacteria. There's a pretty good amount of citrus on the palate, both orange and lemon, which work well with steadily mounting tartness. Drying astringency/tannin brings up the rear, making this a more contemplative dram than some of the others.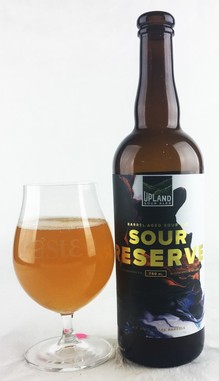 13. Upland Sour Reserve
City: Bloomington, IN
ABV: 6%
The verdict: This "gueuze-style" beer is a blend of one, two and three-year-old batches of Upland's base sour blonde ale, and brings all the funk to the party that the array of ages would imply. Quite tart and quite funk-forward all at once, it strikes the palate with a powerful citrus sourness, and a quality that one taster complimentarily described as "briny." From one score sheet: "We hay and slight hop aroma, but big citrus and puckering on the finish." It's a powerful beer that is packing a very high volume of flavor into 6% ABV.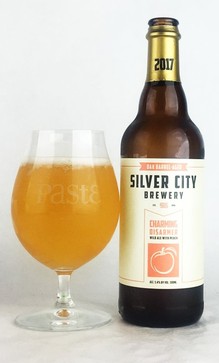 12. Silver City Charming Disarmer
City: Silverdale, WA
ABV: 5.4%
The verdict: Silver City has become one of those breweries where we have no idea what to expect in any given tasting. They have their ups and their downs, but when they're up, they come in at #2 in a Christmas beer tasting with 104 entries, or #12 here in a tasting of 143—you can't deny those sorts of finishes. Described simply as "wild ale with peach," Charming Disarmer is certainly aptly named. "Funky and expressive, right down the middle with loads of citrus and stone fruit," reads one of the score sheets. "Tart peach, with a bright, acidic finish and nice carbonation" says another. Still another simply says "super ripe peach, fresh off the tree." Among the peach sours, this one definitely featured one of the best balances between authentic, fruit-driven sweetness and supporting funk.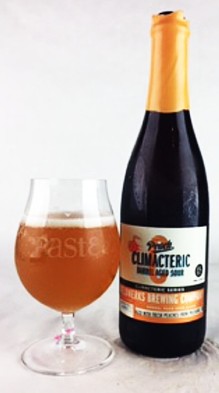 11. WeldWerks Peach Climacteric
City: Greeley, CO
ABV: 7.2%
The verdict: These guys at WeldWerks legitimately are one of the most exciting breweries in Colorado these days—whenever they send in entries, they're consistently landing near the very top, but the beer press outside of Colorado hasn't entirely caught up to them yet. This beer, the first official release of their barrel-aged sour program, involved an irresponsible number of peaches, nearly 4 pounds per gallon, which is Wicked Weed territory in terms of carpet-bombing a sour with fruit. Interestingly, though, the aroma and flavors are just purely "peach"—rather, they struck us as a mixture of stone fruit and other fruity influences—tart passionfruit, green apple and perhaps a little melon/cantaloupe. Moderate to high tartness doesn't make it any less refreshing; it seems very much a summer sour to us, despite an ABV that is a bit higher than some of the others. Delicious beer—now, if only that orange wax wasn't so obstinate! Our apologies for the blurred photo on this one, by the way—accidents will happen over the course of 10 days of tasting.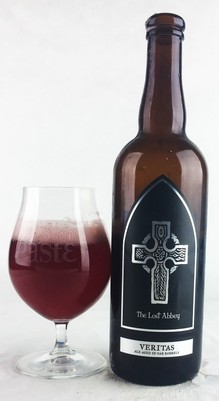 10. Lost Abbey Veritas 019
City: San Marcos, CA
ABV: 5.8%
The verdict: Lost Abbey's two entries in this tasting provided a good illustration of how similar beers can receive considerably different scores in a blind tasting setting. Both Framboise de Amorosa and Veritas 019 are raspberry sours, and both feature big, intensely juicy berry flavors, but it was the more supple mouthfeel and balanced tartness of Veritas 019 that won us over, rather than the somewhat more abrasive sourness present in Framboise de Amorosa. This is simply an easier to enjoy beer, and one that still brings those huge, bright raspberry flavors along with mildly puckering tartness. From one score sheet: "Yum! The perfect raspberry sour." From another: "Classic tart raspberry beer." Tasty stuff.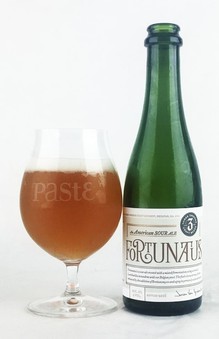 9. Three Taverns Fortunatus
City: Decatur, GA
ABV: 6%
The verdict: This tasting featured especially high finishes for two breweries only minutes from the Paste office, starting with Decatur, GA's Three Taverns, who also made the finals tasting the last time we took on 247 IPAs blind. Fortunatus is a better example of the kind of beers the brewery is most proud of, though—a combination of Belgian yeast and lactobacillus, aged in used whiskey barrels, which impart strong impressions of vanilla custard, caramel and wood. Still, it's not what you would call decadent or desserty—on the drier side, with good funky complexity, dark fruits and judicious extraction of the barrel character.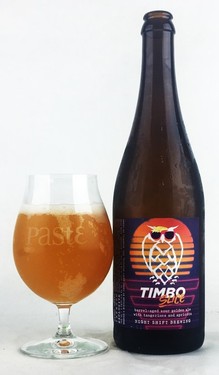 8. Night Shift Timbo Slice
City: Everett, MA
ABV: 6%
The verdict: I have only one question, regarding this beer: If apricot and tangerine are such a tasty, crowd-pleasing combination, then why the hell aren't more breweries making sours exactly like this one? This isn't what you would call "complex" or sophisticated, but damn is it tasty. Juicy waves of orange citrus and stone fruit are a perfect combination, combining with a touch of vanilla to make something like a tart Creamsicle. "Not subtle, but undeniably tasty" reads one taster's score sheet, quickly summing up the experience in only a few words. Compared to some of the other fruited sours, the tartness is a bit more mild, and the residual sugar is a bit higher, but hey—there's room for tasty sours of all types. This seems like exactly the sort of beer that could turn someone who "doesn't like sours" into a wild ale fanatic. Unrelated: I'm pretty sure this is the most awesome label of the tasting.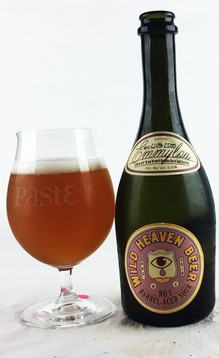 7. Wild Heaven Beer Emmylou
City: Avondale Estates, GA
ABV: 5.5%
The verdict: Full disclosure: Wild Heaven is owned by one of the original founders of Paste, which means we're always cognizant of their rankings in lists like this one, but the Avondale, GA brewers knocked it out of the park on this one. This is a blend of five different beers, aged 12-16 months in Bordeaux barrels with a mixed culture, each with a different fruit: cantaloupe, golden gooseberry, D'Anjou pears, Asian persimmon and kumquat. However, where Wild Heaven tends to differ in its ingredients usage is that none of those influences may be immediately detectable, especially in a blind tasting—they're all quite subtle. What we're left with is a bretty, funky, sophisticated sort of wild ale that reminds one of a wild farmhouse ale or saison, with plenty of woodiness on the nose and ephemeral fruit impressions that are tough to pin down. It's a beer that begs no small degree of dissection.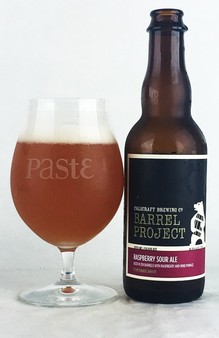 6. Calicraft Barrel Project: Sour Raspberry
City: Walnut Creek, CA
ABV: 8.5%
The verdict: It's kind of easy to fall into the trap of seeing all the raspberry sours as the same, or at least similar, but this is one of those beers that helps to point out that there are indeed degrees of raspberry intensity and a variety of ways to incorporate the fruit into a sour. It may be the fact that this beer was also aged on grape skins, but it develops a tannic astringency that works to counteract (and to a degree transform) the juicy dark fruit notes from the raspberry. Tartness is moderate, well-balanced and incorporated nicely, but it's the funkier notes that make it stand out from a lot of other raspberry sours. It would make a really fascinating pairing with the next beer as well—I am wishing now that they had been together on the same day of tasting.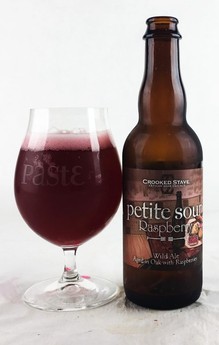 5. Crooked Stave Petite Raspberry
City: Denver, CO
ABV: 5.5%
The verdict: Petite Raspberry is a perfect illustration of the other side of the coin, in comparison with the previous beer. Where the Calicraft raspberry sour is drawing upon subtleties and additional, complementary flavors (from the wine skins) to make something memorable, Crooked Stave is just looking more deeply into the purity of the fruit itself. It's trading complexity for wish fulfillment and single-mindedness, but in the best way possible. The raspberry pops with fresh intensity; there's no way you could possibly mistake it for anything else. From one score sheet: "Raspberrybomb? Is that a thing?" From another: "Essence of raspberry, just plain satisfying." This is just a beer that is unapologetically for the fruit lovers in the audience. Call it unsophisticated, but it's also beautiful.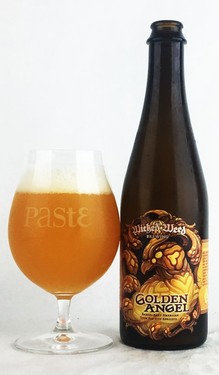 4. Wicked Weed Golden Angel
City: Asheville, NC
ABV:
The verdict: The last time we blind tasted sour/wild ales it was 2015 and we had about 30% as many of them as we do now, but we were all completely floored by the #1 finisher, Golden Angel. This time was pretty much no different—Wicked Weed may be owned by AB InBev now, but you have to give credit where credit is due, because this is without a doubt one of the best stone fruit sours in the world. It's essentially the ultimately apricot beer—everything we said about the previous Crooked Stave product also applies here, except amplified even further, because the amount of fruit used is so absurdly decadent. It smells (and looks) like sweet, pure, fuzzy apricot that has been freshly pureed and poured into a glass, super juicy on the palate, with moderate tartness that is never obtrusive. It's incredible approachable beer at the same time, and perhaps more than any of the other fruited sours in the entire tasting, it just celebrates its key ingredient. It is a liquid paean of praise toward the humble apricot. If you love stone fruit, it's holy grail-type beer.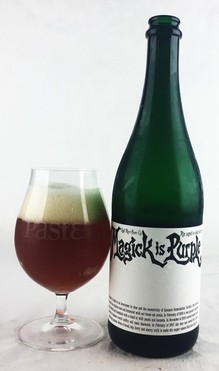 3. Half Acre Magick is Purple
City: Chicago, IL
ABV: 7.7%
The verdict: Chicago's Half Acre is a brewery we usually expect to see thrive in blind tastings of hop-forward styles, but their emergence here among the wild ale producers is simultaneously novel and unsurprising—it's just a solid brewery, no matter the style. Aged in red wine barrels with a cocktail of wild yeast and bacteria, it's a fruit-forward (but dry) beer that demonstrates remarkable poise and balance. Dark berry notes of plum and blackberry, as well as lighter hints reminiscent of rose wine, are present on the palate, with oaky tannins adding structure and complexity. From one score sheet: "Exactly what I want in a funky, red wine barrel sour." That about says it all—Magick is Purple pushes a lot of different buttons, but does so in a sophisticated way that belies the age of Half Acre's still brand-new sour program.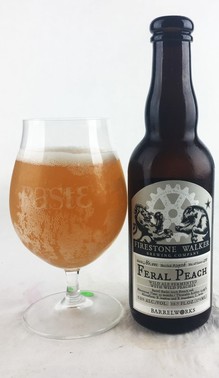 2. Firestone Walker Feral Peach
City: Paso Robles, CA
ABV: 5.9%
The verdict: There were a whole lot of stone fruit sours in this tasting, and we've sung the praises of ones both conventional and unusual, but leave it to Firestone Walker to make one that is spectacular without the reason specifically being "because it tastes just like peaches." Perhaps that's because the brewery utilized something uniquely local to them, a varietal they described as "white dwarf peaches," whatever that means. What matters is the complexity of the result—yes, some of that fuzzy stone fruit, but this is distinctly different from something like the Golden Angel, which focuses so intently on the star of the show. Rather, the Feral Peach uses the fruit as an accent on top of a musky, funky wild ale, which also draws heavily on the earthy qualities of old, wet oak. With a dry finish and spotlight on both the funky and overtly sour sides of the wild ale spectrum, it's an elegant, almost delicate beer that celebrates "peaches" without being defined by them.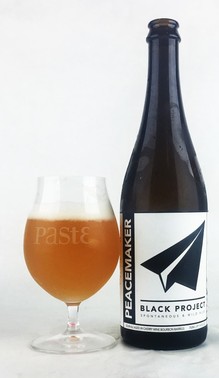 1. Black Project Peacemaker
City: Denver, CO
ABV: 5.5%
The verdict: It was telling that while looking over all of the beers that were arriving for this tasting, multiple tasters pointed toward the Black Project label and said something to the effect of "I've been hearing a lot about these guys." One of Denver's most hyped up-and-coming young breweries, Black Project specializes in these heady and spontaneously fermented wild ales, and delivered a beer in Peacemaker that was unique from pretty much anything else in the entire tasting. It's a blend of two beers, "both fermented from coolship-caught microbes," before being aged in bourbon barrels that then were used to mature Colorado cherry wine.
The result is the best of both worlds—a softened bourbon whiskey character with traces of the original caramel, vanilla and deeply toasted oaky notes, but with the addition of bright cherry and strawberry fruitiness. There's elements of funk, which contribute some light barnyard characteristics and perhaps a touch of light peach fruitiness, but that's the running theme of this beer—many, seemingly disparate elements that are all working together, with none coming to dominate the others. The "cherry wine" element is frankly one that would have scared me if I read it in advance on a beer label, as it seems like a recipe for a saccharine disaster, but I'm rather amazed by how subtle that character is in Peacemaker. This is not some treacly, sweet, artificially fruity attempt at an American wild ale. It's a sophisticated, complex beer that uses both complementary and contrasting notes to build layers of flavor. And it's our #1 American sour/wild ale.
---
Jim Vorel is a Paste staff writer and resident craft beer geek. You can follow him on Twitter for much more drink coverage.