Tasting and Ranking 40 of the Best American Sour Beers
Photos by Emily Ray, lead photo via Jester King Brewing
Drink
Lists
Sour Beer
I can remember the first time I drank a legitimately tart beer and didn't recoil in horror.
It was 2011. I was just one attendee among thousands at Three Floyd's Dark Lord Day, the first and only time I've attended that annual bacchanal of beer sharing and line-standing. I was of course there, like everyone else, to purchase bottles of the famed imperial stout (one of which remains in my closet to this day), but the true value of Dark Lord Day, and indeed most other large festivals, is the chance to share and try new and rare beer with geeks from around the country.
And that's where I had it. Something fruit-infused, I am sure. Something that was nothing less than a total shock to the senses. Face-puckering. Warhead candy-like. But undeniably delicious.
And that was it for me; I was hooked on sours. Of course I'd had them infrequently before that point, but had been put off by some harsh, astringent examples. It wasn't until the eye-opening experience I had in Munster, IN that it became clear why I was hearing more and more craft beer people evangelizing about sour beer.
It seems absurd that this was only four years ago, but that's how things move in the craft beer world. Sours have of course since that point been one of the many beer trends anointed as "the new hoppy," and one might even argue this title has since been passed on to new fads. But sours are undeniably still hot, still rising and are now being produced in much larger quantities by much larger breweries. That's the true bellwether of how much tart beer has grown—it's gone from something produced largely by small, farmhouse nanobreweries to a product that pours from the large-scale foudres of some of the country's biggest craft breweries.
Likewise, sours have diversified. The rediscovery of styles such as Berliner weisse and gose have helped establish sub-styles of tart beer in American craft brewing: So much so that in ranking American sours, we decided to give Berliner weisse and gose each a ranking of their own. And even removing those two from the table, it's a daunting task to compare beers that vary greatly in strength, barrel-aging, fruit additions, yeast strains and dozens of other differentiating factors. To illustrate this point, we sampled four different fruit sours from Crooked Stave earlier this week.
Nevertheless, we pressed on. Ultimately, we gathered 40 great American sours in one place for this tasting, and the face-puckering results will unfold below.
Rules and Procedure
Every one of these beers is at least somewhat tart. If it's not sour, it's not on the list. Everything else is fair game, except Berliner weisses or goses, which just had their own rankings. There was a limit of two entries per brewery.

Yes, there are well-known beers that are missing. Yes, we tried to get something from say, Hill Farmstead. If it's not here, it's probably because the brewery chose not to participate. Feel free to add suggestions in the comments and we'll do our best to include them in the future.

Tasters included professional beer writers, brewery and brewpub owners, restaurateurs and assorted journalists. Badass, Paste-branded glassware is from Spiegelau.

Beers were judged by how exemplary they were as individual experiences, and given 1-100 scores.


The Field
I can't stress enough that this tasting contained the highest level of overall quality we've ever had for a ranking at Paste. There were some seriously heavy hitters present here, and even among these beers in "the field" that didn't make the top 25, we really enjoyed almost all of them. Only in a few did we detect any sort of unpleasant off-flavors or imbalances that would make us think twice before drinking them again. It was simply not easy to crack the rankings—this competition was ultra-fierce.
Given that these tastings are about discovering the best beers rather than detecting flaws, the following beers are simply presented in alphabetical order. They are not ranked. I repeat, these beers are not ranked. They're included simply so readers can see everything we tasted.
Almanac Beer Co. Dogpatch Sour
Avery Brewing Co. Raspberry Sour
Dogfish Head Brewery Kvasir
New Holland Brewing Incorrigible
New Belgium Transatlantique Kriek
NOLA Brewing Co. Lowerline
Orpheus Brewing Atalanta
Sam Adams American Kriek
2nd Shift Brewing Grace
Sun King Brewing Cherry Busey
10 Barrel Brewing Strawberry Cayenne Sour
Uinta Brewing Co. Birthday Suit (Sour abbey ale /w plum)
Upland Brewing Co. Cherry Lambic
Weyerbacher Brewing Co. Tart Nouveau
Yazoo Brewing Co. Perception of Reality
Next: Rankings! Sour beers #25-10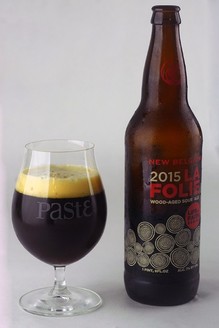 25. New Belgium La Folie
City: Fort Collins, CO
ABV: 7%
Key ingredient: 1-4 years of large-batch foudre aging
The verdict: New Belgium's Lips of Faith program has been one of the driving forces behind sour beers being put in the hands of craft beer drinkers nationwide. This is the country's 4th largest craft brewery, trailing only Yuengling, Boston Beer Co. and Sierra Nevada. Of those, (no offense, BBC) New Belgium is clearly the one identified with sour beer, and as such they've helped play tastemaker and introduced countless new drinkers to various tart styles. La Folie is probably the best of their widely available offerings, a moderately tart, almost surprisingly traditional oud bruin that actually falls on the lighter-intensity side of the spectrum in this particular tasting (there's a LOT of assertive beer on the table). Pleasant, cherry-like fruitiness, a kiss of oak and good balance are what one should expect to find. A fine introduction to the style of oud bruin from a huge American craft brewery that can still make beer like a tiny farmhouse brewer in the middle of nowhere.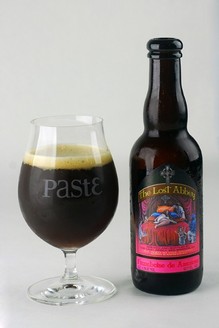 24. Lost Abbey Framboise Amorosa
City: San Marcos, CA
ABV: 7%
Key ingredient: Red wine barrels, raspberry
The verdict: Given the extremely high ratings for this well-loved beer, we almost expected it to finish a bit higher, but there were a ton of great raspberry beers in this tasting. With that said, Framboise Amorosa's strongest component is definitely the raspberry presence—it captures some spectacular fruit aromatics in particular, but what throws it off slightly is a lack of balance. Everything is ratcheted up to 11—the fruit flavors are great that way, but a slightly syrupy sweetness is a bit less welcome. The tartness, likewise, is very intense, in a way that straddles the line of abrasive and enjoyable at times. There are probably other beers on this list that feature this degree of tartness, but they also have some other x-factor to help smooth out that impression and soften its assault on the taste buds. But in the end, we're still drawn back to those amazing raspberry aromatics and flavors.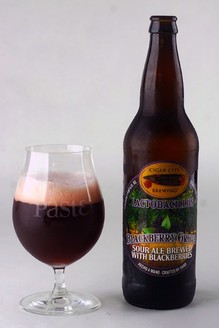 23. Cigar City Brewing Lactobacillus Blackberry Grove
City: Tampa, FLA
ABV: 8.8%
Key ingredient: Blackberries
The verdict: You see the combination of "blackberry," "lacto" and "Cigar City" on the label of this beer and sort of go in expecting it to be an explosion of juicy, insane fruitiness, but that's not quite what it's like. There's a fair amount of sweetness, but the tart aspect is on the lower side—it's not one of the puckering entries, which is sort of funny, given that they went out of their way to make "LACTOBACILLUS" part of the beer name. The final product actually ends up coming off more like a traditional fruit beer than a really funky, tart-forward American sour—the fruit is very round and rich on the palate, something that is probably enhanced by the high ABV. It's a jammy, blackberry/plum pie-filling fruitiness that is quite pleasant and does stop short of ever being cloying, a more decadent and less acidic take on the style than many of the other offerings on the table. Given the strength and the label though, you sort of come away a little surprised by the restraint shown in the final product.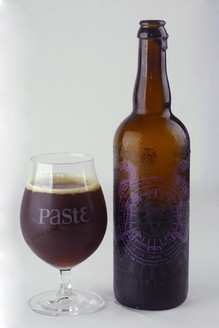 22. Surly Brewing Co. Pentagram
City: Minneapolis, MN
ABV: "6.66%", because METALLLL
Key ingredient: Munich malt, red wine barrels
The verdict: There's never going to be a shortage of red wine barrel-aged beers in a sours tasting of this nature, but what makes Surly's example stand out more than anything is the base beer behind the barrel-aging. It's just not the kind of thing people barrel-age quite as often—a mid-strength, seemingly Belgian-inspired grain bill featuring the bready, toasted flavors of Munich malt, Belgian crystal and even some chocolate malt as well. It has a very deep nuttiness—almost stout-like roast—which proves to make an excellent companion for the toasted, oaky flavors contributed by the barrel. If it had abbey ale yeast, you might say it was essentially a dubbel, but it's a 100% brett beer instead. There's a deep, leather-infused red wine character as well—everything about Pentagram is deep, dark, chewy and palate-coating. It seems significantly stronger than its "6.66%" ABV, that's for sure. All in all, an inky, rather mysterious offering that simultaneously evokes European beer styles and modern American wild ale techniques.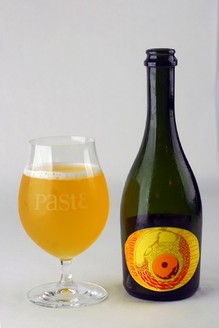 21. Jester King Brewery Aurelian Lure
City: Austin, TX
ABV: 5.4%
Key ingredient: California apricots
The verdict: If you want evidence of the strength of this field, here's Exhibit A—an extremely high-rated apricot sour from one of the most sought-after sour breweries in the country, which may very well have suffered slightly from being in the same tasting as another, mind-blowing apricot beer (more on that later). What can we say? This one is still great stuff, very soft on the palate, juicy and approachable, although not so assertive as one of Jester King's other offerings in this same tasting. Flavors present themselves as strongly citric in its first moments on the tongue, very bright and tangerine-like, before transforming into the more expected stone fruit impression of fresh apricot. Fairly refreshing, with moderate tartness, it's a well-balanced brew that would no doubt be heavenly on a blazing Austin afternoon in the heat of the summer.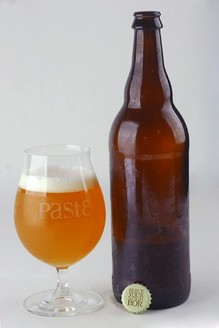 20. Wild Heaven Swan Swan Hummingbird
City: Avondale Estates, GA
ABV: 6%
Key ingredient: Georgian wild yeast
The verdict: The first commercially available sour, but not the first R.E.M. reference, from Georgia's Wild Heaven Craft Beers, Swan Swan Hummingbird is an unusual, funky brew created from Georgian terroir—a blend of wild yeasts cultivated as a collaboration between WH and newly opened Athens brewery The Southern Brewing Co. It's alternatingly complex and approachable—not overly intense in its flavors, but difficult to pin down. Grainy or biscuit-like malt presence comes through significantly more strongly than in most of these fruit-bomb sours, but those malt flavors are then followed up by a plethora of tropical, exotic fruit notes—everything from grapefruit to melon or kiwi. The complexity is presumably owed to the unique, atypical yeast strains at play—what they produce is something light-bodied, funky, only mildly tart and refreshing in its novelty. Full disclosure: Wild Heaven founder Nick Purdy was present for these tastings, but he declined to rate his own beer for obvious reasons.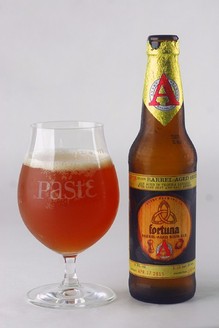 19. Avery Brewing Co. Fortuna
City: Boulder, CO
ABV: 8.1%
Key ingredient: Lime zest, salt … and tequila barrels
The verdict: The only tequila barrel-aged beer in the tasting was unsurprisingly one of the most distinct. With the salinity and spicy, somewhat herbaceous quality, it has more in common with an overgrown gose than one might initially expect—at least until the woody flavors assert themselves more strongly. It's not particularly boozy, though, nor so in-your-face as we've tasted in some other tequila-barreled brews, which might also be attributable to an ABV slightly more modest than many barrel-aged Avery offerings. It seems like what they were going for was the fusion of a salt-rimmed margarita with an American wild ale, which is a pretty inspired pairing when all is said and done. There's a nice balance between sweet/sour lime citrus, salt, and most prominently, that spicy, agave-infused wood.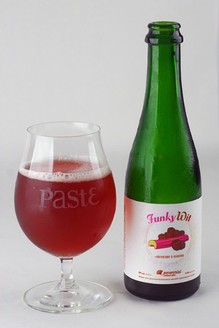 18. Perennial Artisan Ales Funky Wit
City: St. Louis, MO
ABV: 5%
Key ingredient: Raspberry and rhubarb
The verdict: It would seem that someone down in St. Louis wasn't satisfied with the ruby color that raspberries alone could deliver to an American wild ale and went venturing for an even more brilliant red—the red that only rhubarb could provide. That, or perhaps they were actually after the surprisingly intriguing vegetal character the rhubarb manages to impart on a beer that already features an impressive, authentic raspberry backbone. It's interesting how a little shot of complexity can take an already pleasant beer and make it more memorable, but that's really what the rhubarb does here. To taste it blind, it would be impossible to miss the raspberry, but you would be left wondering about the rest—where is that herbal quality coming from? The funky, lightly spicy Belgian yeast character? It's that complexity that had tasters going back for more in an effort to decipher everything going on under the surface. You come for the raspberries and stay for the rhubarb.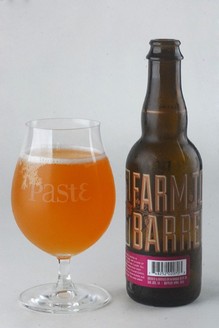 17. Almanac Beer Co. Farmer's Reserve Pluot
City: San Francisco, CA
ABV: 7%
Key ingredient: Five varieties of pluots
The verdict: It's hard to not love the names of the pluot varieties—a cross between apricot and plum, by the way—found in this beer from San Francisco's Almanac: Dapple Dandy, Honey Punch, Black Kat, Dapple Jack, and my personal favorite, FLAVOR QUEEN. They suggest a sort of light-hearted, carefree brand of agriculture, but the beer itself is actually appreciably complex. Aged in wine barrels alongside the pluots, this golden sour ale has been deepened, darkened and given an air of sophistication. The aroma captures a fig or prune-like dark fruitiness and a touch of fragrant leather. Tartness is on the lower side, gentle and reassuring—this almost feels like more of a cold weather sour, something one might enjoy in a giant brandy snifter in front of the fireplace, in a room containing at least one bearskin rug. Carbonation also seems a touch lower, with adds to that impression of slow, contemplative sipping. Perhaps Almanac wanted drinkers to have time while imbibing to consider the tenants of their "farm to barrel" philosophy, but regardless of what you choose to ponder, it's an enjoyable beer with no shortage of darker fruit flavors.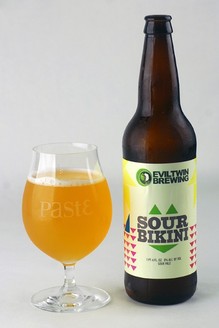 16. Evil Twin Brewing Sour Bikini
City: Brooklyn, NY
ABV: 3%
Key ingredient: Powerfully citrusy hops
The verdict: What a unique beer this is—the closest way to describe it in a conventional sense might be to call it a "sour session IPA." Or, you might just say what one taster said after tasting it: "It's like someone bred a cross between a hop cone and a lemon." The aromatics are a truly beautiful blend of straight-up citrus, primarily lemon and tangerine, backed up by very fresh, green, grassiness. It's like a fresh-cut lawn in a lemon grove, with just a hint of acidic tang. It is, after all, somewhat tart as well, or it wouldn't be in this ranking, and here the mild tartness just blends in seamlessly with the citrus flavors to push its potential for refreshment through the roof. The fact that this is 3% ABV, and just as flavorful (if not more so) than some of the beers double its ABV on the table, is extremely impressive. Call it a sour session IPA, or perhaps even call it a hoppy radler or something of the like, but we've never tasted a 3% ABV beer like this one before.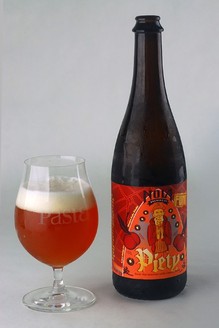 15. NOLA Brewing Co. Piety
City: New Orleans, LA
ABV: 4%
Key ingredient: Red wine barrels and tart cherry
The verdict: NOLA didn't hold back in their first foray into sours, leaping right into the game with this strongly tart, acidic beer featuring sour cherries. Tartness is very high and perhaps a touch abrasive to sensitive palates, but the fruit flavors are complex and satisfying, with aromatics that go beyond simply "cherry" and reminded some tasters of everything from strawberry to watermelon. It may not be a traditional kriek, but it certainly invokes some of those similar flavors, and it's a promising start for a brewery that hasn't been associated with sour beer in the past. We look forward to future entries in this new series of sours.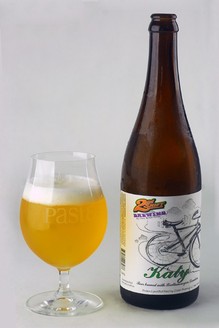 14. 2nd Shift Brewing Katy
City: New Haven, MO
ABV: 5.4%
Key ingredient: Brettanomyces
The verdict: Having a few beers like 2nd Shift's Katy in the mix was a good reminder that "tarter" doesn't automatically equate to "better." A brett-based farmhouse ale at heart, it drank so easily next to some of the other monsters on the table that some tasters thought it might be a grisette. There is some light, lemony tartness present, though, which makes a great companion to the tastefully grainy/doughy flavors malt flavors, which weren't something that showed up very often in a tasting so stacked with fruit beers. The refreshing crispness really stands out in such a lineup, but further contemplation reveals a complex funkiness as well, especially as the beer warms. In that sense, it's the best of both worlds. On its own, brettanomyces doesn't provide much overt tartness, but beers like this one still exist comfortably in the realm of American wild ale, and they sure as hell make for killer summer drinking.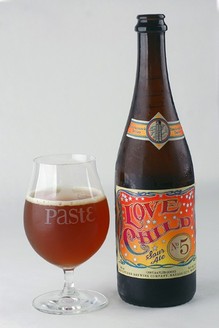 13. Boulevard Brewing Co. Love Child #5
City: Kansas City, MO
ABV: 8.2%
Key ingredient: A blend of beers aged in whiskey and wine barrels
The verdict: Some of these sours performed well because they're so assertive or explosive—Boulevard's got here because it's so damn sophisticated. The brewery's annual Love Child series of blended sours has been steadily gaining more and more acclaim on a yearly basis, and it's easy to see why. A moderately tart blend of multiple Flanders red ales aged in whiskey barrels, wine barrels, stainless steel tanks and foudres, it displays much of the complexity that has driven the stratospheric growth of American wild ales in the last few years. There are so many complementary flavors working at the same time—grape must, the barnyard funk of brett and a plethora of stone fruit impressions (peach, apricot) are only the tip of the iceberg. It's a well-balanced sour that is lighter on the palate than the 8.2% ABV would lead you to expect, an expertly crafted experiment that manages to be simultaneously crowd-pleasing and worthy of contemplation.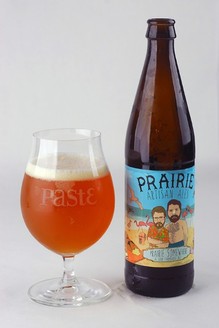 12. Prairie Artisan Ales Somewhere
City: Tulsa, OK
ABV: 7%
Key ingredients: Citrus fruit
The verdict: This beer did extremely well in our blind tasting and ranking of 35 saisons, where it stood out notably as one of the more unorthodox, sour examples on the table. Here, it's much closer to the median in terms of its flavor profile—moderately tart, refreshing and highly fruity. The brewery says that "citrus fruit" is used in the kettle, which is a fairly different application than in many of these sours that have been aged on fruit for longer periods, but there's certainly no shortage of flavor. Indeed, the tropical fruit aromatics really shine on this one, with a blast of melon and citrus that is well-complemented by a moderate level of residual sweetness. As one very bullish taster wrote: "It takes a great base saison to finish with an amazing sour saison."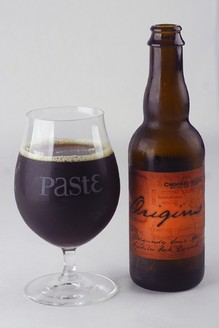 11. Crooked Stave Origins
City: Denver, CO
ABV: 6.5%
Key ingredient: Neutral oak, and lots of it
The verdict: This beer essentially seems like a Flanders red that has gotten the oak barrel treatment along with a healthy dose of souring bacteria, and the result is a beer that has been transformed into a heady, complex experience. The wood comes through very strongly on this one—a bit too much for a few of the tasters, but highly praised by others. Strongly tart and full of ripe berry flavors, the wood gives it quite the assertive sour twang—coupled with the character of the underlying beer, you'd really think that these were red wine barrels rather than just plain oak. The final product is indeed winey, with a tannic dryness and leathery aromas to pair with the dark, dried fruitiness. If you like a very oaky cabernet sauvignon, then Origins might have a lot of the flavors you're looking for.

Next: #'s 10-1, a winner is crowned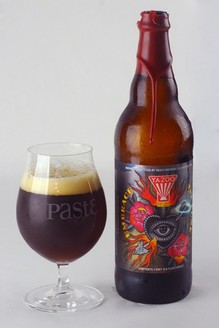 10. Yazoo Brewing Co. Deux Rouges
City: Nashville, TN
ABV: 6.2%
Key ingredient: Merlot barrels
The verdict: Certainly one of the most unique things we tasted during this ranking, and perhaps the single most distinctive, Deux Rouges had a similar pedigree and description as some of the other wine-barrelled beers, but none of them tasted anything like it. They say it's been aged in "freshly emptied merlot barrels," but we couldn't help but wonder whether those barrels had been thoroughly emptied, because the red wine flavors are huge—absolutely massive, as is the mouthfeel. This is beer you can chew, which is crazy, considering the ABV is only 6.2%. The fruit flavors are likewise intense, with lots of candy-sweet cherries and sherry-like booze. The beer is this close to completely going over the top with too much of everything—booze, tartness, wood, wine—but somehow, at the last moment it pulls it all together. You find yourself going back again, wondering if the floodgates are going to totally fail this time, but it holds up. It's a massively rich, intense, wine-infused Flanders red. By no means balanced, but uniquely delicious.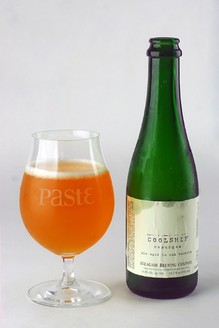 9. Allagash Brewing Coolship Resurgam
City: Portland, ME
ABV: 6%
Key ingredient: Maine wild yeast
The verdict: Allagash essentially puts this beer in the hands of fate as they allow it to be inoculated by wild yeast from the Maine air in an open coolship, but of course we needn't have worried, because it's a brilliant argument in favor of spontaneously fermented beer. Totally unlike everything else in the lineup, Resurgam is all about the funk first and foremost—there's so much unusual stuff going on in the nose of this beer that it's difficult to wrap your head around it. It's musty, leathery, barn-like and moderately tart. The beer is dry as a bone but wonderfully expressive despite this, with champagne-like carbonation that prickles on the tongue alongside moderate lactic sourness. The tapestry of funk is backed up by sour, woody flavors from the older segments of blended beer that have spent more time in oak. This is dry, funky, challenging, elegant beer that revels in its own complexity and doesn't need a crutch of fruit flavoring to be a revelation.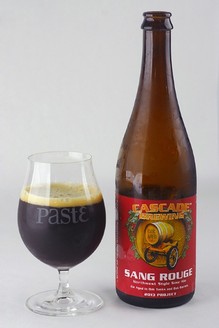 8. Cascade Brewing Sang Rouge
City: Portland, OR
ABV: 8.06%
Key ingredient: A blend of years-old, foudre-aged beers
The verdict: This blended Flanders red shares a lot of similarities and tasting notes in common with the already mentioned Crooked Stave Origins, but was slightly better balanced in the opinion of most tasters. The fact that it's extraordinarily complex is no big surprise, given the incredible commitment to aging and blending—up to nine different batches that are as much as three years old come together to create a cohesive whole. The final product is assertively tart and feels like the big beer it is—chewy, vinuous and packed with dark fruit flavors of plum, black cherry and perhaps black currant. "Robust" certainly applies, and there's no shortage of spicy, woody flavors either. It's like a dusty, well-aged bottle of wine that your oenophile friend has been saving in a corner of his cellar for a special occasion.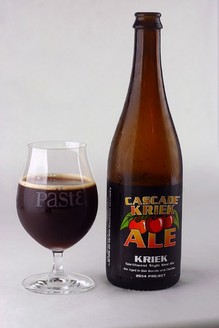 7. Cascade Brewing Kriek
City: Portland, OR
ABV: 8.2%
Key ingredient: "Bing and sour pie cherries"
The verdict: Well, Cascade is consistent, you gotta give them that. Jokes aside, this kriek is the best cherry beer we tasted in the course of these rankings, avoiding the musty or muddled flavors of some others to bring forth bright fruity goodness that is pierced by an intense beam of sourness. This one is very tart indeed, but of the ultra-sour examples on the table, it's one where the strength of lactic sourness works very well to enliven the fruit. By no means is there any balance, but for lovers of very bright, clean fruit flavors it's heavenly. The cherry presence is backed up by some oak and perhaps by a bit of spice, but make no mistake that this one is a fruit and sour bomb, all the way, and we mean that in the best way possible. It's a puckering cherry treat with a long, lingering finish.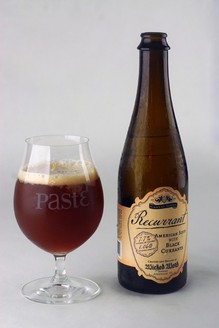 6. Wicked Weed Brewing Recurrant
City: Asheville, NC
ABV: 7.7%
Key ingredient: Black currant and red wine barrels
The verdict: "If this is what currants taste like, then I want to eat them every day," wrote one taster, and that's a pretty apt summation of this distinctive, elegant beer from Wicked Weed. Light on the funk but generous with the tartness, it expresses the currants through a wonderful, off-dry mixed berry fruitiness—like blackberry, raspberry, but also something a little more earthier and harder to place. Balance was clearly a goal, and the tasting notes reflect this—almost all of them comment on the integration between fruit, tart and the underlying amber sour beer. Oak is present, but definitely on the subtle side, presumably due to aging in larger "puncheon" barrels with less surface area in contact with the beer. A very well-conceived and executed sour that we were happy to see incorporate a fruit not found in any of the other entries.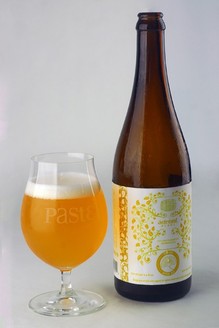 5. Perennial Artisan Ales Savant Blanc
City: St. Louis, MO
ABV: 8%
Key ingredient: Brettanomyces, chardonnay barrels
The verdict: Uniqueness isn't necessarily worth points directly when we're scoring beers in these tastings, but if it's something that stands out from the field, it's not surprising when tasters are eager to come back for more in an effort to appraise that beer's strengths. Savant Blanc is just one of those beers that was improved by the comparison to everything around it—so many red wine barrels, and here comes another wine barrel beer with a completely different and refreshing character. The chardonnay barrels (and chardonel grapes the beer was aged on) allow the brettanomyces funk to shine through in a significantly more perceptible way, along with contributing wonderful aromas and flavors of buttery vanilla, peach, honey and lemon. Very fresh, lively and representative of both the oak barrel and the juicy, moderately tart white wine grapes within, it makes a wonderful change of pace on a table full of berry bombs. It would be an amazing pairing with say, a charcuterie, cheese and nuts board.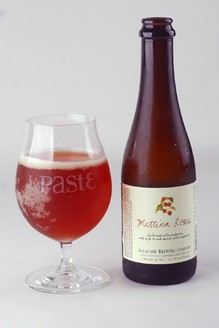 4. Allagash Brewing Co. Mattina Rossa
City: Portland, ME
ABV: 6.9%
Key ingredients: A blend of 11-barrel aged raspberry beers
The verdict: Just considering the amount of labor that went into the blending of 11 different raspberry beers, aged in wine barrels for varying lengths of time and with different cultures of bacteria or brettanomyces, is a little mind-blowing. All of their work results in something wonderful, however—Mattina Rossa is a beautiful, elegant take on raspberry beer that both delivers the huge, bright raspberry flavors they know we want along with a challenging profile of funky wild yeast character. It's notably dry—extremely dry, really—which is impressive, given how loudly the raspberry announces itself on the nose and the palate. The other side-effect of that dryness is that it really calls attention to the rustic, funky qualities derived from the brett—they pop nicely with aromas of hay and spice. Coupled with an effervescent carbonation and strong shot of tartness, it's a bit like bone dry, funky raspberry champagne. It's the ultimate craft beer New Year's Eve toast.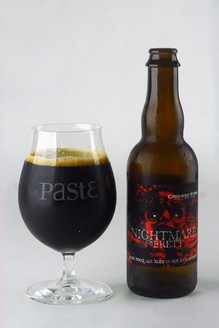 3. Crooked Stave Nightmare on Brett (red wine casks)
City: Denver, CO
ABV: 9.6%
Key ingredient: Roasted malt and red wine casks
The verdict: Woah—I don't think any of the tasters saw this one coming. One of them seriously wrote "Jesus, this is a lot of flavor" on the score sheet. Crooked Stave has put its Nightmare on Brett, a "sour dark ale" that is pushing imperial stout territory, into a variety of different barrels in the past, but this red wine variant is really exceptional. The individual flavors in this profile just play so well together—you've got a significant nutty/toffee/roast presence in the base beer, while the souring agents bring out dark fruit flavors of plum, black cherry, raisin and dried fruits. And then there's the barrel character—this Nightmare is intensely vinous, oaky and rich—one taster's sheet describes it as "chunky," which isn't a bad word for a heavy, enveloping mouthfeel. This is like the 30-year-old tawny port of beers—a heady drinking experience, to be sure.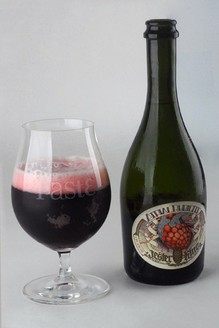 2. Jester King Brewery Atrial Rubicite
City: Austin, TX
ABV: 5.8%
Key ingredients: Raspberries. Raspberries out the wazoo.
The verdict: There's a reason why, when Atrial Rubicite was the first barrel-aged, fruit-infused Jester King sour to be released, that the internet beer community lost its collective mind. The brewery already has a reputation for crafting some of the best straight-up sours in the country—and maybe the best in the Southwest—but the heaping handfuls of raspberry in Atrial Rubicite take what is surely an amazing beer and push it into mind-blowing territory. The aroma is like being cold-cocked with a sack full of just-picked raspberries and fragrant prairie flowers. Jester King makes a big deal out of stating that all of their fruit-infused beers are "fermented to dryness," and this is mostly true, but compared to say, the Mattina Rossa there's just a touch more of the natural raspberry sweetness, and this is to its credit. The funk is also present in a compelling and enjoyable way, as is a rare bit of bready wheat malt that peaks in from behind all the fruit. It's strongly tart, but after tasting it you wouldn't want the pH to rise one iota. We tasted a whole hell of a lot of raspberry beers in the course of doing this tasting—Atrial Rubicite is the master of them all.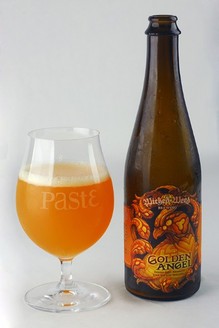 1. Wicked Weed Brewing Golden Angel
City: Asheville, NC
ABV: 7%
Key ingredient: A ludicrous amount of apricot
The verdict: To close your eyes and take a sip of Wicked Weed's Golden Angel, you would think you were biting into the juiciest apricot known to man. Not some apricot that exists in 2015, mind you, culled from the fields of some mundane farm—more like an apricot plucked from the Garden of Eden, so juicy that it might as well be dripping down your chin. And that makes sense when you read that a full 2.5 pounds of fruit are used in this beer per gallon, which would almost seem excessively decadent if it weren't so delicious. That works out to like, 3 or 4 apricots per 500ml bottle, by the way. The fruit character is absurdly fresh—the beer even LOOKS like liquified apricot.
But underneath the fruit, there's also a wonderfully well-developed sour beer. Tartness is medium-high and exquisitely integrated—it's very difficult to say exactly where lactic sourness ends and the fruity acid begins. Funk and oak can be found if you're really searching on the back end, but what it will really leave you pondering is the juicy flavor of stone fruit, both apricot and peach. Residual sweetness is right where it needs to be—Golden Angel isn't bone dry; it presents its fruit flavors in the truest way possible. In the course of this tasting, we didn't taste anything else that put forth a more perfect synthesis of sour beer and fruit. That's why Wicked Weed is walking away with the crown—between the Golden Angel and Recurrant, they staked a serious claim as one of, if not the best sour brewery in the country.

---
Jim Vorel is Paste's news editor, and he likes his fruit sours juicy. He wishes this tasting could be re-conducted on a monthly basis. You can follow him on Twitter.