The Best Pasta Shapes, According to a Chronic Pasta Eater
Photo by RODNAE Productions/Pexels
Food
Lists
cooking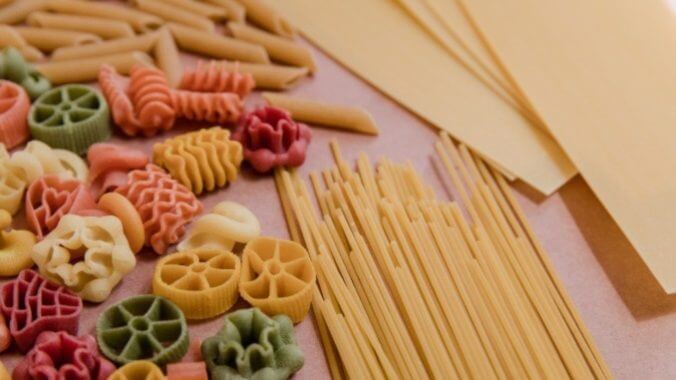 There are few things in this world as glorious as a big bowl of pasta. It's delicious, it's filling and perhaps best of all, it's generally pretty inexpensive compared to most other dishes you could make. That's why my pantry is filled to the brim with a wide range of pasta shapes, from the absolute basics to the harder-to-source varieties. And I cycle through them, too—I eat pasta on a nearly daily basis.
If there's one thing I've learned from my problematic levels of pasta consumption, it's that there are some shapes that I like much, much better than others. This list of pasta shapes is not comprehensive, and I know that not everyone will agree with the varieties I've chosen. But maybe, just maybe, you'll learn about a new shape that'll pair perfectly with the sauce you have simmering for tonight's dinner.
---
1. Rotelle
Rotelle is an ultra-versatile short pasta shape that is sometimes referred to as "wagonwheel" or "pinwheel" pasta. I love this variety for its texture; it has a bounciness to it that makes every bite feel a little bit more fun. You can pair this shape with just about any sauce, but I personally like lighter sauces that allow you to really see the interesting shape of the pasta.
---
2. Calamari
Yes, calamari is squid, but it's also a pasta shape, and the shape is not dissimilar from the ring-shaped pieces of squid you might find in a restaurant. Think ziti but bigger and shorter. Sometimes, sauce ingredients work their way into the short little tubes, delivering an extra burst of flavor.
---
3. Gemelli
Gemelli is a type of short, twisted pasta, and I love this variety because of its texture. This pasta feels dense and heavy, and it has a distinct chewiness to it that you don't get with other pasta shapes.
---
4. Fregola
If you've had pearl couscous before, you've experienced something very similar to fregola, a tiny pasta shape that hails from Sardinia. Eating a spoonful of these chewy little balls of dough is undeniably pleasurable, especially when they come served over a bed of fresh clams.
---
5. Ditalini
Pasta e fagioli, or pasta and beans, is one of my all-time favorite Italian dishes, and it often utilizes ditalini, which are tiny, short tubes not much larger than fregola. They're perfect for soup because of their size; you can scoop up several of them in one spoonful. They can easily take a basic soup recipe and transform it into a hearty, memorable dinner.
---
6. Orecchiette
Orecchiette seems like it's been all the rage lately, and it's no wonder: This ear-shaped pasta holds sauce exceptionally well and delivers it to your mouth in a perfect al dente package. I personally love pairing orecchiette with freshly made pesto, but it can work well with a wide variety of sauces.
---
7. Bucatini
Bucatini might just be the silliest pasta shape, but I mean that in the best possible way. These long, spaghetti-like noodles are hollow, creating a pasta strand that almost looks like a super-thin straw. I'm not alone in my love for bucatini—in March of 2020, the U.S. faced a bucatini shortage, partially due to the popularity of Alison Roman's shallot pasta recipe that called for the pasta shape. Luckily, it's a bit easier to find these days, so I keep some stocked in my pantry for pasta-related emergencies.
---
8. Pici
Pici is a long, hand-rolled pasta that's thicker than many long pasta shapes, which means that it can sometimes be difficult to come by outside of Siena, its hometown, and Italy in general. But no worries: If you can't find any at your local speciality food shop, you can always try to make it yourself.
---
9. Mafalde
Mafalde may look like it should be used to make lasagna, but it's actually quite a bit thinner than the sheets you would use to make a baked pasta. Its ruffled edges create an interesting textural experience with plenty of nooks and crannies for the sauce to coat.
---
10. Tagliatele
Tagliatele is similar to fettucini but tends to be a bit flatter. The ribbon-like texture means these noodles can break easily, but the fact that they're so swirl-able makes this shape one of my all-time favorites.
---
Samantha Maxwell is a food writer and editor based in Boston. Follow her on Twitter at @samseating.