Fucked Up make the most of One Day
The ambitious Canadian punk band returns with its sixth album
Music
Reviews
Fucked Up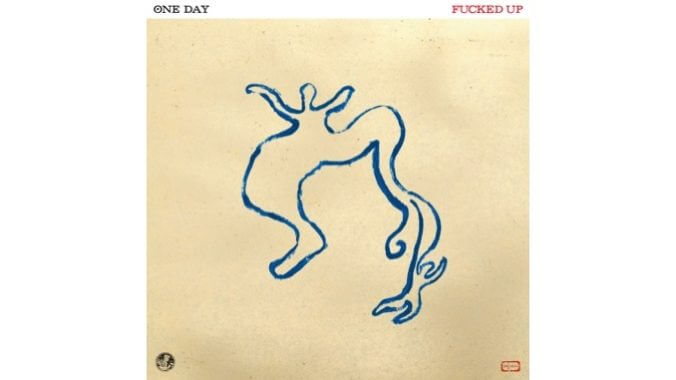 For 20 years, Fucked Up have consistently taken an ambitious, often sprawling approach to punk.
There was the epic rock opera—2011's David Comes to Life—that proved to be their breakthrough, as well as its accompanying compilation of songs from fictional bands, all recorded by Fucked Up. There's the band's Zodiac series, which now includes nine themed releases since 2006, including last year's four-act, 90-minute work Year of the Horse.
There are the dozens of 7-inch singles in their discography, and a 12-hour live show on their resume. Their most recent album, 2018's Dose Your Dreams, was a psychedelic, 18-track concept record about a character who recurs throughout Fucked Up's catalog.
There has never been a shortage of ideas for Fucked Up.
So here's a new one: What would happen if the band wrote and recorded an entire full-length in one day? That's the idea behind One Day, Fucked Up's sixth full-length studio album, which was recorded just before the COVID-19 pandemic and is just now seeing the light of day via Merge Records.
The answer is simple and not terribly surprising: You get a record that is unmistakably Fucked Up, leaner than ever before and still committed to pushing punk rock into beautiful and fascinating places.
The band scaled down in three ways this time around: 1. One Day is the shortest Fucked Up record, clocking in at 10 tracks and about 40 minutes long. 2. Only four of the five members were involved in the recording process. (Longtime sixth member Ben Cook left the band a while back to focus on Young Guv.) And 3. Each member composed and captured the entirety of their parts in a 24-hour period, albeit separately: Mike Haliechuk recorded the guitars in December of 2019, Jonah Falco recorded drums a month later and Sandy Miranda recorded the bass a month after that. Gravel-throated frontman Damien Abraham handled the vocals on all the album's tracks except for one, and he followed the 24-hour rule, too.
Besides the length of the thing, however, it's not as if that man-made construct diminished the brawn or the brilliance of Fucked Up on One Day. These songs are, per usual, towering monuments to the power of well-played electric guitars; dense thickets of thrilling rock 'n' roll; controlled collisions of Haliechuk's melodic pop-rock tendencies and Abraham's made-for-hardcore howl; and raucous reflections on dreams and destruction, colonialism and corruption, legacy, love and life under the weight of late-stage capitalism.
In places, One Day echoes Fucked Up's hardcore punk roots, such as the speedy pace of the album's closer, "Roar," or the politics and the shout-along chorus of opening track "Found," in which Abraham growls:
Build temples of police and landlords
To worship money
The god we pay for
I stood on the shore of a story we don't tell anymore
All the names were erased
Buried a land that my people stole
More often, Fucked Up bounces around the stylistic spectrum, employing clean (and pretty!) vocal harmonies ("Huge New Her" and the title track), post-rock guitar squalls ("Lords of Kensington"), Cheap Trick-style power-pop ("Nothing's Immortal") and classic rock strut ("I Think I Might Be Weird"). And then there's "Cicada," where brooding guitars and Haliechuk's one lead vocal performance come together to sound like Bob Mould and Sugar. It's one of the catchiest tunes in Fucked Up's very long catalog.
Ultimately, One Day comes with an interesting narrative that gives people like me something to write about, and as an experiment, it was surely a challenge and a creative accelerant. These are all good things. Also a good thing: The process resulted in yet another excellent album from one of the best bands out there. Even just one day of Fucked Up is something to be treasured.
---
Ben Salmon is a committed night owl with an undying devotion to discovering new music. He lives in the great state of Oregon, where he hosts a killer radio show and obsesses about Kentucky basketball from afar. Ben has been writing about music for more than two decades, sometimes for websites you've heard of but more often for alt-weekly papers in cities across the country. Follow him on Twitter at @bcsalmon.