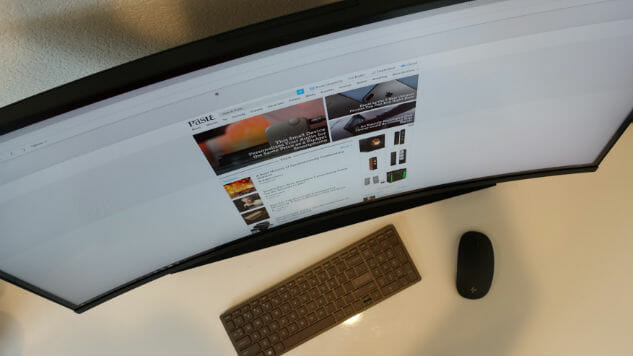 If the television is the center of your living room, then HP's 2017 Curved All-in-One (AIO) 34 is the centerpiece of an office or workspace. With a curved ultra-wide 34-inch display, this year's Envy AIO is more artfully designed than the model that it succeeds. And even though this year's model based on the same industrial design as the flat-screened 27-inch model, the wider 34-inch comes with a larger base to accommodate a powerful Bang & Olufsen-tuned sound system, built-in Qi charging, touch audio controls and dual-drive configurations to offer users speedy write speeds and large storage options.
With its immersive display and an attractive design that gives off the illusion of a floating screen, it's clear that the Envy Curved AIO 34 is aimed at the cord-cutting generation. The immersive 21:9 aspect ratio display delivers a cinematic experience for watching movies, and the B&O-tuned speakers are configured in an arrangement that resembles a soundbar in front to deliver loud, crisp audio with good stereo separation. Equipped with Intel's latest generation of processors and choice of discrete GPU options, the Envy Curved AIO 34 can also be a workhorse for college students, home users and office workers.
As an AIO, the HP Envy Curved AIO 34 competes against similar all-in-ones, many of which offer a smaller, but higher resolution screen. This year's Envy Curved AIO 34 starts at $1,829, and competitors include Apple's 27-inch iMac with 5K display ($1,799), Dell's XPS 27 AIO with 4K display ($1,499) and Microsoft's premium Surface Studio ($2,999).
Design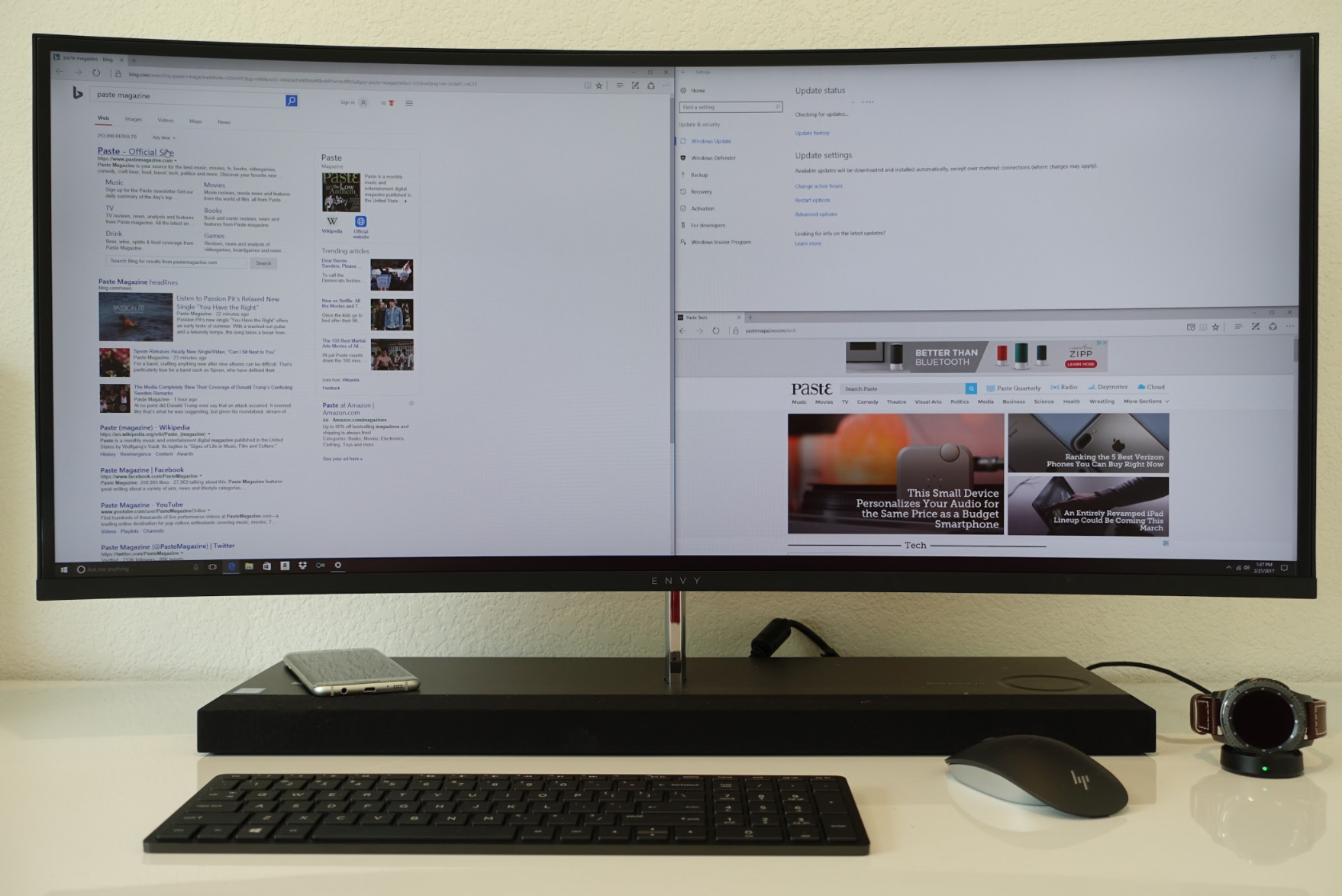 Unlike the lighter, airier silver finishes on the iMac and Surface Studio, the Envy is an all black affair, save for the chrome-finished display stand that connects the screen to the base. Despite the choice of darker hue and the large footprint of the Envy, HP's design still feels minimalist and light, thanks in part to the slim base, curved design and nearly bezel-less screen. Speaking of the bezels, they are 60 percent thinner than on Apple's iMac. The single chrome stand in the middle makes it seems like the screen is almost floating over the base.
When powered on, the curved 34-inch panel is bright and immersive, drawing you into the content. The screen has a WQHD (3440 × 1440) resolution, and viewing angles are terrific thanks to the IPS display.
To give the illusion of a lighter unit, as if the screen is suspended in mid-air, HP used a combination of slim bezels—measuring just 10.5mm on the sides—and a chrome-finished display stand. The downside with the display is that it can only tilt forward or back, but you can't rise or lower the screen nor can you swivel the display. I found the screen to be comfortable, but would have loved the option to be able to raise the display. Given the wide base, it would be hard to find an off-the-shelf monitor stand that fits the PC and complements the Envy's good looks. Given that the screen and base are permanently connected by the chrome arm, this means that you can't remove the screen and mount it to a wall or monitor stand.
HP moved the PC components to the base—including the motherboard, ports and speakers—to make the screen thinner. While the curved screen still doesn't look as thin as a curved HDTV, it really doesn't matter at the end of the day considering that the base occupies a large footprint on your desk anyways. The entire system measures 18.5 × 32 x 8 inches and weighs 24 pounds. Additionally, the extra thickness in the middle of the screen is used to accommodate a pop-up webcam, which can be stowed away for privacy when not in use.
A small, white LED to the left of the camera lens glows to indicate that the camera is turned on. Popping the camera down into its slot just hides the camera lens. For example, when you stow away the camera and the camera is still engaged with a video conferencing service or app, it just hides the picture feed, but the camera's microphone still records. I wish HP had created better software integration to cut off the microphone and disable the video when the camera is stowed.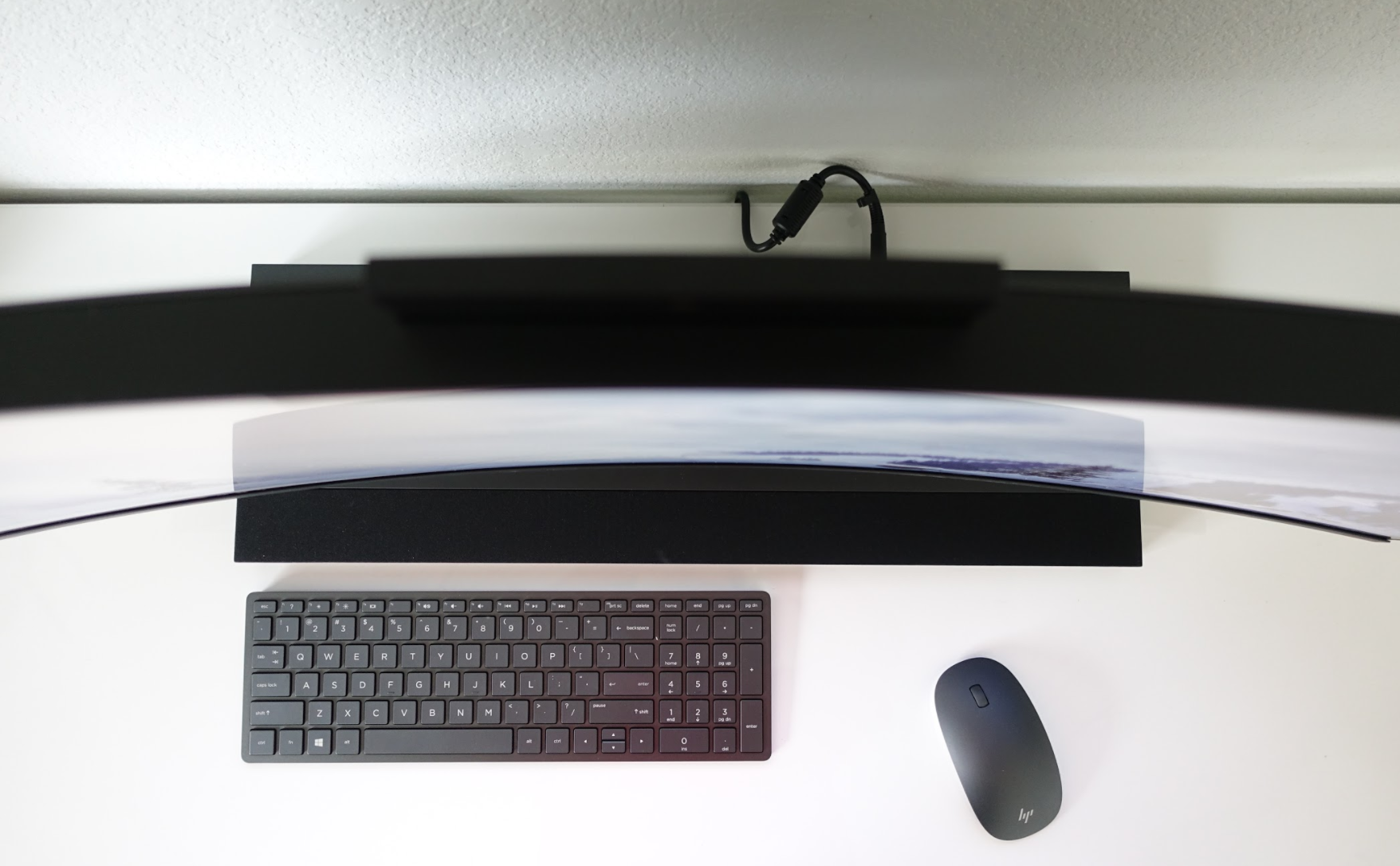 Another downside with not being able to raise or lower the display is that in my desk configuration is that the webcam is still too low. I wish I could raise the screen, which would raise the webcam and actually capture my entire face. This also makes it less convenient when using the camera with Windows Hello for password-free facial recognition logins with Windows 10. My fix right now is to move my chair back for Skype calls. Unfortunately, camera resolution is just 720p—I wish HP had gone with a higher 1080p camera.
A black fabric material covers the entire front and a portion of the top of the base, which is also finished in a matte black coating. The fabric portion is where the speaker bar is located, and HP equipped this system with four 35mm audio drivers and two passive radiators. The speakers are loud enough to fill a large room, and they sound significantly better than most other PCs. Audio is clean, and the speakers sound great with mids and highs. Bass is decent, and the lows sound natural and aren't over-emphasized. Dell is also focusing on audio quality with its latest XPS 27, but I haven't had a chance to test the two systems side-by-side.
On top of the base on the left is a Qi charging pad, which worked well to recharge my Samsung Galaxy S7 Edge and Microsoft Lumia 950XL smartphones, both of which include built-in wireless charging support. Charging speeds were a bit slow, and it took me a while to align the Qi coil in the phone to the Envy's base for charging to commence. On the right top side of the base is a touch dial with a circular scroll wheel that allows to quickly adjust the volume. It works in a similar way to the scroll wheel on Apple's iPod Classic models from yesteryear. The wheel allows you to quickly turn down the volume without having to reach for software controls inside Windows 10 Home, for example, if you get a call on your phone that's wirelessly charging on your PC.
Display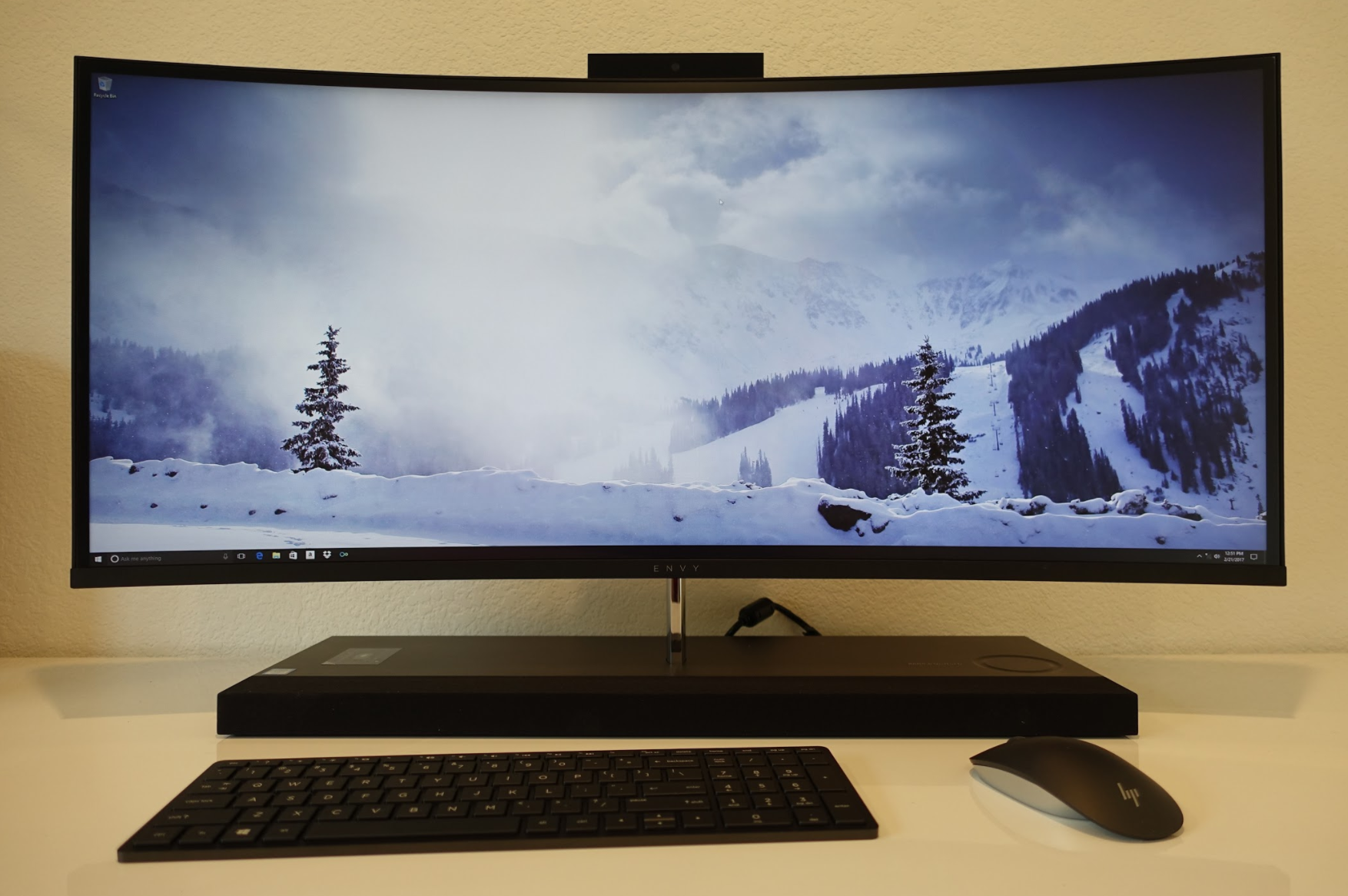 HP said that it worked with Technicolor to tune the display's colors, giving it a 99 percent sRGB color gamut. The benefit is that colors and images appear more lifelike. You can change display modes to reduce blue light, optimize the color and brightness for reading with the preloaded HP Display Control app. Enabling the night mode brings even greater reduction in blue light—studies have found that exposure to higher levels of blue light inhibits sleep hormones, making it difficult for users to fall asleep at night. And unlike a separate desktop and monitor setup, the AIO design allows you to adjust the screen's brightness right from the keyboard, similar to a laptop, rather than fumble with small controls on the monitor.
While the displays on Surface Studio, iMac and XPS 27 all support a wider color space, HP made a conscious decision with its panel to make the Envy an all-around all-in-one with an affordable price tag. Likely, if you're a creative professional, you'll be drawn to Microsoft's offering. If you're a home user who wants a great looking screen, terrific performance and a more palatable price tag, the Envy Curved AIO 34 won't disappoint.
Compared to the glossy glass screen on Apple's iMac, the matte, anti-glare coating on the Envy is a smart choice, considering that the large, wide and curved screen has the potential to attract glare and reflections. I found that the anti-glare coating makes the screen comfortable to look at for long durations.
For entertainment, you'll find letterboxing on the left and right edges of the panel when watching 16:9 aspect ratio videos, but wider 21:9 videos will fill the entire display. For work, the wide display combined with Windows 10's Snap feature for multitasking makes the Envy a joy to use. You can have multiple windows opened on your desktop without feeling cramped, and you can snap a window to the left and a second to the right for more focused multitasking.
Power, Ports and Connectivity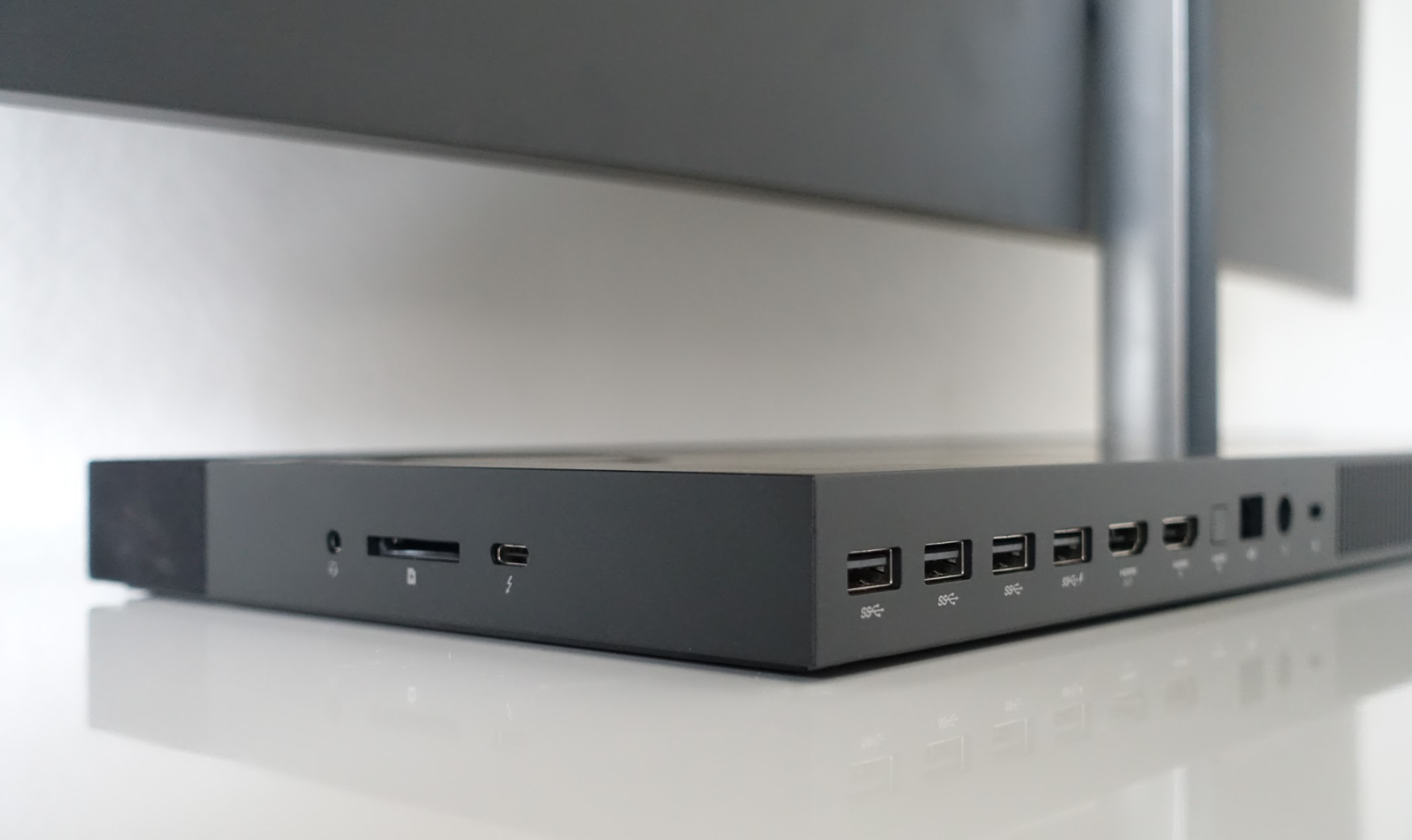 Like its recent Spectre x360 13-inch and 15-inch releases, HP continues to offer a diverse range of port options on its computers, and the Envy Curved AIO 34 is no exception. Most of the ports are located on the rear, and I'd imagine this for more permanent wired connections, like if for printers and desktop storage drives that you would not frequently unplug and replug. For ease of access, HP also added a few ports on the right side.
On the back, you'll find a jack for power, Kensington lock slot, Ethernet port, HDMI input port, HDMI output port, hardware button to toggle HDMI source, four USB Type-A 3.0 ports and a power button. The PC also has Wi-Fi 802.11ac and Bluetooth 4.2 for wireless. The HDMI input port is a nice touch, as you can use the ultra-wide display to connect a game console, a smartphone or another device to view content. In addition to the display toggle button, you can also use the HP Display Control app to switch between the HP Envy Curved AIO and whatever is connected to the HDMI input port. On the ride, you'll find a USB Type-C port with Thunderbolt 3 support, a 3.5mm audio jack and an SD card reader.
Depending on your desk setup, port placement may make it hard to plug in peripherals. I'd much rather have ports located on the bottom edge of the display or on the front for easy access. However, by keeping the ports on the rear and right edge of the base, HP maintains a streamlined aesthetic for the Envy Curved AIO.
The starting configuration for the Envy comes with Intel's 7th Generation Kaby Lake quad-core i5-7400T processor, 8GB RAM, 1TB hard drive and NVIDIA GTX950M GPU with 4GB video RAM. Our upgraded review unit is priced at $2,269 and comes with Intel's 7th Generation quad-core i7-7700T CPU, 16GB RAM, 1TB hard drive and 256GB SSD along with AMD's Radeon RX460 graphics card with 4GB video memory. A maxed out configuration at $2,369 is also available, which adds Windows 10 Pro and a 256GB SSD along with a 2TB hard drive for storage.
Performance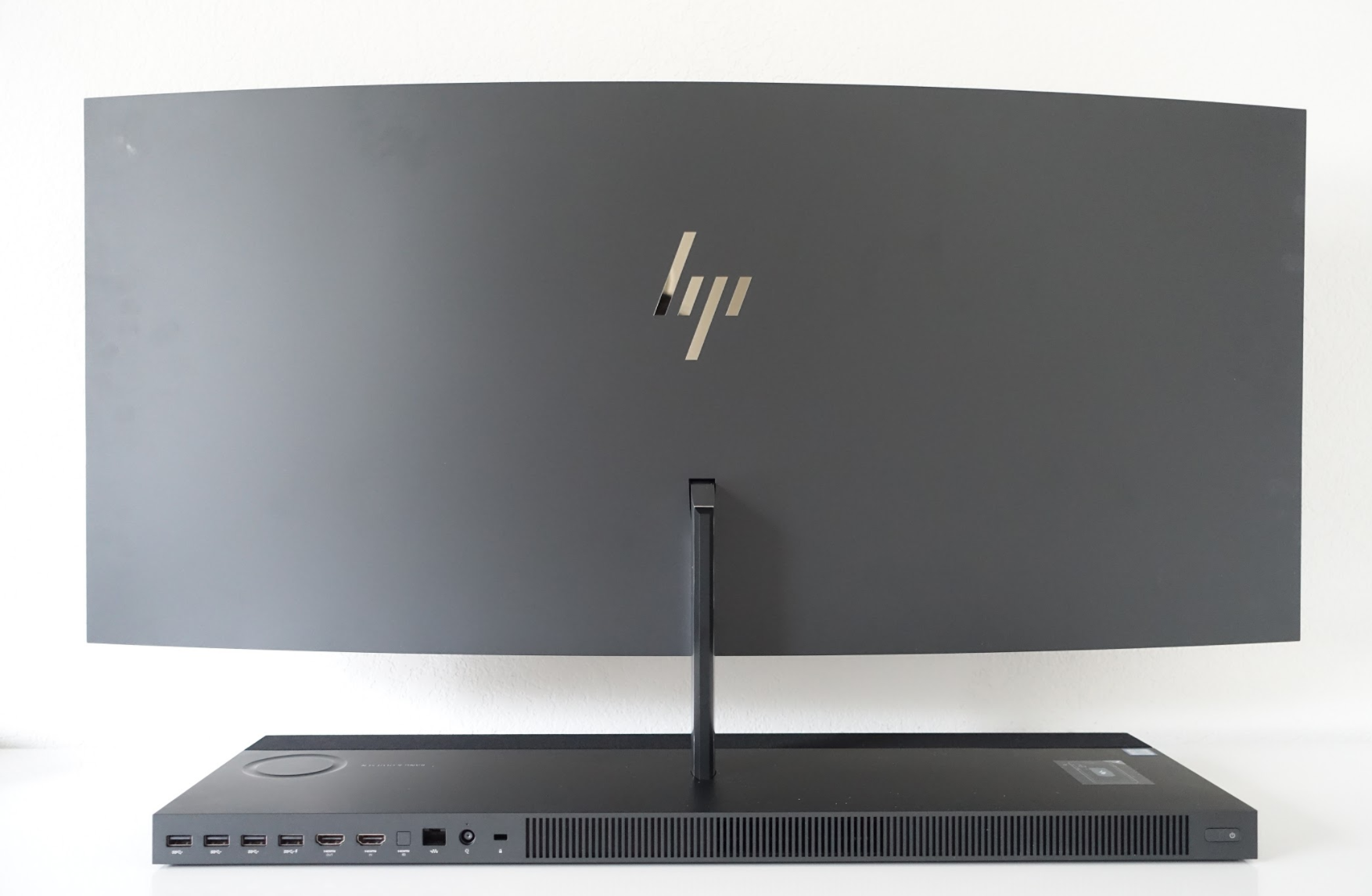 Given that the Surface Studio costs as much as $4,199 and Apple's larger iMac maxes out at $3,999 using Intel's older 6th Generation processor, HP is making a value play with its Envy Curved AIO 34. With a newer processor and performance that's similar to the Surface Studio, HP executives claim that you're getting as much PC as Microsoft's flagship AIO offering at a significantly lower price.
I found HP's performance assertions to be accurate, and the Envy delivered similar scores as the Surface Studio using the Geekbench 4 benchmarking tool. The Envy 34 scored almost 4,450 points using Geekbench's single-core test and just over 14,100 points with the multi-core test. The Surface Studio with NVIDIA's GTX 965M GPU scored just over 4,200 points and a little over 13,000 points, with single-core and multi-core tests respectively.
CPU performance between the two systems was also similar when compared using the PCMark 8 Work test. The Surface Studio posted a score of 4,340 points, compared to the Surface Studio's 4,086.
In use, I didn't notice any issues with performance, even when I taxed the system with multiple browsers running multiple windows and tabs, 4K UHD video playback and running Microsoft's Office suite. GPU performance could have used some improvements, and I wished HP offered a selection of GPU options that included some of NVIDIA's newer graphics cards.
However, as a gaming system, the Envy Curved AIO 34 can handle most games with performance turned down. If you're a heavy gamer, you'll likely want to look at other performance systems, but the Envy shows that it's a well-rounded system that can deliver performance and value in an attractively stylish package. I had no problems with video encoding, video editing and photo editing with the Envy, and this AIO can be a great office tool except for the most demanding jobs that require workstation-class performance.
The Envy's lack of pen support may be a non-starter for graphic artists, unlike the Surface Studio, which also comes with a higher resolution panel. This AIO also doesn't come with a touchscreen support. However, there are plenty of upsides with HP's design choice. The wide canvas is terrific if your workflow involves living inside multiple open windows—having two windows opened side-by-side is a great way to multitask. The screen is fantastic for consuming multimedia content, and for creative work with a connected Wacom tablet, the screen offers plenty of real estate to make photo edits.
With an assortment of ports, Thunderbolt 3 support and the latest Intel hardware, the Envy Curved AIO 34 will be a future-proof option for some time to come.
Bundled Accessories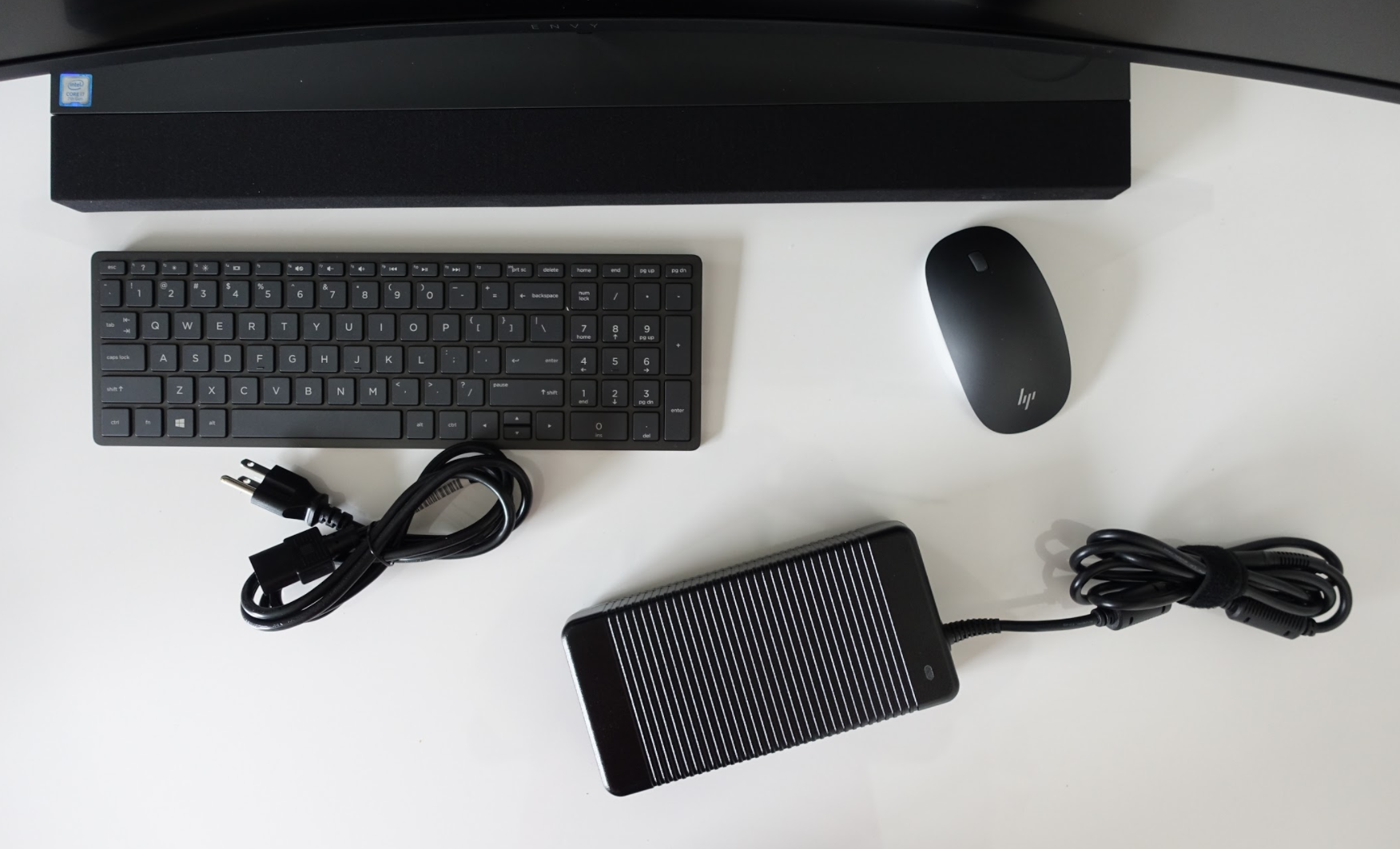 To match the Envy's more premium aesthetics, HP redesigned the bundled wireless keyboard and mouse accessories that ship with the system. The keyboard can be recharged, and it comes with a micro USB port on the top edge. The mouse operates on two AAA batteries.
To give the keyboard a more premium feel, HP gave it a metal bottom. The keyboard comes with full-sized island-style keys along with a dedicated number pad on the right. While the keys are clicky and responsive, it feels a bit shallow for a desktop keyboard. I feel that my fingers bottom out quickly, though the stiffer actuation of the keys give the illusion of deeper travel. I had no problems with the keyboard and typing accuracy in use.
Tracking on the mouse is accurate, and unlike the Samsung ArtPC Pulse's bundled mouse, the Envy's mouse had no problems functioning on my glossy white desk. The Samsung mouse was not able to track on a glossy surface, an issue that is not present here.
Verdict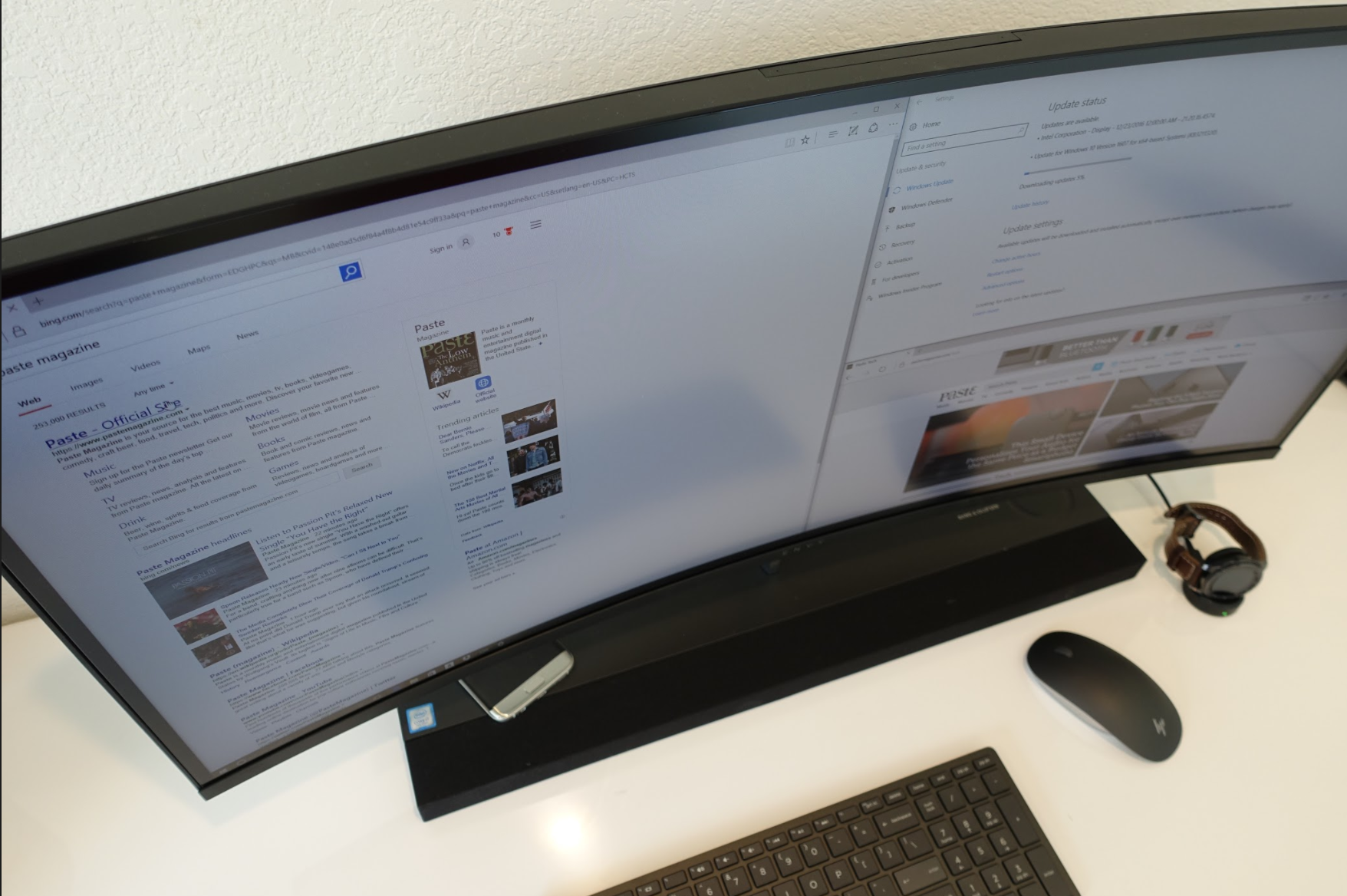 The Envy Curved AIO 34's television-inspired design with its floating screen and powerful sound bar serve as the perfect centerpiece to showcase digital streaming services, like AT&T's DirecTV Now, Sling TV and YouTube. And thankfully, HP focused as much on function as it did with form. As the hub for your digital home, this AIO comes equipped with Intel's latest processor to get work done, a dedicated graphics card to satisfy casual gamers and a privacy-focused webcam design. Best of all, it comes with some extra perks: a built-in Qi charger to keep your phone juiced up and a fantastic sound bar to enjoy your favorite tunes.
The Envy Curved AIO 34 is a versatile system. The cinematic 21:9 display is as good for entertainment as it is for productivity. The best part is that this experience is wrapped up in a sleek, modern package with styling that rivals Bang & Olufsen's pricier Beovision televisions. For design fanatics, HP's Envy Curved AIO 34 is the PC cord-cutter equivalent of TV's place as the centerpiece of the living room: it's got performance, style and value in a sleek black design that will complement any work or living space.