Marc Maron Says Louis C.K. Lied to Him When Confronted About Sexual Misconduct Rumors
Photos by Brandon Williams/Getty, Kevin Mazur/Getty
Comedy
News
Marc Maron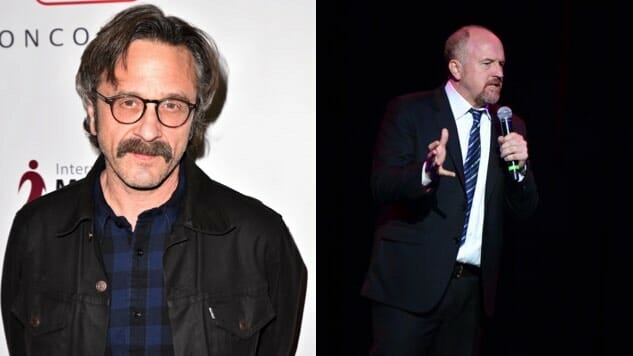 Rumors of Louis C.K.'s sexual misconduct have been circulating in the comedy world for years, and with last week's bombshell NYT report, in which five women went on the record to accuse C.K., the whispers about C.K.'s behavior were finally amplified into shouts. The entertainment industry at large has moved quickly to cut ties with the comic in the wake of his admission that the accusations were true, and many of C.K.'s peers have been left wondering how he was able to get away with his predatory actions for so long—including Marc Maron, as Vulture points out.
On the latest episode of his WTF podcast, Maron recalled confronting C.K. about a 2012 Gawker blind item on the rumors, only to be lied to:
Sadly, I knew what most people knew: There was a story out there, I guess going back several years. There were unnamed people in the story, it took place in a hotel room in Aspen. It was always out there, but then it would pick up momentum at different times. And I would ask him about it. I would say, "This story about you forcing these women to watch you jerk off, what is that? Is that true?" He goes, "No, it's not true. It's not real. It's a rumor." And I would say, "Well, are you going to address it somehow? Handle it? Get out from under it whenever it shows up?" "No I can't, I can't do that. I can't give it life, give it air." That was the conversation.
Maron also discussed the power structures that enabled C.K. for so long, lamenting the way in which such accusations are discouraged or overlooked:
So when it comes to believing women, I want to believe women, but in this particular instance, there was no one named in that [Louis C.K. blind item], there was no place for women to go tell this story, there were no women attached to it. I didn't know their names until Friday. So I believed my friend. It's just that the environment enabled the dismissiveness of it. How do I put this? The work environment, the social environment makes it difficult for people to come forward and be heard, to be listened to, to be believed, and for action to be taken around that. It is pushed aside, it is dismissed, it is framed as an annoyance or an embarrassment, it is used against people, it is used as a threat, that is the structure that exists in life.
Listen to the WTF episode below, or on the podcast's website here, and read our feature on reconsidering Louie in the wake of the C.K. revelations right here.