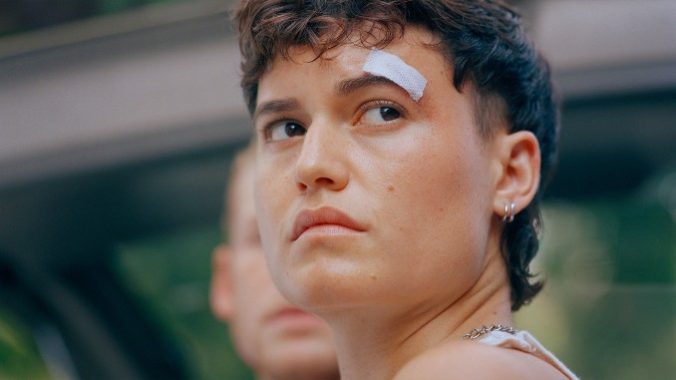 Imagine the most inconvenient day of your life. Not the worst, not the most devastating, but a day so interminable and frustrating that it seems like the universe is playing a cosmic joke. Now throw in a tense family reunion and run-in with your ex, just for kicks, and you have the winding 24 hours covered by the thoughtful day-in-the-life drama Mutt. Writer/director Vuk Lungulov-Klotz's solid feature debut drops its protagonist Feña (introspective and deft big screen newcomer Lío Mehiel), a sensitive twentysomething trans guy, right into an emotionally turbulent scavenger hunt through New York City where everything and almost everyone that he's been hoping to neatly avoid collides. Through director of photography Matthew Pothier's pretty compositions that can romanticize even the most commonplace views of NYC, and earnest performances from a small cast of complex, brooding characters, Mutt makes space for the sadness, mundanity and possibility of life in transition.
When we first meet him, Feña is in his element, surrounded by friends in a crowded bar, which Pothier captures with an observant and slightly removed lens that loves every lighting cue. Almost immediately, his easy banter is interrupted by a call from his father, and the night starts to take a decidedly bothered direction. The call underpins some crucial thematic information: Dad is coming to visit, he's clearly not around enough to have ever seen Feña drive, and he's worried about what "this shit" does to Feña's body. For a queer audience, or even anyone coming into the film specifically because it's a trans narrative, it's pretty obvious that dad is talking about testosterone. This is just the first of many worries or fascinations that Feña has to entertain about his body throughout the film, ranging from the mildly ignorant to the downright vitriolic.
Even for someone clearly surrounded by other queer and trans people, the outside world loves to encroach on Feña's home turf. In this case, the general ignorance of the bureaucratically transphobic "outside" is also intimately interrupted by those Feña has left behind: His deeply wounded ex-boyfriend John (a doleful and passionate Cole Doman), his headstrong adolescent sister Zoe (MiMi Ryder) and of course his doubtful, semi-estranged father Pablo (Alejandro Goic). Each character has their familiar misconceptions about Feña's identity, which overlap and tug Feña in five different directions throughout his day. Even if it's sometimes exhausting to watch the conventional traumas of cisgender assumption pile on one comment after another, it's a relief to see Feña continue—if not unscathed, then at least in perpetual, determined forward motion.
Thanks in large part to Mehiel's chemistry with their co-stars, and Lungulov-Klotz's commitment to realism, the central three relationships feel specific and lived-in, as does their environment. Feña and John's tenuous, near-hostile reunion becomes an ill-advised hook-up that's somehow scalding-hot even under the unforgiving fluorescent lights of an empty laundromat. Zoe seeks Feña out and begins to forgive him while she's busy managing her first period in his dank workplace bathroom, and plays hooky with him across sun-dappled boroughs. Feña and Pablo have their first halting encounter in two years at the decidedly unsentimental Newark airport, but are greeted in the parking lot by a patently beautiful sunset. Despite the exhaustion inherent to each of these interactions and to the grind of the city itself, Lungulov-Klotz and Pothier create a warm, beautiful cushion for Feña to fall back on. There's a reason that he's remained in the city, remaking himself in a better image.
Blame for past sins is a central question of each relationship, and Lungulov-Klotz's script lets each character air their grievances without deciding a clear moral winner. The most screen time is dedicated to John and Feña's erstwhile romance, giving a showcase opportunity to both performers. Their sections sometimes teeter on the pacing line between languid and tedious, with the tension between them occasionally resolving in some clunkers of accusations, but that abrupt rift in understanding and perspective is believable to the nature of their ex-hood. We don't know the details of their break-up, or if John's Social Network-esque assertion that Feña is more of an asshole than we've been led to believe is true, but the film isn't really interested in solving those mysteries: Both Mehiel and Doman telegraph pain and frustration beautifully, with Feña's stairwell breakdowns hinting at a powerhouse performer in the works.
The most optimistic aspect of Mutt is the way it treats complex family trauma. Zoe and Feña grew up in the same abusive household, and while Zoe resents Feña for escaping, therefore abandoning her, by the end of their day together they've been able to tentatively restrengthen their bond and promise each other emotional protection. Similarly, Feña resents Pablo for his sexist, transphobic thickheadedness and refusal to introduce Feña's real identity to the rest of their family in Chile, but in a surprising turn, Pablo relents, admitting his trespasses. It's a choice that fits perfectly with the grounded viewpoint Lungulov-Klotz writes from: Nothing is sunshine and lollipops, and a checkered, antagonized past does not decree a devastating future. By the time the film ends, all we know for sure is that Feña will continue to navigate the hardest days of his life. Hopefully, he won't do so alone.
Director: Vuk Lungulov-Klotz
Writer: Vuk Lungulov-Klotz
Starring: Lío Mehiel, Cole Doman, MiMi Ryder, Alejandro Goic
Release Date: January 23, 2023 (Sundance)
---
Shayna Maci Warner (@bernieteeters) is a Brooklyn-based film programmer, preservationist and GLAAD-awarded critical queer. Their words on queer feelings and films appear in Autostraddle, The Film Stage and Film Cred, among others, and they write a horny newsletter about the girls and gays that make movies worth watching. You can summon her by yodeling "Desert Hearts was robbed!" into the sunset.