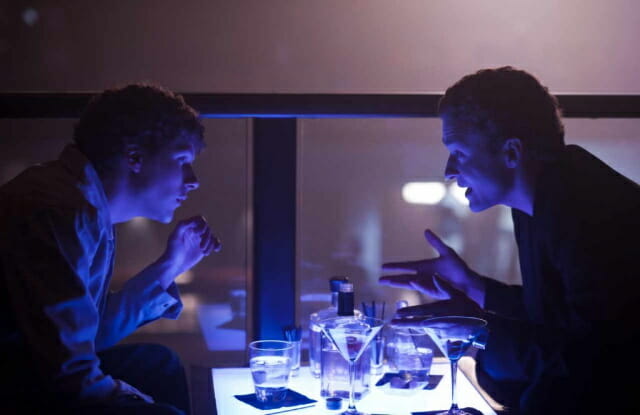 Director: David Fincher
Writer: Aaron Sorkin
Cinematographer: Jeff Cronenweth
Starring: Jesse Eisenberg, Andrew Garfield, Justin Timberlake, Rooney Mara, Armie Hammer
Studio/Running Time: Columbia Pictures, 121 min.
Beware: Nerds rising!
This year's true sequel to 1987's Wall Street is a smart and engrossing film, a befitting look at the evolution of one of the most financially successful institutions of the 21st century. The movie, however, comes not from Oliver Stone, nor does it feature that fictional, greed-is-good evil-doer Gordon Gekko. In The Social Network, the truth is surprisingly stranger—and wildly more interesting—than the fictional and flat Stone sequel Wall Street: Money Never Sleeps. Never before have coding and algorithms been so titillating.
The Social Network opens with a break-up scene between Mark Zuckerberg (Jesse Eisenberg), a young man completely devoid of social skills, and his girlfriend Erica (Rooney Mara). Aaron Sorkin, the screenwriter who wove magic into the Jack Nicholson-Tom Cruise "You can't handle the truth!" scene from A Few Good Men, creates a rapid-fire conversation with Zuckerberg taking the Venus vs. Mars exchange from the outer limits of the galaxy. Zuckerberg confuses Erica with his literal, machine-like translations of her every word while occasionally throwing in a sarcastic witticism. The problem is identifying the difference. Throughout the film this sort of wordplay beautifully ebbs and flows with comedy and tragedy. Like shooting the rapids, another encounter is just around the bend. After Erica walks out on him an inebriated Mark goes back to his Harvard dorm room and disses Erica with aspersions to her character and bra size on the school's social page for everyone to see while also creating a new social website which, with help from a few friends, eventually becomes Facebook.
Most of the film takes place as a series of flashbacks based on testimony in two lawsuits filed against Zuckerberg. The first is from a trio of Harvard upper classmen who claim to have contracted Zuckerberg to create the network, and who also belong to an elite club that Mark wishes to be a part of. The other suit comes from his best friend and Facebook co-founder Eduardo Saverin (Andrew Garfield) whose story in the film is as central as that of Zuckerberg's. The disintegration of their relationship begins when the creator of Napster, Sean Parker (Justin Timberlake) takes a bandwagon seat on the rising company while creating a wedge between the co-founders. Garfield is wonderful as the unsure Saverin who wants to carefully guide Facebook into its future while Zuckerberg and Parker are full steam ahead. Timberlake, as the flamboyant and cocky Parker, gives yet another notable portrayal.
But it's Eisenberg who gives the performance of his life in what might just be the best film of 2010. He plays Zuckerberg as a dysfunctional genius desperate to fit a month of ideas into a single moment. Throughout the film he displays an intense stare that masks and reveals his inner thoughts at the same time. Although he becomes one of the wealthiest men in the world (in his early 20s) his satisfaction comes from winning, with money merely being used as a measuring stick. Director David Fincher (Fight Club, Zodiac, Se7en) has created a film where the young heroes aren't superficial, aren't trying to find a clever shortcut into the castle. In The Social Network they build the castle themselves and then barricade it. But, like the first Wall Street film, greed is still king and the wolves are at the door.