The 8 Fall Items at Trader Joe's We're Most Excited About
Photo courtesy of Trader Joe's
Food
Lists
Trader Joe's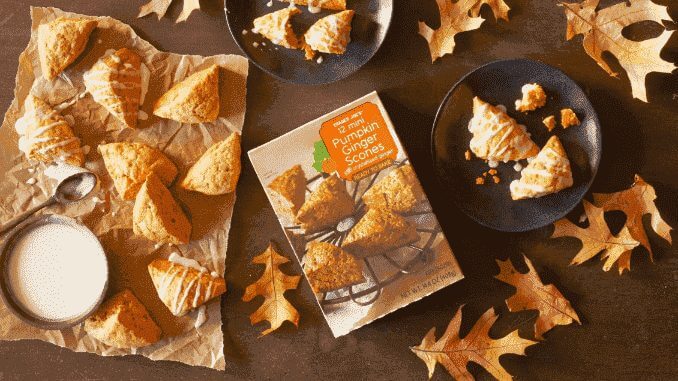 It's that time of year again: the time when Trader Joe's finally rolls out its fall products. The temperatures may still necessitate shorts and tank tops, but shopping at Trader Joe's in the early days of September will still have you feeling as cozy as if you were bundled up in a plaid scarf. Of course, some of the classics are returning (don't worry, pumpkin-spice-everything people), but there are also some new items on the fall lineup you should check out. Without further ado, these are the fall items we're most excited about picking up from Trader Joe's this year.
---
1. Pumpkin Cream Cheese Spread
Some pumpkin-flavored products that come out this time of year are absolutely foul, but Trader Joe's Pumpkin Cream Cheese Spread isn't one of them. Since cream cheese has a rather neutral flavor, the addition of pumpkin works well here. I personally like spreading this stuff on a cinnamon raisin bagel for what is perhaps the most autumnal breakfast possible.
---
2. Apple Cider Donuts
There are few parts of living in New England as glorious as taking a bite out of a freshly baked apple cider donut in the fall, and Trader Joe's captures that feeling perfectly with their Apple Cider Donuts. They're fluffy, they're sweet and they're even a little bit tangy thanks to the apple cider. You can eat them at room temperature, but they're at their best when they're slightly warmed and enjoyed with a hot beverage.
---
3. Onion Confit Swirls
Fall shouldn't just be about the sweet foods—savory products should get their chance to shine as well. That's why Trader Joe's Onion Confit Swirls are on our must-try list this year. Confit onions are combined with a savory palmier situation, which results in a crusty, flaky pastry that would make for a perfect appetizer. I know I'll be serving these at my next Thanksgiving party. (You can't cook everything from scratch, right?)
---
4. Italian Organic Striped Farfalline Pasta
I mean, sure, maybe Trader Joe's Italian Organic Striped Farfalline Pasta isn't the most autumnal product on this list, but its yellow and orange hue makes it an essential ingredient during the fall months. I'd want to pair this pasta with some sort of olive-oil based sauce—if you use marinara or anything else with a distinct color, you may miss out on the beauty of the pasta itself.
---
5. Cinnamon Coffee Cake
Coffee cake is one of humankind's greatest baked inventions, and by adding cinnamon into the mix, Trader Joe's makes their Cinnamon Coffee Cake even better. They use sour cream to give the cake its signature soft, moist texture, and the cinnamon crumble on top gives it some additional visual appeal. The thing I love most about this cake? It was literally created to be eaten for breakfast.
---
6. Honeycrisp Apple Granola
On the off chance that you don't want to indulge in dessert for breakfast every morning of October, you can also grab some of Trader Joe's Honeycrisp Apple Granola for what may be a slightly healthier start to your day. There are seemingly countless pumpkin spiced granola products out there, so we were happy to see a fall-focused granola that's made for those of us who don't always want to jump on the pumpkin spice bandwagon.
---
7. Pumpkin Ginger Scones
Craving just a bite of dessert? You may want to try Trader Joe's Pumpkin Ginger Scones. You can eat a few for breakfast with a hot cup of coffee, enjoy one as a small dessert when you're already stuffed but are just craving something sweet or put them out for your party guests to grab between savory bites. They're frozen and ready to be baked whenever a craving hits.
---
8. Freeze Dried Fig Slices
Figs can sometimes be difficult to find, even during the peak of fig season. That's why you may want to pick up Trader Joe's Freeze Dried Fig Slices to add to granolas, cakes, salads and more. Of course, you can even eat them on their own—with their slight crunch, they make for a sweet fall snack.
---
Samantha Maxwell is a food writer and editor based in Boston. Follow her on Twitter at @samseating.