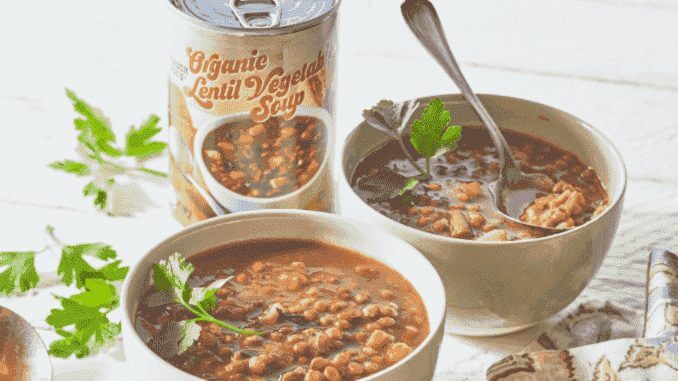 Trader Joe's may be best known for its frozen foods, but that doesn't mean you should stop shopping after you're done browsing the freezer section. The popular chain also offers fresh meat and produce, creative condiments and snacks you can't find anywhere else. One of the reasons I frequent Trader Joe's, though, is to take advantage of the gourmet pantry staples. Trader Joe's is known for going beyond the standards to offer interesting and flavorful canned products you won't be able to find at other grocery stores.
I'm highlighting some of my favorite canned products at Trader Joe's—products you can stock the pantry with and use whenever you need them. When you're looking for pantry staples that are elevated and a bit different from the norm, Trader Joe's is undoubtedly the place to go. Let's take a closer look at what you should put in your cart the next time you shop there.
---
1. Greek Chickpeas with Parsley and Cumin
I always love having canned beans on hand when I want to make a quick dinner, but it's not as easy as simply opening the can and eating its contents. Most canned beans have to be prepared and seasoned, but when you try Trader Joe's Greek Chickpeas with Parsley and Cumin, that's not the case. These beans already come marinated in a mixture of soybean oil, lemon juice, cumin, parsley and more, which means you can simply dump them onto your salad, no cooking or seasoning necessary.
---
2. Lightly Smoked Sardines in Olive Oil
You might be used to seeing those fancy containers of tinned fish in boutique shops, but you may assume you can't get the same quality from your local grocery store. If you live near a Trader Joe's, though, you're in luck. The store's Lightly Smoked Sardines in Olive Oil are way cheaper than most of the other tinned fish brands I've come across, but you're still getting high-quality fish here. I love these sardines on top of garlic toast with sliced tomatoes and some dill.
---
3. Green Jackfruit in Brine
Jackfruit has exploded in popularity in the U.S. in the last several years, as vegans and non-vegans alike have celebrated its subtle sweetness and its ability to be enjoyed in both sweet and savory dishes. If you don't want to buy a whole jackfruit, just head to Trader Joe's to pick up their Green Jackfruit in Brine instead. Whether you're making a pudding or vegetarian pulled "pork," it's useful to keep canned jackfruit in the pantry.
---
4. Sparkling Green Tea with Pineapple Juice
There is nothing more I love than a carbonated beverage, and Trader Joe's is really delivering on the bubbly front with their Sparkling Green Tea with Pineapple Juice. I love that this drink isn't too sweet—the emphasis is more on the green tea than the pineapple juice, but the pineapple does add just the right amount of acidic fruitiness to the drink. With the bubbles, it's intensely refreshing. My only complaint is that you don't get enough of them in a single box.
---
5. Quinoa Stuffed Dolmas
You've probably had dolmas stuffed with rice before, but have you ever tried the dish with quinoa instead? You'll get the chance to try it out when you grab the Quinoa Stuffed Dolmas from Trader Joe's. The brand's standard rice-filled dolmas are deeply flavorful (especially for a canned product), so we're not surprised that the quinoa version is just as good. The quinoa gives the dish a nuttier note than the original, but the seasonings they use are similar.
---
6. Grecian-Style Eggplant with Tomatoes and Onions
If you've never had canned eggplant before, you're not alone. It's not something you'll find everywhere, which is part of why I was so excited to try Trader Joe's Grecian-Style Eggplant with Tomatoes and Onions. This distinctly summery food is canned, so you can enjoy it at any time of year, whether you want to pair it with rice, pita or meat or eat it all on its own.
---
7. Organic Lentil Vegetable Soup
When you can't be bothered to cook, one of the best things you can have in your pantry is canned soup. The Organic Lentil Vegetable Soup from Trader Joe's is especially comforting, especially during the colder months of the year. All you have to do to make it a meal is buy some crusty bread to dip in your leftover broth.
---
8. Giant Baked Beans in Tomato Sauce
If you ask me, baked beans are often too sweet and too smokey. If you're looking for a subtler flavor that evokes feelings of a breezy dinner on a patio in Italy rather than a beer-soaked cookout, you should definitely try Trader Joe's Giant Baked Beans in Tomato Sauce. The cannellini beans are soaked in an herby, tomato-based sauce that you won't want to waste a single drop of. I think this can of beans makes the very best beans on toast.
---
Samantha Maxwell is a food writer and editor based in Boston. Follow her on Twitter at @samseating.