9 Recipes to Cook and Bake Your Way Through the (Short) Fresh Fig Season
Photo by Quin Engle/Unsplash
Food
Lists
figs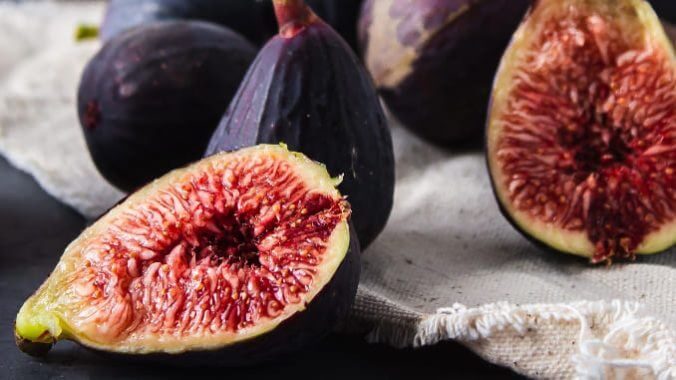 Every year around this time, I wait for a text from some good friends who have an old, sprawling fig tree in their backyard: "Figs are ripening! Come pick anytime!" And we do. 
Figs are utterly unlike their midsummery brethren. To begin with, they aren't really fruit: they're inverted flowers. They taste nothing like a strawberry's brightness after winter's dour chill or the unrestrained exuberance of a perfectly ripened peach. Rather, figs are liminal, their sweet, earthy flavor a harbinger of fall. They are endlessly adaptable: excellent in end-of-summer salads or on top of yogurt with honey and equally splendid in autumnally appropriate dishes with salty meats or rich cheeses.
The fig season is fleeting—a matter of weeks—so you'll want to try these nine recipes right away. If you're not lucky enough to have a fig tree of your own, or a friend with one as I do, check your local farmer's market. You can also easily freeze fresh figs, but be sure to use them within six to eight months. 
---
1. Tomato, Fresh Fig and Blue Cheese Salad From NYT Cooking
In these late, broiling hot days of summer, the last thing anyone wants to do is turn on the oven to cook anything. This low-effort salad from the New York Times means you can avoid doing that and still have something delicious to eat for supper. Bonus: This recipe gives you a way to use up those late-summer tomatoes from your kitchen garden. Slice the tomatoes into rounds or wedges and the figs into quarters; spread them on a plate and toss with vinaigrette. Turn on the stove barely long enough to lightly toast pine nuts, and scatter them over the tomatoes and figs along with some fresh thyme and crumbled blue cheese. Serve with freshly baked bread and salted butter. 
---
2. Caramelized Fig Upside-Down Cake From Broma Bakery
I know, I know—I just said no one wants to turn on the oven in this heat. But this gorgeous cake presents a strong argument for making an exception. The initial instructions call for separately pouring melted butter and then scattering brown sugar into the bottom of a springform pan; commenters suggest a modified step of combining them together in a bowl and then adding them to the pan, which will keep the melted butter from leaking out. Sliced figs are placed on top of the butter-sugar mixture. Next, cream together butter and white sugar, then blend in eggs, sour cream, whole milk and vanilla. Separately, you'll combine the dry ingredients—including orange zest—then add to the wet mixture until just incorporated. Spread the batter on top of the figs and then bake. After the cake cools, add a quenelle of sweetened whipping cream atop each slice.
---
3. Fig Honey Thyme Prosecco Smash From Half-Baked Harvest
Yes, you can use fresh figs in cocktails! This is a perfect recipe for late summer, as it also calls for a ripe diced plum (stone fruit!)—plus elderflower liqueur, lemon juice, honey and fresh thyme. Combine these ingredients in a cocktail shaker and gently mash down on the figs until they release their juice. Add ice, place the top on the shaker and shake. Strain into several glasses, top off with prosecco and garnish with sliced fresh figs.
---
4. Marinated Fig and Goat Cheese Crostini From Geoffrey Zakarian
Fresh figs make for an easy, tasty appetizer, as in this crostini. Stir together goat cheese, honey, olive oil, tarragon, shallots and lemon zest. In a second bowl, you'll mix more tarragon, shallots and honey with diced figs and lemon juice. This step of the recipe also calls for saba vinegar, which is the unfermented, reduced grape syrup used to make balsamic vinegar, but if you don't have it in your pantry, balsamic vinegar is a good substitute. Spread the goat cheese blend over toasted baguette slices, then pile the fig mixture on top and serve right away.
---
5. Honey-Balsamic Fig Compote From Southern Living
If you have fresh figs you need to use quickly, this compote is the perfect way to do it—and it takes minimal effort because the figs are roasted in the oven. With honey, lemon juice, balsamic vinegar and flaky sea salt swirled in, the compote is a delightful mix of sweet, salty and tart flavors that will work well on top of vanilla or salted caramel ice cream, pork chops or as part of a charcuterie board. 
---
6. Fresh Fig and Ricotta Cake From Ina Garten
The Barefoot Contessa offers up this decadent-but-not-difficult cake made tangy and sweet with figs, a cup of ricotta, 10 tablespoons of butter and two tablespoons of sour cream. After mixing up the batter and arranging the sliced figs on top, you will bake the cake in a springform pan. Garten suggests serving it with warmed crème fraîche. It's perfect for after-dinner dessert, teatime or—we won't tell—breakfast.  
---
7. Fresh Fig, Walnut and Brown Sugar Muffins From Food52
The flavor of fresh figs really shines in these cozy muffins, which are delicious for breakfast or an afternoon snack. The recipe incorporates buttermilk, both white and whole-wheat flours, a dash of cinnamon and the titular walnuts and brown sugar. The dry and liquid ingredients, mixed separately, should be gently combined; once you pour the batter into a muffin tin, sprinkle some vanilla sugar on top. (Here's how to easily make your own vanilla sugar.)
---
8. Fig Brandy and Brandied Figs From the Washington Post
It's late summer now, but the holidays will be upon us before we know it—and this decoction is an excellent way to make use of summer's bounty for gifts. Lightly slice each of a dozen or so figs several times with the tip of a sharp knife. Place them in a quart-size jar (make sure it has an airtight lid), layering them alternately with lemon slices and sprigs of fresh thyme. Fill the jar with brandy—inexpensive will do fine—and screw on the lid. Set the jar somewhere dark, and put a 30-day reminder on your calendar that the fig brandy will be ready. After that, you can strain the brandy through a sieve into gift bottles. I promise, your recipients will be utterly delighted. The brandy will keep for a year and is best served chilled. For the figs: Discard the lemon slices and thyme, and put the figs in the refrigerator, where they will keep for a month. They will be delicious with cheese or ice cream.
---
9. Sticky Fig Pudding with Candied Fresh Figs From the Food Network
The always delightful sticky toffee pudding, a late fall-into-winter British Commonwealth dessert, is traditionally made with dried dates. It's deliciously modified here with dried figs for the cake and candied fresh figs on top. Rehydrate the dried figs with boiling water and whole cinnamon sticks, then stir into creamed butter, brown sugar and vanilla to make the batter. While the pudding bakes, you'll cook the toffee sauce, made with dark brown sugar, butter, cream and vanilla. Once the pudding comes out of the oven, poke holes in its surface and pour half of the toffee over it, then put the pudding back into the oven for five additional minutes. To candy the figs, put them flesh-side down on a parchment-lined tray. Boil water and white sugar, simmering at 300 degrees for around 10 minutes, then pour the sugar-water over the figs and let them cool. Serve the pudding with the remaining toffee sauce and candied figs. If you really want to gild the lily—and at this point, why not?—add a scoop of vanilla ice cream or a spoonful of sweetened whipped cream.