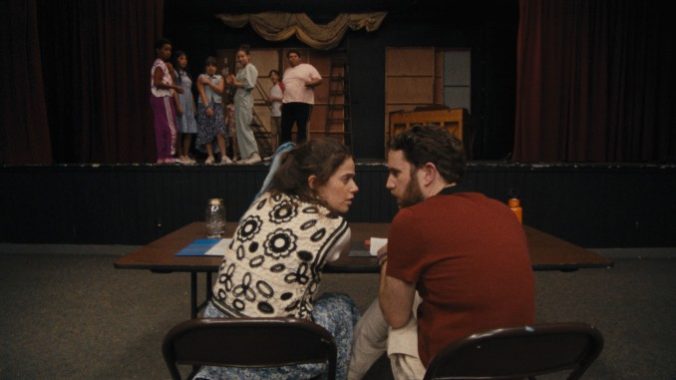 As Theater Camp opens, you may find yourself saying, "Oh look, it's Evan Hansen." You may instead find yourself saying, "Oh no, it's Evan Hansen." You might even say, "Look, it's Tony-winning nepo baby Ben Platt, an ex-Evan Hansen who is now engaged to the actor who replaced him on Broadway as Evan Hansen (who is also in this film)." If you say any of those things, you're immersed enough in the world of musical theater to get a kick out of Theater Camp. If you say the last one, mouthful that it is, you're exactly obsessed enough to appreciate the rapidfire, insular, dweeby humor hurled at you by the loving farce. Everyone else, your mileage may vary. But if you're down for a light comedy with a very specific audience, pitched somewhere between Wet Hot American Summer and John Mulaney & the Sack Lunch Bunch, AdirondACTS welcomes you (and your prepared monologue—you did prepare a monologue, right?) with open arms.
AdirondACTS is the scrappy upstate New York theater camp (naturally facing bankruptcy and a hostile takeover from the far more posh camp nearby) created by the writing team of Platt, Molly Gordon, Nick Lieberman and Noah Galvin (that other Evan Hansen from before). Gordon and Platt are childhood friends, while Lieberman (son of Marilu Henner) directs Platt's music videos. It's obviously a tight group who grew up in the industry, and their shared sense of humor and appreciation for their form keep things consistent as they expand their short film.
Their movie's similarly tight crew is unexpectedly taken over by Troy (Jimmy Tatro, in full American Vandal mode). Troy is, in a word, straight. A human tank top, the wannabe investment influencer has to lead AdirondACTS to a successful summer with his beloved camp founder mom in the hospital. The film's wobbly set-up for a generic premise shouldn't dissuade you. It lands on its feet. Like most of the movie, the substance isn't what wins you over—it's the delivery.
The "plot" couldn't matter less, but it succeeds by leaning on two excellent performers: Tatro, heartfelt and meatheaded, and Patti Harrison, who is a scenestealer as always as his nemesis. As they vie for control of the camp, counselors Amos (Platt) and Rebecca-Diane (Gordon)—as well as underappreciated stage manager Glenn (Galvin) and a charming crew of caricatures—must try to stifle their own ridiculousness in order to pull off the greatest show of the summer. It's a chummy and outsized hang-out comedy befitting its creative team (Lieberman and Gordon co-direct), sitcomic in its segmentation and mockumentary style.
With that style, which is underutilized, comes comparisons to films like A Mighty Wind. With that structure inherently comes inconsistency: Some characters are funnier than others, some zingers more stinging, some references more keen. Everyone gets basically one joke, and lives or dies by how well it holds up over the film. Nathan Lee Graham's dance-god has a hilarious gravitas when it comes to his craft; Owen Thiele's fashionista fades in comparison. Platt delivers a very funny, bitchy, strict performance complimented by Gordon's more ethereal silliness—they've got shades of John Early and Kate Berlant's chemistry, co-dependent and pompous. And the kids? The kids eat it up.
And that's the experience of the camp, hopping from class to class as they prepare their inane, pretentious productions for the end of the season and the inevitable showcase proving to folks with money that they deserve to exist. Sometimes the gags are ridiculously specific and all the more wonderful for it. Sometimes its trite camp-movie tropes and stale failed-performer character moments flop. But the speed with which the film moves and the talented youngsters filling most scenes with star-powered music raise the film's floor a little higher than its script deserves. The cameos by theater staples are cute, but performers like Bailee Bonick are great. The killer finale proves it over and over again.
The only real misfire in the screenplay—aside from a few catty, gross sex jokes towards children—is the inclusion of a straight man. No, not Troy, but a new hire played by Ayo Edibiri, who cons her way into a job teaching at camp. She's there to remind us how goofy and single-minded these people are, how woo-woo and weird, staring into the camera to reassure us that we're not alone. But this is a movie that's too specifically targeted to need or benefit from a fish out of water. Her character never comes around to the theater. That's Troy's job. She never lashes back against it in a way that'd cause tension, or gets found out by the true Broadway believers. It's just not that kind of movie. Her role is redundant, simply to remind us of the same thing the rest of the movie is telling us: Musical theater people are nuts, but isn't it all fun?
And even if it's not going to be for everyone, Theater Camp wants to make sure we're having as much fun as it is. Like many pet projects about cherished subject matter, it can veer off in strange directions, clueing you into the jokes that cracked its collaborative team of creators up the most. There's a lot of charm to that, mostly because the team backs up their upbringing in this world with quick wits, comedically weaponized musical ability and an irrepressible willingness to be the butt of the joke. They're used to it, they're theater people—and by the end of Theater Camp's winning run, you will be too.
Director: Molly Gordon, Nick Lieberman
Writer: Molly Gordon, Nick Lieberman, Noah Galvin, Ben Platt
Starring: Molly Gordon, Ben Platt, Noah Galvin, Jimmy Tatro, Patti Harrison, Ayo Edibiri, Amy Sedaris, Caroline Aaron, Nathan Lee Graham, Owen Thiele, Alan Kim
Release Date: January 21, 2023 (Sundance)
---
Jacob Oller is Movies Editor at Paste Magazine. You can follow him on Twitter at @jacoboller.
For all the latest movie news, reviews, lists and features, follow @PasteMovies.