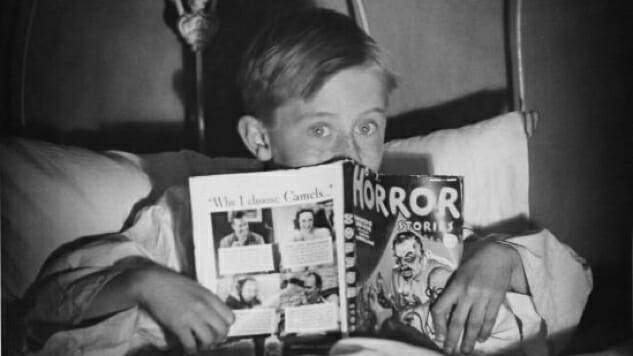 Gearing up for Halloween? Come Join Us by the Fire, from new imprint Nightfire, is an audio-only horror anthology of short stories, and like any good campfire tale, it's free. There are 35 titles available for download.
Nightfire is a new horror imprint that is producing this series in partnership with Google Play Books, per Tor. Nightfire is joining Tor, Forge, Tor Teen & Starscape as part of Tom Doherty Associates. Theresa DeLucci, editor of Come Join Us by the Fire and Senior Associate Director of Marketing at Nightfire, said of curating the project that "we wanted this long list of stories to showcase the scope of modern horror." There's thus a fright for every palate on the list, ranging from zombies and ghosts to more internal horrors such as loss and isolation.
This project was created with the intention of exposing readers to the richly talented authors writing and scaring readers in the horror genre. Some bestselling authors on the list include China Miéville, Chuck Wendig, Richard Kadrey and Victor LaValle; Shirley Jackson Award winners Paul Tremblay (The Cabin at the End of the World), Priya Sharma (All the Fabulous Beasts) and Sam J. Miller (Blackfish City); Nebula Award winners Brooke Bolander, Alyssa Wong and Kij Johnson; and more.
A complete list of the stories included in Come Join Us by the Fire is available below, with downloads available here. Find a title and start listening … if you dare.
"No Matter Which Way We Turned" – Brian Evenson
"Daddy" – Victor LaValle
"This Guy" – Chuck Wendig
"Flayed Ed" – Richard Kadrey
"The Pond" – Paul Tremblay
"Her Body, Herself" – Carmen Maria Machado
"The Girls in the Horror Movie" – Gwendolyn Kiste
"These Deathless Bones" – Cassandra Khaw
"It Washed Up" – Joe R. Lansdale
"Stemming the Tide" – Simon Strantzas
"Midnight Caller" – Stephen Graham Jones
"Black Bark" – Brian Evenson
"The Anatomist's Mnemonic" – Priya Sharma
"Rabbit Heart" – Alyssa Wong
"The Beasts of the Earth, The Madness of Men" – Brooke Bolander
"Cold, Silent, and Dark" – Kary English
"When the Zombies Win" – Karina Sumner-Smith
"Harold the Spider Man" – Paul Tremblay
"Ponies" – Kij Johnson
"Black Neurology" – Richard Kadrey
"Beware of Owner" – Chuck Wendig
"The Vault of the Sky, The Face of the Deep" – Robert Levy
"Don't Turn on the Lights" – Cassandra Khaw
"Wasp & Snake" – Livia Llewellyn
"Greener Pastures" – Michael Wehunt
"And When She Was Bad" – Nadia Bulkin
"El Charro" – John Langan
"Dream Home" – Kat Howard
"Spawning Season" – Nicholas Kaufmann
"In Sheep's Clothing" – Molly Tanzer
"57 Reasons for the Slate Quarry Suicides" – Sam J. Miller
"Was She Wicked, Was She Good?" – M. Rickert
"A Life That Is Not Mine" – Kristi DeMeester
"That Which Does Not Kill You" – Lucy A. Snyder
"The Design" – China Miéville