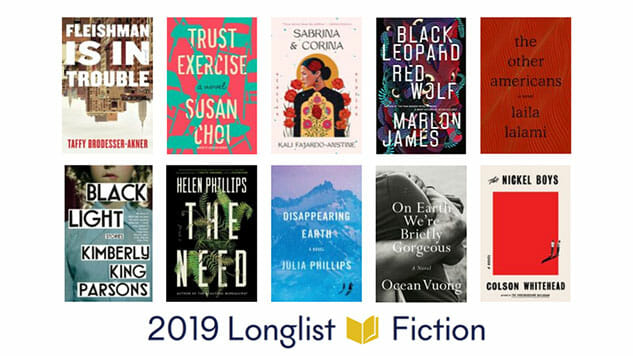 A day after the release of the 2019 Longlist for Nonfiction, The National Book Foundation has announced the Longlist for the 2019 Book Award for Fiction and it's full of rich titles. Just as nonfiction has the power to turn truth into stunning narratives, great fiction combines fabrication with reality to enthralling effect.
The list includes a range of genres, but a resounding similarity between them are the raw and realistic depictions of the human experience. Check out the synopsis of the novels (and a few Paste reviews) to find some future favorites or see if there are any books you're rooting for.
The National Book Award Finalists will be announced on Oct. 8.
The 2019 National Book Awards Longlist for Fiction
Taffy Brodesser-Akner, Fleishman Is in Trouble
In her debut novel, Brodesser-Akner addresses male privilege and the struggle of divorce. Fleishman Is in Trouble throws a father into taking full responsibility for his children after his wife leaves him, and he's forced to reconsider what it means to be a father and a parent.
Susan Choi, Trust Exercise
This coming-of-age novel by Choi is set in 1980's suburbia and centers on two students at a performing arts high school who fall in love. The writing of Trust Exercise makes this straightforward plot extraordinary as the reader must question the difference between fact and fiction.
Kali Fajardo-Anstine, Sabrina & Corina: Stories
Fajardo-Anstine creates a poignant study of Latinas of indigenous descent through this debut collection of short stories. Sabrina & Corina: Stories is rooted in one place, Denver, yet it explores a variety of themes such as ancestry, incarceration, illness, gentrification and domestic violence with a compassionate hand.
Marlon James, Black Leopard, Red Wolf
Man Booker Prize winner James weaves African mythology into this fiercely original epic about a lost boy and the fantastical characters bent on finding him. Black Leopard, Red Wolf is the first installment in what is set to be a compelling trilogy.
Laila Lalami, The Other Americans
Lalami's The Other Americans shifts between perspectives in this story set in a small Southern California town threatening to explode with tension. The Other Americans starts out with the murder of a Moroccan immigrant that leaves witnesses and survivors in shock, and divisions between people's cultural identities and personal beliefs become glaringly clear.
Kimberly King Parsons, Black Light: Stories
Parsons illuminates the gritty side of Texas with these short stories that reckon with drugs, motels, sexuality and self-harm. From dark subjects and places, a sense of hope and yearning grows and proves Black Light: Stories has an emotional scope as expansive as the state in which it's based.
Helen Phillips, The Need
The Need, the fifth book by Helen Phillips, features a paleobotanist who makes discoveries in both her work and her home, where a disturbing intruder confronts her. The subsequent events lead her to question reality and motherhood in this genre-bending drama.
Julia Phillips, Disappearing Earth
Julia Phillips, a Fullbright fellow, brings forth powerful questions of class, gender and ethnicity in Disappearing Earth, which is about two sisters who vanished from a remote Russian city.
Ocean Vuong, On Earth We're Briefly Gorgeous
Renowned poet Vuong creates a patchwork of a life with this epistolary novel in which a son attempts to reveal his life secrets to his mother, who cannot read. Like in his critically acclaimed poetry collection Night Sky with Exit Wounds, Vuong's Vietnamese background serves as the contemplative landscape for On Earth We're Briefly Gorgeous.
Colson Whitehead, The Nickel Boys
2016 National Book Award Winner Whitehead's newest work of fiction, The Nickel Boys is based on the true story of a diabolical reform school in Florida that traumatized generations of students over its 111-year history. Two teens trapped in this vicious environment struggle to preserve their idealism and lives.